Coca-Cola becomes the Official Soft Drink of Volunteer Speedway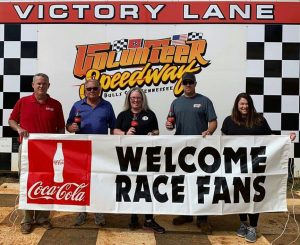 Pictured left to right: Randy Robinson -Coke, Doug Gillenwater -Volunteer Speedway, Mary Green-Coke, Landon Stallard- Volunteer Speedway and Heather Norton-Coke
Coca-Cola becomes the Official Soft Drink of Volunteer Speedway
BULLS GAP, Tenn. (Aug. 8, 2019) — Volunteer Speedway is excited to announce an exclusive multi-year partnership with Coca-Cola Consolidated. Starting this Saturday, we will proudly serve a broad portfolio of Coca-Cola products such as Coca-Cola, Diet Coke, Dr. Pepper, Monster Energy, Dasani, Powerade, Tum-E Yummies, as well as a full line-up of carbonated beverages.
When choosing a beverage partner, we wanted to be sure that the brands resonated with our fans, that we would have reliable, consistent service, and one that would add value to our concession offerings.
"When meeting with the new track owner, Landon Stallard, I immediately recognized his passion for making Volunteer Speedway a vital part of our community, and a place race fans and families can come and enjoy a fantastic and memorable night of entertainment," said Mary Green, Senior On Premise Sales Representative with Coca-Cola Consolidated. "I knew that we (Coca-Cola) wanted to be a part of that vision. I worked hard to develop a mutual partnership that would generate excitement for the racers and fans."
Part of the Volunteer Speedway partnership includes an annual Coca-Cola race night in which we will reward our loyal fans with some fun prizes. The event date for 2019 will be released at a later time.
Volunteer Speedway is located just off Interstate 81 (Exit 23), at 14095 West Andrew Johnson Highway (Hwy. 11-E) in Bulls Gap, Tennessee 37711
CONTACT INFO
Volunteer Speedway: 423-235-5020 www.VolunteerSpeedway.com
General Manager: 423-676-9080
Greg Harvey (Technical Inspection Director): 423-384-3511