Sise brothers, Blanken, Merritt, Carey, Driskill visit victory lane at Volunteer Speedway
Sise brothers, Blanken, Merritt, Carey, Driskill visit victory lane at Volunteer Speedway
BULLS GAP, Tenn. (June 16, 2018) — The calendar shows we've not yet officially reached the first day of summer, but try convincing everyone in East Tennessee because Saturday was sweltering hot as temperatures were in the mid-90s.
The racing action on the high banks at Volunteer Speedway was also quite heated at times, with the Sise brothers of Knoxville making it a family affair with a clean sweep in late model action. Trevor Sise captured the Crate Late Model victory, while 18-year-old Zach Sise recorded the Sportsman Late Model win.
Gary Blanken of Russellville captured the Modified Street win, while Lee Merritt and Will Carey, both of Knoxville recorded Classic victories, with Josh Driskill of Newport taking the 602 Street Stock win.
Trevor Sise and Rusty Ballenger entered the night of racing separated by only four points in the Crate Late Model standings, and with the pair starting the 25-lap feature from the front row you knew each would be giving it their all. Sis took the lead at start over Ballenger, Josh Henry, Bobby Mays and Tim Maupin.
Good racing was taking place from sixth back to tenth in the running order involving Chris Chandler, Gary Crittenden, Tyler Smith, Eli Beets and Pierce McCarter. Caution waved on lap 14 when third-running Henry slowed at end of the backstretch and rolled to a stop high between turns three and four with transmission issues.
Back under green off the restart Sise and Ballenger raced four laps glued together, at times side-by-side, before Sise began to put some distance between his car and Ballenger. Sise went on to win his third race of the season over Ballenger, Mays, Maupin and Crittenden.
Jed Emert rocketed out to the lead at start of the 20-lap Sportsman Late Model feature over Heath Alvey and Zach Sise. While Alvey and Sise battled for second place, Emert stretched his advantage to about 10 car lengths. Caution waved on lap 12 when Aaron Jones got into the outside wall in the fourth turn.
Following the ensuing restart, the trio of Emert, Alvey and Sise were close together. Alvey got underneath Emert racing up off (turn) two on lap 17 and they raced door-to-door down the backstretch into the third turn. But Alvey got out of shape and almost spun, thus allowing both Sise and James Parrott to drive past him.
Sise wasn't content to finish second, and racing by the flag stand into the first turn on the white flag lap, Sise drove to the inside of Emert pulling a slide-job to take the lead. But Emert wasn't about to go down without a fight and on opposite end of the track he stuck his nose underneath Sise. They raced off the fourth turn to the checkered flag with Sise barely edging Emert for his second win on the season. Finishing third through fifth, respectively, were Parrott, Alvey and Bryan Cooper.
Gary Blanken set fast-time at 15.365 seconds in Modified Street qualifying to earn the pole starting position. Blanken jumped out to the lead at drop of the green flag and never looked back en route to capturing his division-leading fourth feature win on the season over Dustin Ratliff, David Clark, Shannon Emery and Kaleb Trent.
With the Classic division running twin 20-lap features, even though points leader Lee Merritt was fastest in qualifying at 17.038 seconds, he was relegated to sixth starting position in the first race due to having won three consecutive races.
But Merritt got up-on-the-wheel and drove the car to the front and captured his sixth victory on the season over Will Carey, Charles Bates, Eli Keck and Tom Juhl Jr. … Carey recorded his first win this season in the second race by outrunning Josh Chesney, Austin Atkins, Keck and Bates.
Josh Driskill won his second 602 Street Stock feature of the season over Jimmy Gorrell and Daniel Reese.
VOLUNTEER SPEEDWAY – BULLS GAP, TN – SATURDAY, JUNE 16, 2018 – OFFICIAL RESULTS
CRATE LATE MODEL (25 laps)
1. Trevor Sise #73
2. Rusty Ballenger #29
3. Bobby Mays #25
4. Tim Maupin #3
5. Gary Crittenden #18
6. Tyler Smith #32
7. Eli Beets #109
8. Chris Chandler #8
9. Pierce McCarter #1
10. Michael Jenkins #31
11. Josh Henry #B00
12. Tim Byrd #24
SPORTSMAN LATE MODEL (20 laps)
1. Zach Sise #9
2. Jed Emert #98
3. James Parrott #10
4. Heath Alvey #7
5. Bryan Cooper #15
6. Vic Chandler #88
7. Brad Dyer #1
8. Cody Brake #58
9. Nicholas Shelton #9
10. William Hux #51
11. Aaron Jones #7
Did Not Pass Post-Race Technical Inspection (Light At Scales Following Race): Floyd Self #3
MODIFIED STREET (20 laps)
1. Gary Blanken #05
2. Dustin Ratliff #10
3. David Clark #13
4. Shannon Emery #M2
5. Kaleb Trent #3
6. Nick Presley #69
7. Jason Rollins #01R
8. Jeff Ferguson #24
9. Phil Blackford #12
10. Landon Steele #18
11. Dewayne Fox #27
12. Eric Hux #01
13. Bryan Presley #69P
14. Bubba Long #10
Did Not Start: Lance Creasman #C8
CLASSIC (#1 – 20 laps)
1. Lee Merritt #14
2. Will Carey #16
3. Charles Bates #27
4. Eli Keck #9
5. Tom Juhl Jr. #17
6. Austin Atkins #4
7. Chris Worsham #3
8. Josh Chesney #XXX
9. Brad Dyer #20
10. Tim Bounds #11
11. Jim Canning Jr. #31
12. Clyde Mincey #14M
13. Nicholas King #66
14. Todd Beeler #J23
15. Trent Tyler #61
CLASSIC (#2 – 20 laps)
1. Will Carey #16
2. Josh Chesney #XXX
3. Austin Atkins #4
4. Eli Keck #9
5. Charles Bates #27
6. Brad Dyer #20
7. Nicholas King #66
8. Trent Tyler #61
9. Tom Juhl Jr. #17
10. Chris Worsham #3
11. Lee Merritt #14
12. Tim Bounds #11
13. Jim Canning Jr. #31
14. Clyde Mincey #14M
15. Todd Beeler #J23
602 STREET STOCK (15 laps)
1. Josh Driskill #D00
2. Jimmy Gorrell #B01
3. Daniel Reese #66
Did Not Start: Shawn Henry #25
Volunteer Speedway (Recording Only): 423-235-5020 www.VolunteerSpeedway.com
Volunteer Speedway (General Manager): 865-257-7223
Joe Byrd (Tech Official): 865-776-1798
*** Volunteer Speedway victory lane photos by Tim Owens of Morristown, TN ***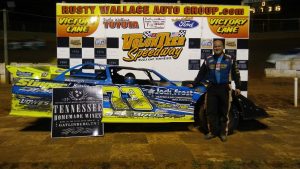 Trevor Sise No. 73 of Knoxville, TN – Crate Late Model (Winner)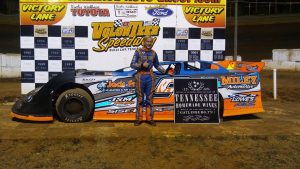 Zach Sise No. 9 of Knoxville, TN – Sportsman Late Model (Winner)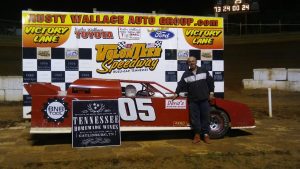 Gary Blanken No. 05 of Russellville, TN – Modified Street (Winner)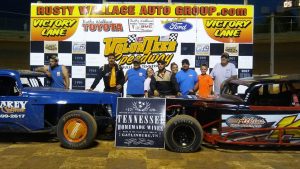 Lee Merritt No. 14 of Knoxville, TN – Classic (Winner)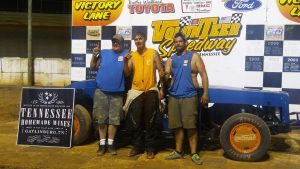 Will Carey No. 16 of Knoxville, TN – Classic (Winner)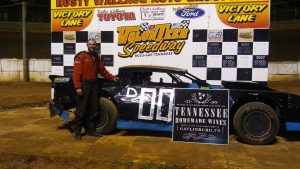 Josh Driskill No. D00 of Newport, TN – 602 Street Stock (Winner)