'A History of East Tennessee Auto Racing: The Thrill of the Mountains' — authored by David McGee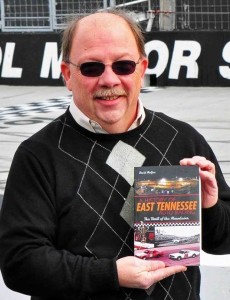 'A History of East Tennessee Auto Racing: The Thrill of the Mountains' — authored by David McGee
BULLS GAP, Tenn. (Feb. 2, 2014) — David McGee resides in Bristol and works for the Bristol Herald Courier. David's also public address announcer at Bristol Motor Speedway and Bristol Dragway, and he's authored books in the past about BMS and Bristol Dragway's history.
McGee's "A History of East Tennessee Auto Racing: The Thrill of the Mountains" will be available for purchase on Feb. 11, 2014. Offering their knowledge and assistance to McGee for this book project were Herb Adcox and Tony Morton.
Among drivers interviewed: Brownie King, Paul Lewis, L.D. Ottinger, John A. Utsman, Brad Teague, Jimmy Hensley, Melvin Corum, Travis Tiller, Randy Bethea, Mike and Gary Potter, Jimmie Warden, Scott Bloomquist, plus others.
East Tennessee asphalt and dirt racing fans, you most definitely will want to buy this book.
To read an overview of the book and to make advance purchase on the Barnes & Noble website, click – http://www.barnesandnoble.com/w/a-history-of-east-tennessee-auto-racing-david-mcgee/1117317351?ean=9781626191372
To read an overview of the book and to make advance purchase on the Books-A-Million website, click – http://www.booksamillion.com/p/History-East-Tennessee-Auto-Racing/David-McGee/9781626191372?id=5911347358105
Copies will be available at all major bookstores in the Tri-Cities (Johnson City, Bristol and Kingsport), greater Knoxville and Chattanooga areas later this month. To purchase the book directly through author McGee, contact him via email at DMcGeeAuthor@aol.com