Byrd pockets $2,000 for 'Walter Ball Memorial 40' Pro Late Model victory at Volunteer Speedway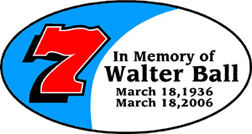 Byrd pockets $2,000 for 'Walter Ball Memorial 40' Pro Late Model victory at Volunteer Speedway
BULLS GAP, Tenn. (April 6, 2013) — Volunteer Speedway honored an East Tennessee racing legend Saturday night with the Second Annual Walter Ball Memorial Night. During a racing career of close to 30 years, Ball visited victory lane over 400 times and won championships at tracks all around the region and also in Southwest Virginia. Walter suffered a massive heart attack on his 70th birthday while at "The Gap" seven years ago in the pits watching his son Dale race and passed away.
Tim Byrd of Jonesborough grew up around racing, with his father (Charlie Byrd) having won many races at area tracks competing in both the 6-Cylinder and Late Model divisions in the 1970s and 1980s. While raising a family and working in the family logging business for many years, Tim got a late start into chauffeuring a race car at age 40, when he drove a team-car with Dale Ball for Alan Poyner Motorsports.
With several runner-up and top-five finishes over the past four years to his credit, what both Tim and Charlie dreamed of was that first visit to victory lane. Byrd laid down fast-time in qualifying to nail down the pole position for the Fastrak Racing Series-sanctioned Pro (Crate) Late Model Walter Ball Memorial 40 over the 22 entrants present.
With waving of the green flag, Byrd jumped into the lead over John Tweed racing into the first turn, with Ricky Moore, Teddy Tate and Jensen Ford in tow. A massive multi-car wreck in turn four on the third lap stacked cars up completely blocking the track, with cars sustaining damage including Moore, Tim Maupin, Dale Ball, Jerry Broyles, Brad Coffey, Mike Smith, Chris Chandler, Doug Price, Wes Johnson and Tyler Dixon.
On the restart Byrd led Tweed, Tate, Ford and John Cobb. Racing off turn two down the backstretch on lap 2, Ford rolled around the outside of Tate to move into the third spot. Cobb was feeling pressure from Maupin for the fifth position and, after several challenges Maupin finally pulled the pass off to overtake Cobb on lap 15 racing off turn two.
Ford closed to the rear bumper of Tweed to battle for second, looking to the inside on several occasions racing off the corners with no luck. On lap 22, Ford looked to the outside to attempt a pass for position. Not knowing Ford was on his outside, there was contact between Tweed and Ford racing off the corner which damaged Ford's mount to bring out the caution.
While under yellow, an obviously unhappy Ford pulled alongside the left-rear quarter panel and spun Tweed at end of the front straightaway. For his actions, Ford was parked in the pits by track officials, and Tweed was moved back into second place.
Byrd was still in command out front leading Tweed, Tate, Maupin and Cobb on the restart. Once back under green racing conditions, Byrd, driving the Charles Byrd & Son Logging/RDM Trucking of Chuckey/K&M Flooring of Johnson City/Total Control Shocks & Suspensions/Matlock Decal Co./FK Rod Ends/Sweet Mfg./Brinn Inc./Schaeffer's Racing Oil/VP Race Fuels/TNT Race Cars/Tim Byrd Motorsports/No. 24 Chevrolet Camaro SS, proceeded to pull away from his closest challengers.
Maupin rode the high-line around turns one and two and rolled around the outside of Tate to move into the third spot on lap 24. Still hard on the gas smashing the loud pedal, Maupin passed Tweed to take over second on lap 26 racing off the fourth turn.
With Byrd holding over a full-straightaway advantage over Maupin once he got around Tweed for the runner-up position, Maupin did close the distance. But there would be no denying Byrd the $2,000 Walter Ball Memorial 40 payday for capturing his first-ever Pro Late Model victory. Behind Byrd and Maupin at the checkered flag were Tweed, Tate and Cobb.
Completing the top-10 at the finish were Smith, Ball, Greg Burchett, Clinton Cook and Heath Alvey.
"Man, words just cannot describe what an awesome feeling this is to finally win my first race," said a smiling Byrd in the pits while the top-three finishing cars were going through post-race technical inspection. "We've come close to winning before only to come up a little short at the finish. But tonight we had a great car. We were fast in practice and backed it (speed) up in qualifying by setting fast-time to get the pole position. That was a huge deal because we jumped into the lead right on the start and had an open track in front of us and didn't have to battle and fight for position amongst the pack of cars in pursuit. I was just concentrating on hitting my marks and running consistent lap-times. That's crucial, just be consistent lap after lap with the times you're running.
"Back at the 'Spring Thaw' I finished second to my teammate Jensen Ford, and we were right on his tail at the end of the race. We were about as equal as you can get, he just grabbed the lead at the start over me and I couldn't get around him. I ran right with Jensen the entire race, but never could pass him. But this win tonight, it's such a great feeling to be able to finally say I've won a race at Volunteer Speedway. This place is so rich in history, just look at all the big names in dirt late model racing that have won races here. I've been coming to this track since I was a boy when dad raced here, and now I can say he and I both have visited victory lane at 'The Gap.' This win is really special for both dad and myself. He's the reason I'm living out my dream to race. I'm just thankful for all the support I have from my mom and dad, along with my wife and daughters and my crew chief Mark Hamby. I also want to thank Tony, Jensen, and Mick Ford for the awesome TNT Race Cars they build, too."
Eddie Morris of Gray set fast-time at 15.853 seconds to start from the pole position in the 25-lap Modified Hobby feature. Driving the Miller's Tire & Auto Service in Johnson City/Roger Clendenin Race Cars, Parts & Repair in Church Hill/No. 0 Chevrolet Monte Carlo, Morris rolled to victory over Mike Mays, Chuck Johnson, Landon Williams and Jesse Wilder.
Mike Clevenger of Kingsport won the drag race down the front straightaway into the first turn over pole-sitter Blake Terry to grab the lead in the Open Wheel Modified feature. Once out front there was no looking back for Clevenger, as he recorded the victory over Blake Kelley, Jeff Akard, Tyler James and Terry.
Brad Dyer of Mohawk, driving the S&S Millwright/Tolliver Heating & Air Conditioning/Korner Market & Deli/Holzerman Auto &Truck Repair/Tolliver Racing/No. 0 Ford Mustang, jumped into the lead at drop of the green flag and cruised to victory over Justin "Goose" Shelton, Terry Price, Nathan Stepp and Jason Shelton.
FASTRAK RACING SERIES – PRO LATE MODEL "WALTER BALL MEMORIAL 40"
1) Tim Byrd #24; 2) Tim Maupin #T2; 3) John Tweed #5; 4) Teddy Tate #99; 5) John Cobb #40; 6) Mike Smith #4; 7) Dale Ball #2; 8) Greg Burchett #5g; 9) Clinton Cook #7; 10) Heath Alvey #7; 11) Wes Johnson #57j; 12) Richard Adkins #73; 13) Cody Brake #586; 14) Jensen Ford #24f; 15) Chuck Price #82; 16) Ricky Presley #17; 17) Ricky Moore #75; 18) Brad Coffey #88; 19) Tyler Dixon #00; 20) Jerry Broyles #72; 21) Chris Chandler #8; 22) Doug Price #p4
MODIFIED HOBBY (25 laps)
1) Eddie Morris #0; 2) Mike Mays #30; 3) Chuck Johnson #17; 4) Landon Williams #25; 5) Jesse Wilder #79; 6) Charlie Bates #34; 7) Terry King #20; 8) Dave Smith #10; 9) Jesse Helton #28; 10) Jamie Whitt #1; 11) Jon Cook #0z; 12) Chuck Kilian #96
OPEN WHEEL MODIFIED (15 laps)
1) Mike Clevenger #12; 2) Blake Kelley #K5; 3) Jeff Akard #00; 4) Tyler James #4; 5) Blake Terry #89; 6) Josh Evans #81; 7) Dale Reed #75
MINI STOCK (15 laps)
1) Brad Dyer #0; 2) Justin Shelton #77; 3) Terry Price #34; 4) Nathan Stepp #66; 5) Jason Shelton #7; 6) Brad Stubblefield #21; 7) Shawn Henry #H0; 8) Brandon Johnson #B01