Dale Ball of Johnson City is big man in dirt racing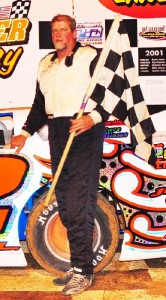 Dale Ball of Johnson City is big man in dirt racing
By Allen Gregory
Bristol Herald Courier – Sports Writer
agregory@bristolnews.com
BULLS GAP, Tenn. (May 22, 2012) — At six-foot-six and 265 pounds, Dale Ball of Johnson City looks like a Tennessee version of NASCAR legend Buddy Baker. To hardcore fans of dirt racing, Ball commands just as much respect. Over the past four decades, the 51-year-old Johnson City resident has earned a loyal following of supporters who admire his fearless driving style and homespun demeanor.
Ball has won nearly 100 races, with over half of those coming on the ultra-fast high banks of Volunteer Speedway.
"I've been around this track since it was built, and I started racing here around age 13 in a class called six-cylinder," said Ball in a recent trackside chat.
After learning the basics of power slides and crossover moves, Ball advanced to the fearsome Super Late Model division where drivers must rely on an elusive mix of brute power and finesse. Ball captured the 1999 Super Late Model championship and Pro Late Model track titles at Volunteer in 2008, 2010 and 2011. He's currently the top contender in the Pro (Crate) Late Model class, which offers a more affordable version of racing.
Ball also won the Kingsport (Tenn.) Speedway Late Model title when the track was dirt in 1990.
According to Ball, the key to his uncanny success can be traced to practice.
"My father was a real successful racer, and this is something I've done all my life," Ball said. "It's just like a job now. You just have to be smooth and not get excited out there."
To the Bulls Gap gang, a Saturday night at Volunteer Speedway offers a refuge from the traffic jams and overpriced concessions found in NASCAR. Situated within sight of Interstate 81, the high-banked facility offers a nonstop joyride to racers and fans.
"This place is quicker than a half-mile track," Ball said. "You don't hardly ever lift off the gas, and you can pass. That makes for real good racing."
To the dismay of many fans who have followed the cars across the southeast, the dirt racing world is currently undergoing a transition. Just a few years ago, there were over 20 Super Late Model teams competing in just Northeast Tennessee. That number has declined to less than a dozen now.
The problem is simple. The cost of a Super Late Model engine is $50,000 while teams can purchase a General Motors-built Crate Late Model engine for just $5,000. Crate Late Model drivers still approach speeds in the 120-mph range at Volunteer.
While ingenuity has been taken out of the equation, it's become a matter of survival for some teams and track operators. Only six Super Late Model events are on the 2012 Volunteer Speedway schedule. The next Super Late Model special event will showcase the Ultimate Super Late Model Series on Saturday, June 9.
The marquee class at Volunteer is now the Fastrak Racing Series-sanctioned Pro (Crate) Late Model class. Through the month of May, Ball leads the point standings and has visited victory lane on three occasions.
"I think the sport is about to turn to these crate cars," Ball said. "In this economy, it's just too expensive to go up and down the road for races. So you just kind of stay with what you've got and get together with a bunch of guys that support their local track."
Ball has had his taste of the big-time, traveling to lucrative Late Model events around the country. He even briefly toyed with the idea of stock car racing.
"At one time, NASCAR had these cars called Baby Grand (later renamed Goody's Dash Series)," Ball said. "I had four people that were going to pay $5,000 an apiece to buy me one. I know asphalt racing is hard but to me it's not as exciting to watch."
Every Saturday night, a large crowd of family and friends gather around Ball's transporter to work on the car and swap stories. Ball even has a new protégé in Tim Maupin, who already has one win in the Crate class this season.
"At one time, you could step into NASCAR from this kind of racing," said Ball, who raced at Kingsport when it was dirt. "But now, it's about who has the most money and wants to pay for their kid to race. You don't earn your way (into NASCAR) now."
Ball doesn't harbor resentment over his career path. He's collected more than his fair share of trophies and titles while competing against the likes of dirt racing legends Scott Bloomquist and Freddy Smith.
"It would help local tracks if NASCAR quit running races on Saturday nights, but there are still people who just prefer dirt tracks," Ball said. "Anytime I bring a new fan to Volunteer, they always come back. I've seen a lot of people convert over from asphalt to dirt."
During the week, Ball operates Twin D Auto & Truck Sales in Johnson City. But the granddaddy of the Gap is always looking forward to the next challenge.
"This is all about fun for us," Ball said. "You don't race at the local, weekly short-tracks around the country to make money. It's a hobby, just something you do for fun. Me and all of my family, and also our friends, we like nothing more than us all getting together and hanging out at the racetrack."