2021 Driver Spotlight ☆ Shaun Sise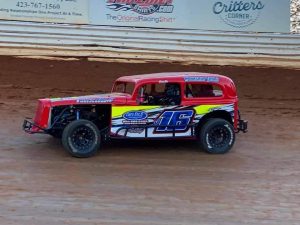 VOLUNTEER SPEEDWAY ☆ 2021 DRIVER SPOTLIGHT
DRIVER: Shaun Sise
HOMETOWN: Seymour, TN
AGE: 22
FAMILY (PARENTS / GIRLFRIEND / WIFE / KIDS): Dad, Steven; Grandma, Linda Sise; Wife, Abby.
EDUCATION (HIGH SCHOOL / COLLEGE): Northview Academy and TCAT of Knoxville.
OCCUPATION: West Chevrolet
CAR NUMBER: No. J16
RACING CLASS: Classic
SPONSORS: Cars Etc II Inc., Workshop Tools, U.S. 411 Storage, Super Dave's, American Racer, West Haven Speed Equipment, DJ's Performance Racing Engines, and Sise Racing.
PIT CREW MEMBERS: Patrick Evans, Steven Sise, Mark Sise, and Zeke Armes.
HOW DID YOU GET INVOLVED IN RACING AND HOW MANY YEARS HAVE YOU RACED?: Ever since I was a young boy I always wanted to race. My papaw bought me my first go-kart and that has taken me where I am now racing Classic cars. This is my fourth year racing in the Classic division and I've raced almost 8 years total.
YOUR RACING ACCOMPLISHMENTS: My first year in 2018 I finished third in points at 411 Motor Speedway. I was named 2020 Classic driver-of-the-year. I have won 19 races so far since I started racing.
WHAT'S YOUR FAVORITE MEMORY FROM RACING?: My first win back at the 2018 Leftover event at 411 Motor Speedway will always be very special. I also love racing on the high banks and the speed at Volunteer Speedway, and I'll always remember getting my first Classic win at "The Gap." … Just being able to drive a race car is an awesome deal. I'm very thankful and blessed being able to get do something I love so much. I thank my dad, Steven Sise, for all he's done for me, along with my grandma (Linda Sise), uncle, Mark Sise; and advice my cousins Trevor and Zach Sise have helped me with.
SPECIAL THANKS: My Classic car owner Patrick Evans and his wife Brittany for all they do. I'm very thankful for the opportunity to drive for them.
WHAT DO YOU ENJOY OUTSIDE OF RACING?: Working on cars and going fishing.
PERSONAL STREET VEHICLE: 2014 Dodge Ram 1500
FAVORITE FOOD: Steak
FAVORITE MUSIC: Country
WHO IS YOUR FAVORITE RACE CAR DRIVER?: Scott Bloomquist