2021 Driver Spotlight ☆ Kip Sawyer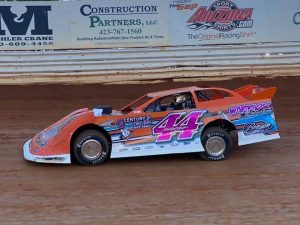 VOLUNTEER SPEEDWAY ☆ 2021 DRIVER SPOTLIGHT
DRIVER: Kip Sawyer
HOMETOWN: Strawplains, TN
AGE: 32
FAMILY (PARENTS / GIRLFRIEND / WIFE / KIDS): Wife, Whitney Sawyer. Kids, Emerlee Sawyer 6 and Rhett Sawyer 1.
EDUCATION (HIGH SCHOOL / COLLEGE): Carter High School, Roane State Community College
OCCUPATION: Firefighter
CAR NUMBER: 44
RACING CLASS: Sportsman Late Model
SPONSORS: Lashes & Waxing by Paige, GW Towing & Recovery, Benson & Company, Warrior Race Cars, Century 21 Erica Tipton, DJ's Performance Racing Engines.
PIT CREW MEMBERS: Papaw Walter Thomas, dad Bobby Sawyer
HOW DID YOU GET INVOLVED IN RACING AND HOW MANY YEARS HAVE YOU RACED?: I grew up around racing as a kid watching and dreaming from the stands. I decided one day I was ready to race and went to Alabama and bought my first car, a 2006 Stinger. I've been racing about 8 years now.
YOUR RACING ACCOMPLISHMENTS: 2 wins at Volunteer Speedway and 2 wins at 411 Motor Speedway. Tons of top 5 finishes and 3rd in points the only year I've ran points at 411.
WHAT'S YOUR FAVORITE MEMORY FROM RACING?: I'd say all your wins have a special place, but my last win was my favorite. I had my Papaw with me that time!
SPECIAL THANKS: My papaw. He works every week with me on the car and without him it wouldn't be ready to race each weekend. Also my Dad for putting this deal together. And Mike Nuchols (Warrior Race Cars) for putting up with me.
WHAT DO YOU ENJOY OUTSIDE OF RACING?: I enjoy spending time with my kids and wife. We are always on the run doing stuff. We enjoy going to Disney and the beach. We recently got a camper, so we are going to venture out with that.
PERSONAL STREET VEHICLE: 2017 Chevy 2500 high country duramax.
FAVORITE FOOD: Sushi, seafood, and steak.
FAVORITE MUSIC: I listen to everything.
WHO IS YOUR FAVORITE RACE CAR DRIVER?: Scott Bloomquist. Like him or hate him, we all look for him to show up!
#KipSawyer
#VolunteerSpeedway
#TheGap
#WarriorRaceCars