2021 Driver Spotlight ☆ Josh Henry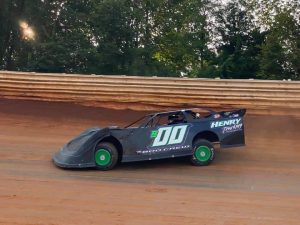 VOLUNTEER SPEEDWAY ☆ 2021 DRIVER SPOTLIGHT
DRIVER: Josh Henry
HOMETOWN: Newport, TN
AGE: 30
FAMILY (WIFE / KIDS / Parents): Wife, Miranda; Daughter, Hailey; Parents, Skimp & Stacy Henry.
EDUCATION (HIGH SCHOOL / COLLEGE): Cocke County High School
OCCUPATION: Clayton Homes
HOME TRACK: Volunteer Speedway in Bulls Gap, Tennessee.
CAR NUMBER: No. B00 (Crate Late Model), No. B01 (Street Stock)
RACING CLASS: Crate Late Model & Street Stock
SPONSORS: Henry Trucking
PIT CREW MEMBERS: Skimp Henry (dad), Shawn Henry (uncle), Josh Driskill, Steve "Brainey" Brady, Brandon Johnson, Brent Hensley and Tyler Moore.
HOW DID YOU GET INVOLVED IN RACING AND HOW MANY YEARS HAVE YOU RACED?: Being around race cars at home in the family's garage and at racetracks is basically all I've ever known in life. I grew up watching my papaw (Runah Henry), dad (Skimp Henry) and uncle (Shawn Henry) race, and I wanted to be like them when I got old enough and drive a race car. … I started racing when I was 12 years old in Front Wheel Drive, then moved up to Mini Stock, followed by running Street Stock/Modified Street, and once dad stopped racing I began running a Crate Late Model. I currently compete in both the Crate Late Model and Street Stock classes.
YOUR RACING ACCOMPLISHMENTS: 2006 Mini Stock champion at Volunteer Speedway. 2009 Crate Late Model champion at Smoky Mountain Speedway. 2012 Southern Regional Racing Series (SRRS) Super Late Model rookie-of-the-year. 2014 Limited Late Model champion at Tazewell Speedway. 2018 Crate Late Model champion at 411 Motor Speedway.
WHAT'S YOUR FAVORITE MEMORY FROM RACING?: Getting my first-ever win at Volunteer Speedway back in 2006, on the same night my dad (Skimp Henry) also won. Father and son parked in victory lane, it just doesn't get no better than that!
WHAT DO YOU ENJOY OUTSIDE OF RACING?: I don't really have any hobbies besides racing. I just enjoy hanging out with my family and friends.
PERSONAL STREET VEHICLE: Dodge 3500
FAVORITE FOOD: Fried chicken
FAVORITE MUSIC: Country
WHO IS YOUR FAVORITE RACE CAR DRIVER?: My dad (Skimp Henry)!
#RacingHenryFamily
#RunahHenry
#SkimpHenry
#ShawnHenry
#JoshHenry