Tennessee River Realty Inc. Night at Volunteer Speedway scheduled SATURDAY, JULY 29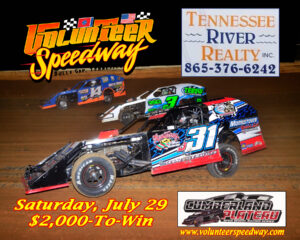 Tennessee River Realty Inc. Night at Volunteer Speedway scheduled SATURDAY, JULY 29
We hope you join us SATURDAY, JULY 29 at Volunteer Speedway for an exciting six division racing program at "The Gap." … Complete event details below, please read:
RACE DATE: Saturday, July 29, 2023
EVENT: Weekly Racing – Tennessee River Realty Inc. Night at the Races! … Pamela Bull Broker & Owner www.TennesseeRiverRealtyInc.com
ADMISSION: Adult grandstand $10, with kids 10-and-under free. … Adult pit and tier-parking $30, with kids 10-and-under $10.
GATES: Pit gates open at 3 p.m., with grandstands opening at 4 p.m.
RACING: Cumberland Plateau Open Wheel Modified Racing Series ($2,000-to-win … 25 Laps), Tennessee Sport Compact Racing Association Front Wheel Drive ($1,000-to-win … 20 Laps), Crate Late Model ($1,200-to-win … 20 Laps), Sportsman Late Model ($1,000-to-win … 20 Laps), Street Stock ($800-to-win … 20 Laps), and Classic ($500-to-win … 15 Laps).
DRIVERS MEETING / HOT LAPS / QUALIFYING: Drivers meeting at 6 p.m., followed by hot laps, qualifying and racing.
LOCATION: Volunteer Speedway, located just off Interstate 81 (Exit 23) at 14095 West Andrew Johnson Highway (Hwy. 11-E), in Bulls Gap, Tennessee 37711.
☆ Volunteer Speedway safety rules apply for all divisions, meaning RaceCeiver, window net, racing gloves, etc. required. Please read the website Rules section, and "know" the Rules! ☆
☆☆ Invite your family members, friends, neighbors and co-workers to visit Volunteer Speedway for exciting racing action on the high banks SATURDAY, JULY 29. ☆☆
☆☆☆ Outside food and drinks (no coolers) aren't allowed in front straightaway grandstands! Lawn chairs are permitted. ☆☆☆
Volunteer Speedway: 423-235-5020 www.VolunteerSpeedway.com
Brad Dyer (2023 Weekly Racing Promoter): 423-736-4080