McDowell pockets cool $100,000 for XR Super Series "Spring Thaw" victory at Volunteer Speedway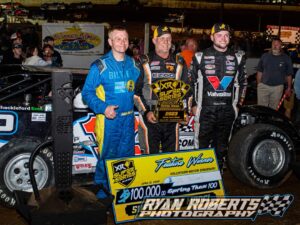 McDowell pockets cool $100,000 for XR Super Series "Spring Thaw" victory at Volunteer Speedway
BULLS GAP, Tenn. (April 15, 2023) – Dale McDowell of Chickamauga, Georgia, leads flag-to-flag tonight at Volunteer Speedway in winning the XR Super Series $100,000 Spring Thaw 100 before an all-time record crowd at "The Gap." … This was the richest dirt-track race ever held in the South, and the grandstands were filled to capacity two hours before racing began Saturday evening.
McDowell was chased to the checkers by Mike Marlar, Hudson O'Neal, Kyle Bronson and Tyler Erb. … Completing the top 10 finishers were Tim McCreadie, Ricky Thornton Jr., Jonathan Davenport, Cory Hedgecock and Ethan Dotson.
Bradley Lewelling of Seymour captured the $1,500 Sportsman Crate Late Model win over Philip Thompson, Travis Fultz, Rusty Ballenger and Kip Sawyer.
SUPER LATE MODEL (100 Laps)
Showing Finish, Starting Position In Parentheses, Driver, Car #, Hometown, Winnings
1. (2) Dale McDowell #17M-Chickamauga, GA – $100,000
2. (6) Mike Marlar #157-Winfield, TN – $30,000
3. (1) Hudson O'Neal #1-Martinsville, IN – $20,000
4. (4) Kyle Bronson #40B-Brandon, FL – $10,000
5. (19) Tyler Erb #1T-New Waverly, TX – $5,000
6. (15) Tim McCreadie #39-Watertown, NY – $4,000
7. (17) Ricky Thornton Jr. #20RT-Martinsville, IN – $3,500
8. (23) Jonathan Davenport #49-Blairsville, GA – $3,400
9. (21) Cory Hedgecock $23-Loudon, TN – $3,300
10. (20) Ethan Dotson #174-Bakersfield, CA – $3,200
11. (8) Chris Ferguson #22-Mt. Holly, NC – $3,100
12. (3) Bobby Pierce #32-Oakwood, IL – $3,000
13. (10) Rusty Ballenger #1G-Seymour, TN – $2,900
14. (14) Jimmy Owens #20-Newport, TN – $2,800
15. (9) Brian Shirley #3S-Chatham, IL – $2,700
16. (22) Dennis Erb Jr. #28-Carpentersville, IL – $2,600
17. (12) Brandon Overton #76-Evans, GA – $2,500
18. (11) Camaron Marlar #99M-Winfield, TN – $2,400
19. (13) Mason Zeigler #25Z-Chalk Hill, PA – $2,300
20. (7) Sam Seawright #16-Fort Payne, AL – $2,200
21. (16) Daulton Wilson #18D-Fayetteville, NC – $2,100
22. (18) Michael Brown #24D-Lancaster, SC – $2,000
23. (5) Chris Madden #44M-Gray Court, SC – $2,000
24. (24) Chris Chandler #8C-Weaverville, NC – $2,000
Heat #1 (10 Laps – Top 3 Transfer): 1. 1-Hudson O'Neal[1]; 2. 16-Sam Seawright[3]; 3. 25Z-Mason Zeigler[2]; 4. 55-Benji Hicks[4]; 5. 23-Cory Hedgecock[6]; 6. 89-Logan Roberson[5]; 7. 19M-Wil Herrington[7]; 8. 25-Shane Clanton[10]; 9. 1V-Vic Hill[9]; 10. 3-Austin Neely[8]
Heat #2 (10 Laps – Top 3 Transfer): 1. 32-Bobby Pierce[2]; 2. 3S-Brian Shirley[4]; 3. 39-Tim McCreadie[6]; 4. 1T-Tyler Erb[8]; 5. 46-Earl Pearson Jr[3]; 6. 21K-Dakotah Knuckles[5]; 7. 1C-Kenny Collins[7]; 8. 126-Kaede Loudy[9]; 9. 316-Mike Bargo[10]; 10. (DNF) 51-Mack McCarter[1]
Heat #3 (10 Laps – Top 3 Transfer): 1. 44M-Chris Madden[1]; 2. 99M-Camaron Marlar[2]; 3. 20RT-Ricky Thornton Jr.[3]; 4. 99-Devin Moran[4]; 5. 49-Jonathan Davenport[5]; 6. 2S-Stormy Scott[6]; 7. 8-Kyle Strickler[7]; 8. 8C-Chris Chandler[8]; 9. 6JR-Parker Martin[9]; 10. (DNF) 5-John Tweed[10]
Heat #4 (10 Laps – Top 3 Transfer): 1. 17M-Dale McDowell[1]; 2. 22-Chris Ferguson[2]; 3. 20-Jimmy Owens[4]; 4. 174-Ethan Dotson[3]; 5. 83-Jensen Ford[5]; 6. 96V-Tanner English[9]; 7. 97-Michael Chilton[6]; 8. B00-Josh Henry[8]; 9. 44-Chase King[7]; 10. 187-David McCoy[10]
Heat #5 (10 Laps – Top 3 Transfer): 1. 40B-Kyle Bronson[2]; 2. 1G-Rusty Ballenger[1]; 3. 18D-Daulton Wilson[7]; 4. 28-Dennis Erb Jr.[6]; 5. 101-Forrest Trent[8]; 6. 37-Jacob Hawkins[4]; 7. 8P-David Payne[5]; 8. 30-Ryan King[9]; 9. 14-Reid Millard[10]; 10. (DNF) 79-Ross Bailes[3]
Heat #6 (10 Laps – Top 3 Transfer): 1. 157-Mike Marlar[3]; 2. 76-Brandon Overton[2]; 3. 24D-Michael Brown[5]; 4. 88-Trent Ivey[6]; 5. B1-Brent Larson[8]; 6. 90J-Jason Trammell[7]; 7. 34-Ellery Leake[9]; 8. (DNF) 20B-Brad Dyer[4]; 9. (DNS) 7-Ricky Weiss
B Feature #1 (12 Laps – Top 2 Transfer): 1. 1T-Tyler Erb[2]; 2. 23-Cory Hedgecock[4]; 3. 49-Jonathan Davenport[6]; 4. 99-Devin Moran[3]; 5. 46-Earl Pearson Jr[5]; 6. 55-Benji Hicks[1]; 7. 19M-Wil Herrington[10]; 8. 21K-Dakotah Knuckles[8]; 9. 2S-Stormy Scott[9]; 10. 89-Logan Roberson[7]; 11. 25-Shane Clanton[13]; 12. 1C-Kenny Collins[11]; 13. 8C-Chris Chandler[15]; 14. 1V-Vic Hill[16]; 15. 3-Austin Neely[19]; 16. (DNF) 126-Kaede Loudy[14]; 17. (DNF) 8-Kyle Strickler[12]; 18. (DNS) 316-Mike Bargo; 19. (DNS) 6JR-Parker Martin; 20. (DNS) 51-Mack McCarter; 21. (DNS) 5-John Tweed
B Feature #2 (12 Laps – Top 2 Transfer): 1. 174-Ethan Dotson[1]; 2. 28-Dennis Erb Jr[2]; 3. 37-Jacob Hawkins[8]; 4. 96V-Tanner English[7]; 5. 88-Trent Ivey[3]; 6. 7-Ricky Weiss[20]; 7. 97-Michael Chilton[10]; 8. 101-Forrest Trent[5]; 9. B1-Brent Larson[6]; 10. B00-Josh Henry[13]; 11. 8P-David Payne[11]; 12. 187-David McCoy[18]; 13. 30-Ryan King[14]; 14. 34-Ellery Leake[12]; 15. 14-Reid Millard[17]; 16. (DNF) 83-Jensen Ford[4]; 17. (DNS) 90J-Jason Trammell; 18. (DNS) 20B-Brad Dyer; 19. (DNS) 44-Chase King; 20. (DNS) 79-Ross Bailes
Qualifying Group A: 1. 1-Hudson O'Neal, 13.197; 2. 51-Mack McCarter, 13.362; 3. 44M-Chris Madden, 13.398; 4. 25Z-Mason Zeigler, 13.416; 5. 32-Bobby Pierce, 13.449; 6. 99M-Camaron Marlar, 13.483; 7. 16-Sam Seawright, 13.486; 8. 46-Earl Pearson Jr, 13.513; 9. 20RT-Ricky Thornton Jr, 13.529; 10. 55-Benji Hicks, 13.533; 11. 3S-Brian Shirley, 13.540; 12. 99-Devin Moran, 13.546; 13. 89-Logan Roberson, 13.547; 14. 21K-Dakotah Knuckles, 13.576; 15. 49-Jonathan Davenport, 13.576; 16. 23-Cory Hedgecock, 13.620; 17. 39-Tim McCreadie, 13.702; 18. 2S-Stormy Scott, 13.706; 19. 19M-Wil Herrington, 13.722; 20. 1C-Kenny Collins, 13.723; 21. 8-Kyle Strickler, 13.736; 22. 3-Austin Neely, 13.791; 23. 1T-Tyler Erb, 13.866; 24. 8C-Chris Chandler, 13.881; 25. 1V-Vic Hill, 13.905; 26. 126-Kaede Loudy, 13.962; 27. 6JR-Parker Martin, 13.971; 28. 25-Shane Clanton, 14.029; 29. 316-Mike Bargo, 14.267; 30. 5-John Tweed, 14.288
Qualifying Group B: 1. 17M-Dale McDowell, 13.171; 2. 1G-Rusty Ballenger, 13.354; 3. 7-Ricky Weiss, 13.355; 4. 22-Chris Ferguson, 13.376; 5. 40B-Kyle Bronson, 13.390; 6. 76-Brandon Overton, 13.415; 7. 174-Ethan Dotson, 13.420; 8. 79-Ross Bailes, 13.440; 9. 157-Mike Marlar, 13.449; 10. 20-Jimmy Owens, 13.484; 11. 37-Jacob Hawkins, 13.487; 12. 20B-Brad Dyer, 13.505; 13. 83-Jensen Ford, 13.547; 14. 8P-David Payne, 13.553; 15. 24D-Michael Brown, 13.559; 16. 97-Michael Chilton, 13.575; 17. 28-Dennis Erb Jr, 13.639; 18. 88-Trent Ivey, 13.667; 19. 44-Chase King, 13.677; 20. 18D-Daulton Wilson, 13.688; 21. 90J-Jason Trammell, 13.716; 22. B00-Josh Henry, 13.727; 23. 101-Forrest Trent, 13.756; 24. B1-Brent Larson, 13.789; 25. 96V-Tanner English, 13.850; 26. 30-Ryan King, 14.010; 27. 34-Ellery Leake, 14.317; 28. 187-David McCoy, 14.325; 29. 14-Reid Millard, 14.832
SPORTSMAN CRATE LATE MODEL (20 Laps)
1. 10B-Bradley Lewelling[3]; 2. 724-Phillip Thompson[2]; 3. 329-Travis Fultz[1]; 4. 29-Rusty Ballenger[4]; 5. 44K-Kip Sawyer[5]; 6. 3-Tim Maupin[8]; 7. 18-Phil Crittenden Jr[6]; 8. 30-Taylor Coffman[13]; 9. 15-Matt Shannon[11]; 10. 21B-Trey Bayne[10]; 11. 32-Tyler Smith[7]; 12. 76-Joe Bray[14]; 13. 07A-Addison Cardwell[15]; 14. 10-James Parrott[17]; 15. 21H-Tyler Haynes[9]; 16. 102-Reed Hatchett[21]; 17. 1X-Josh Chesney[23]; 18. 2-Terry Poore[19]; 19. 54-Mitchell Burke[18]; 20. 33-Warren McMahan[24]; 21. 44-David Beeler[22]; 22. 4-Ryan Smith[16]; 23. 31-Wes Tilley[20]; 24. (DNS) 07B-Baily Cardwell
B Feature (10 Laps – Top 6 Transfer): 1. 2-Terry Poore[2]; 2. 31-Wes Tilley[1]; 3. 102-Reed Hatchett[4]; 4. 44-David Beeler[5]; 5. 1X-Josh Chesney[3]; 6. 33-Warren McMahan[8]; 7. 28-Richard Cox[10]; 8. 25K-Kyle Manis[6]; 9. 53-Matt Barnes[12]; 10. 3S-Shane Starnes[11]; 11. 21-Bryan Howerton[7]; 12. (DNS) 3F-Floyd Self
Hot Lap/Qualifying: 1. 329-Travis Fultz, 13.759; 2. 724-Phillip Thompson, 13.895; 3. 10B-Bradley Lewelling, 13.951; 4. 29-Rusty Ballenger, 14.060; 5. 44K-Kip Sawyer, 14.112; 6. 18-Gary Crittenden, 14.153; 7. 32-Tyler Smith, 14.178; 8. 3-Tim Maupin, 14.189; 9. 21H-Tyler Haynes, 14.258; 10. 21B-Trey Bayne, 14.263; 11. 15-Matt Shannon, 14.295; 12. 07B-Baily Cardwell, 14.300; 13. 30-Taylor Coffman, 14.401; 14. 76-Joe Bray, 14.403; 15. 07A-Addison Cardwell, 14.412; 16. 4-Ryan Smith, 14.415; 17. 10-James Parrott, 14.451; 18. 54-Mitchell Burke, 14.459; 19. 31-Wes Tilley, 14.465; 20. 2-Terry Poore, 14.506; 21. 1X-Josh Chesney, 14.623; 22. 102-Reed Hatchett, 14.714; 23. 44-David Beeler, 14.733; 24. 25K-Kyle Manis, 14.749; 25. 21-Bryan Howerton, 14.768; 26. 33-Warren McMahan, 14.814; 27. 3F-Floyd Self, 14.898; 28. 28-Richard Cox, 15.141; 29. 3S-Shane Starnes, 15.332; 30. 53-Matt Barnes, 15.627