Proffitt family to promote weekly racing in 2023 at Volunteer Speedway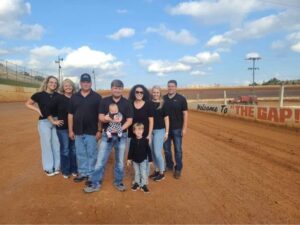 Proffitt family to promote weekly racing in 2023 at Volunteer Speedway
BULLS GAP, Tenn. (Sept. 27, 2022) — There's excitement buzzing within the East Tennessee racing community with announcement that 57-year-old Barry Proffitt of Isom, Kentucky, his son Josh and the Proffitt family, will be promoting weekly racing in 2023 at Volunteer Speedway.
Barry's involvement working in dirt racing in Southeastern Kentucky dates back over 30 years ago to the early '90s when he began helping at Thunder Ridge Raceway located in Prestonsburg, assisting promoter Chris Blair. Once Blair left, Barry was elevated into the position as promoter of the premier 3/8-mile facility, which besides having the dirt-track for auto racing also featured thoroughbred horse racing and legalized betting in the Commonwealth.
Following a decade at Thunder Ridge Raceway, Barry took over operations at Mountain Motorsports Park in Isom, where he promoted racing from 2000-2006.
Having worked for 30 years in the coal industry (strip-mining) operating heavy equipment, Barry took on the task of building Lucky 7 Raceway in Whitesburg, which opened in 2008 where he promoted racing through 2011.
There's an old saying about you can't go back home. Well, there's no truth to that. Barry and family went back to operating Mountain Motorsports Park from 2020 through 2022. The historic flooding in Southeastern Kentucky back in July badly damaged the facility, thus prematurely ending the racing season.
Volunteer Speedway, which opened in 1974, means a lot to East Tennessee race fans, drivers and racing teams. It also means a lot to Barry, his wife Stephanie and their family. Through the years they've attended many Super Late Model special events at "The Gap," and the thought was always in back of Barry's mind that someday he would really like to have the opportunity to promote racing at the legendary, high-banked palace of speed.
"I'm excited, my family's excited, and we want all the race fans, drivers and racing teams in East Tennessee to be excited, for what we're planning on doing at Volunteer Speedway in 2023 – and hopefully many years to follow," said Barry Proffitt, this afternoon from his home-base in Southeastern Kentucky. "I first want to thank Vic Hill and his wife Christa, for the opportunity they've given my family and I to promote racing at Volunteer Speedway next year. Vic and I talked extensively before we reached agreement on me taking on responsibility of promoting events at the track and my goals, and I told him that I really want to bring regular weekly racing back to Volunteer Speedway. Everybody just wants to see regular weekly racing back at the track. Vic's got too much on his plate with Vic Hill Racing Engines to handle promoting weekly racing, because it's really a full-time job managing the track. I truly believe for any racetrack to be successful, you've got to have a really strong weekly racing program.
"There's only one Volunteer Speedway. It's a place like none other in this country, and there definitely is a huge need to host regular weekly racing throughout the year. Tentative plans are to start racing in late March (dependent on weather) and go into fall of the year and end in October. My thoughts are, treat people how you would want to be treated. I want to gain the trust of the East Tennessee racing community. I will prove to them that I'm a man of my word. What I say, is what I plan on doing. I plan on operating Volunteer Speedway fairly to the racers, we'll pay good purses, there will be a good, qualified tech man, and hopefully both fans and drivers will continue supporting the track like they have through the years. The infrastructure is already in place at Volunteer Speedway with good personnel working in all aspects, and my plans are to keep them in place. It takes individuals who are dedicated to being at the track every week the gates open, and there's a solid staff already willing to work at Volunteer Speedway. Good things are planned in 2023 at Volunteer Speedway, and I'm ready for next spring to hurry up and arrive."
Barry has had the privilege to oversee operations at different tracks in Southeastern Kentucky, and he looks forward to settling in to his new East Tennessee home at Volunteer Speedway. It's a fact, racing is a "family affair" for the Proffitts. And, East Tennessee quite possibly could become future "home" to Barry and wife Stephanie, as their daughter Lindsay is engaged to local racer Michael Bland who lives in nearby Dandridge. Their other daughter, Chelsea, still lives in Isom. … Son Josh, age 31, who will be heavily involved with his father Barry in operating Volunteer Speedway, lives with wife Olivia and their children in Isom. Josh is a doctor with medical practice in Hazard.
A race schedule for 2023 is currently being worked on along with making some rules adjustments, plus classes racing will soon be announced.
Barry Proffitt will promote weekly racing in 2023 at Volunteer Speedway, while Vic Hill is expected to promote a few Super Late Model special events.
Volunteer Speedway: 423-235-5020
www.VolunteerSpeedway.com
Vic Hill (Volunteer Speedway Operations): 423-312-4206
Barry Proffitt (Weekly Racing Promoter): 606-335-3915