TNT Race Cars presents 2021 Volunteer Speedway Hall of Fame 'Legends of The Gap' Night on Saturday, Oct. 9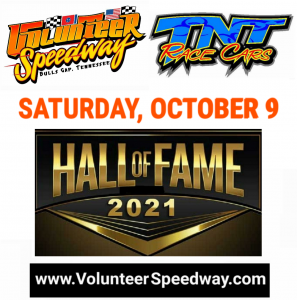 TNT Race Cars presents 2021 Volunteer Speedway Hall of Fame "Legends of The Gap" Night on Saturday, Oct. 9
RACE DATE: Saturday, Oct. 9, 2021
EVENT: TNT Race Cars presents 2021 Volunteer Speedway Hall of Fame "Legends of The Gap" Night. … Come see several all-time great East Tennessee racing legends get inducted into the track's Hall of Fame.
LOCATION: Volunteer Speedway, located just off Interstate 81 (Exit 23) at 14095 West Andrew Johnson Highway (Hwy. 11-E), in Bulls Gap, Tennessee 37711.
ADMISSION (Cash Only For Grandstands Or Pits. No Cards Accepted!): Adult grandstand $12, with kids 10-and-under admitted free. … Adult pit/tier-parking $30, youth (5-10) $15, with ages 4-and-under free.
GATES: Pit gates open at 4 p.m. and grandstands at 5 p.m.
RACING: Crate Late Model (25 laps), Sportsman Late Model (20 laps), Street Stock (20 laps), Classic (20 laps), and Front Wheel Drive (20 laps).
HOT LAPS / QUALIFYING: Hot laps will begin at 7 p.m., with (5 hot laps) times via the transponder being qualifying for Street Stock, Classic and Front Wheel Drive. … Crate Late Model and Sportsman Late Model will qualify 2 laps. … Hall of Fame ceremonies kick off the night's activities after qualifying, followed by prayer, national anthem and green-flag racing.
☆ Volunteer Speedway safety rules apply for all divisions, meaning RaceCeiver, window net, racing gloves, etc. required. Please read the website Rules section, and "know" the Rules! ☆
☆☆ Invite your family members, friends, neighbors and co-workers to visit Volunteer Speedway for exciting racing action on the high banks SATURDAY, OCT. 9. ☆☆
☆☆☆ Outside food and drinks (no coolers) aren't allowed in front straightaway grandstands! Lawn chairs are permitted. ☆☆☆
Volunteer Speedway: 423-235-5020 www.VolunteerSpeedway.com