'Newport Nightmare' Owens wins $15,000 Crate Late Model National Championship at Volunteer Speedway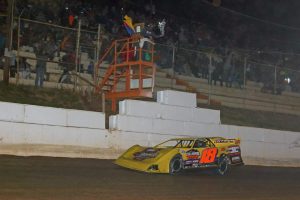 'Newport Nightmare' Owens wins $15,000 Crate Late Model National Championship at Volunteer Speedway
BULLS GAP, Tenn. (Nov. 14, 2020) — Jimmy Owens is a fan favorite all across the country, but East Tennessee is home and Volunteer Speedway is where he honed his driving skills when first starting out racing.
Racing on the national stage nowadays, Owens has won every "crown jewel" event in dirt racing and recently wrapped up his fourth Lucas Oil Late Model Dirt Series championship. But there's really no place like home, and Owens wrote his name once again in the record book Saturday at Volunteer Speedway as winner of the inaugural $15,000 Volunteer Motorsports Crate Late Model National Championship.
"It's really awesome getting to race here at Volunteer Speedway this weekend in front of the home crowd that's been a big part of my racing since the beginning and supported me through the years," Owens said from victory lane on the front straightaway. "With racing nowadays taking me all around the country with the Lucas Oil Late Model Dirt Series and big races we run, you still just never forget people you grew up around at the racetrack. I've enjoyed running this event because it's just a special feeling to talk with people in the pits that you don't get to see like you once did.
"After our season ended back in mid-October, I actually came here to 'The Gap' a couple of weeks ago to watch my brother Kurt race his Modified Street car and had a really good time just hanging out that night."
Sixty-four Crate Late Models returned Saturday to "The Gap" from Friday night's opening count of 74, representing 12 states along with Canada.
The 24-car starting field would be set through six heat races (transferring the top three finishers) and three B-mains (transferring the top two finishers). Night 1 winner Ricky Weiss captured victory in the first heat, while Ford recorded the win in second heat, with Matt Henderson winning heat three.
Cory Hedgecock won the fourth heat, with Aaron Guinn winning the fifth heat, and Logan Roberson capturing the victory in the sixth heat.
Three B-mains with the top two finishers transferring would complete the 24-car starting field. Greg Martin, Ross White and Kyle Bronson won the last chance qualifiers.
Ford grabbed the lead on the start over Weiss, Hedgecock, Henderson and Roberson. Ford drifted up high in the banking in turn two on lap 3, allowing Weiss to drive by into the lead on the backstretch. Owens, who started from tenth, was making a charge forward quickly as he passed Zach Sise, Jason Welshan and Guinn before overtaking Henderson for fifth on lap 10 between turns one and two.
With Weiss in command out front the trio of Ford, Hedgecock and Roberson saw Owens close right in behind them. Henderson, Sise and Welshan had their own battle going for position from sixth to eighth.
Weiss caught rear of the field on lap 18 and began maneuvering his way around them, knowing he couldn't hesitate because he was being pursued by Ford, Hedgecock, Roberson and Owens. Owens is a master at threading the needle when working through heavy lapped traffic, and on lap 21 he pulled off a daring move in getting past Ford, Hedgecock and Roberson when the slower cars momentarily held them up.
Now running second and seeing Weiss up ahead still catching cars to place them a lap down, Owens was zeroed-in and quickly closing in to mount a challenge. Getting a good run down the backstretch into the third turn on lap 30, Owens drove underneath Weiss and completed the pass for the lead racing up off (turn) four onto the front straightaway as many in the grandstand crowd rose to their feet cheering.
Owens began to gradually distance himself from Weiss and at the scheduled halfway competition fuel stop his advantage was almost a full straightaway, as the first 50 laps had ran caution-free. All cars stopped on the front straightaway to allow their crews to refuel only, with no tires or anything else permitted.
Off the ensuing double-file restart, Owens powered back out ahead but Weiss immediately slowed between turns one and two and down the backstretch, quickly being passed by Roberson, Welshan, Hedgecock, Ford, Sise and Henderson. Thinking he had a flat right-front tire, Weiss slowed to a stop and the caution waved on lap 52. Heading into the pits to allow his crew to change what thought was a flat, ultimately proved to be a broken shock which unfortunately ended his race.
There were only two cautions during the race, and following the yellow waving for Weiss, on lap 61 Bradley Lewelling slowed with a flat left-rear tire. His crew changed the tire and he tagged on at rear of the field for the restart.
Back under green and once again Owens asserted himself out front, while Welshan took second away from Roberson. Behind them Sise was running in the fourth spot ahead of Hedgecock, Ford and Guinn.
With a clear track ahead of him, Owens began pulling away from Welshan and Roberson. Driving the Michael Lloyd Hauling & Demolition/Tillman Roofing/Staykool Sprayfoam/Dependable Well & Pump Service/Hoosier Racing Tire/Integra Racing Shocks/Swift Springs/Hendren Racing Engines/Top Notch Graphics/Rocket Chassis, Owens cruised to the $15,000 Crate Late Model National Championship victory over Welshan, Roberson, Sise and Ford.
Completing the top 10 finishers were Hedgecock, Guinn, Wil Herrington, Kyle Hardy and Mark Whitener.
I didn't really have plans to run this event, but Kyle Bronson (fellow Lucas Oil Late Model Dirt Series competitor) called and said another racer, Michael Lloyd, had a car he wanted me to drive," said Owens. "Kyle brought it up from Florida in his hauler along with his car and we practiced Thursday to get a feel of driving it, because these crate (engine) cars don't have nowhere near the horsepower like the supers (Late Model) I'm accustomed to driving have. I got pretty comfortable with the car and we ran pretty well last night in the $5,000 race and learned a lot about what my crew and I needed do to be better tonight.
"All in all this has been a really fun weekend of racing here close to home in my own backyard. I appreciate the guys bringing the car up for me to race. What a year it's been with COVID-19 halting racing for a couple of months, and then once we do get cranked back up we have a great season and win our fourth Lucas Oil Late Model Dirt Series championship and now this weekend. It's just a really cool deal to be able say we won this $15,000 Crate Late Model National Championship event."
KC Burdette of Parkersburg, W.Va., was fastest in Brucebilt Performance Iron-Man Open Wheel Modified qualifying at14.438 seconds, with Brandon Kinzer timing-in second quickest at 14.607. Burdette powered into the lead on the start, but his run out front was short-lived as he spun in the fourth turn before one lap was completed to bring out the caution.
The second attempt to go green saw Clayton Miller take the lead over Brandon Kinzer, Blake Brown, Jeff Hamby and Amos Bunch. Hopes of victory for Miller were dashed when he dropped out on lap 6. Brown, from Corbin, Ky., took the lead over Kinzer and over the final 19 circuits hit his marks lap-after-lap to capture his third series win on the season. Brown was chased to the checkers by Kinzer, Hamby, Wayne James and Jimmy Dalton.
Zack Walton has established himself as "King of Front Wheel Drive" at Volunteer Speedway. Walton, from Blountville, started from the pole position and never looked back en route to capturing his division-leading ninth win of the season over Justin Tate, Jeremy Wyatt, Tyler Walton and Danny Tate.
VOLUNTEER SPEEDWAY – BULLS GAP, TN – NOVEMBER 14, 2020 (NIGHT #2) – AMERICAN CRATE ALL-STAR SERIES – $15,000 CRATE LATE MODEL NATIONAL CHAMPIONSHIP – RACE RESULTS
1. Jimmy Owens #18-Newport, TN
2. Jason Welshan #01-Maryville, TN
3. Logan Roberson #17R-Dooms, VA
4. Zach Sise #9-Knoxville, TN
5. Jensen Ford #83-Johnson City, TN
6. Cory Hedgecock #23-Loudon, TN
7. Aaron Guinn #97-Russellville, TN
8. Wil Herrington #14-Hawkinsville, GA
9. Kyle Hardy #14H-Stephens City, VA
10. Mark Whitener #5-Middlebourne, FL
11. Matt Henderson #22-Loudon, TN
12. Josh Henry #B00-Newport, TN
13. Bradley Lewelling #10B-Seymour, TN
14. Greg Martin #24M-Oliver Springs, TN
15. Ross White #0-Knoxville, TN
16. Carder Miller #69-Salem, VA
17. Justin Williams #2W-Lynchburg, VA
18. Mack McCarter #51-Gatlinburg, TN
19. Drew Kennedy #K37-Wartburg, TN
20. Brandon Miller #89-Maryville, TN
21. Ricky Weiss #7-Headingley, Manitoba, Canada
22. Mike Smith #4-Rogersville, TN
23. Trevor Sise #73-Knoxville, TN
24. Kyle Bronson #40-Brandon, FL
HEAT #1 (Top 3 Transfer – 10 Laps): 1) Ricky Weiss #7, 2) Jason Welshan #01, 3) Wil Herrington #14, 4) Carder Miller #69, 5) Greg Martin #24, 6) Deke Waters #66, 7) Justin Hudspeth #27H, 8) Austin Glass #34, 9) Kevin Copher #509, 10) Raymond Nichols #10, 11) Josh Johnson #27
HEAT #2 (Top 3 Transfer – 10 Laps): 1) Jensen Ford #83, 2) Zach Sise #9, 3) Justin Williams #2W, 4) Ross White #0, 5) Michael Bland #00, 6) Shannon Emery #52, 7) Samuel Bryant #200, 8) Gary Crittenden #18C, 9) Joe Martin #10S, 10) Walker Arthur #87, 11) Cory Brock #28
HEAT #3 (Top 3 Transfer – 10 Laps): 1) Matt Henderson #22, 2) Drew Kennedy #K37, 3) Brandon Miller #89, 4) Tyler Bare #30, 5) Trevor Sise #73, 6) Ruben Mayfield #00M, 7) Richie Edwards #4B, 8) Kenny Ford #61, 9) Travis Abbott #45, 10) Matt Long #55, 11) Anthony White #2X
HEAT #4 (Top 3 Transfer – 10 Laps): 1) Cory Hedgecock #23, 2) Jimmy Owens #18, 3) Mike Smith #4, 4) Ryan King #1G, 5) Corey Almond #7A, 6) Kyle Courtney #171, 7) Grant Harrison #1, 8) Jeremy Creech #17, 9) Chris Chandler #8, 10) A.J. Hicks #64, 11) Josh Baker #22F
HEAT #5 (Top 3 Transfer -10 Laps): 1) Aaron Guinn #97, 2) Mark Whitener #5, 3) Josh Henry #B00, 4) Tyler Arrington #002, 5) Kyle Hardy #14C, 6) Jordon Horton #57, 7) Teddy Tate #99, 8) Tyler Smith #32, 9) Ty Veuleman #69, 10) Troy Eads #52E
HEAT #6 (Top 3 Transfer – 10 Laps): 1) Logan Roberson #17R, 2) Bradley Lewelling #10B, 3) Mack McCarter #51, 4) Kyle Bronson #40, 5) Trevor Collins #11C, 6) Tim Maupin #3, 7) Dillon Brown #6, 8) Nathan Martin #3N, 9) Harve Gregory #52H, 10) Kaede Loudy #126
B-MAIN #1 (Top 2 Transfer – 12 Laps): 1) Greg Martin #24, 2) Carder Miller #69, 3) Kyle Courtney #171, 4) Ryan King #1G, 5) Corey Almond #7A, 6) Deke Waters #66, 7) Justin Hudspeth #27H, 8) Grant Garrison #1, 9) Jeremy Creech #17, 10) A.J. Hicks #64, 11) Austin Glass #34, 12) Kevin Copher #509, 13) Chris Chandler #8, 14) Raymond Nichols #10, 15) Josh Baker #22F, 16) Josh Johnson #27
B-MAIN #2 (Top 2 Transfer – 12 Laps): 1) Ross White #0, 2) Kyle Hardy #14C, 3) Shannon Emery #52, 4) Samuel Bryant #200, 5) Jordon Horton #57, 6) Joe Martin #10S, 7) Michael Bland #00, 8) Gary Crittenden #18C, 9) Ty Veuleman #69, 10) Tyler Smith #32, 11) Teddy Tate #99, 12) Tyler Arrington #002, 13) Cory Brock #28, 14) Troy Eads #52E, 15) Walker Arthur #87
B-MAIN #3 (Top 2 Transfer – 12 Laps): 1) Kyle Bronson #40, 2) Trevor Sise #73, 3) Tyler Bare #30, 4) Trevor Collins #11C, 5) Ruben Mayfield #00M, 6) Nathan Martin #3N, 7) Richie Edwards #4B, 8) Kenny Ford #61, 9) Travis Abbott #45, 10) Kaede Loudy #126, 11) Anthony White #2X, 12) Tim Maupin #3, 13) Dillon Brown #6, 14) Harve Gregory #52H, 15) Matt Long #55
BRUCEBILT PERFORMANCE IRON-MAN OPEN WHEEL MODIFIED (25 laps)
1. Blake Brown #99
2. Brandon Kinzer #18
3. Jeff Hamby #7
4. Wayne James #4
5. Jimmy Dalton #2
6. Zac Harris #98
7. Amos Bunch #50
8. David Clark #13
9. Owen Wells #15
10. Tyler James #J4
11. Brandon James #J31
12. Chase Lawson #4C
13. KC Burdette #J3
14. Dathan Dyke #11D
15. Clayton Miller #15
16. Terry James #J1
17. Jeff Akard #00
FRONT WHEEL DRIVE (20 laps)
1. Zack Walton #38
2. Justin Tate #T8
3. Jeremy Wyatt #1W
4. Tyler Walton #731
5. Danny Tate #D2
6. Hunter Price #18
7. Ray Wyatt #7W
8. Casey Pittenturf #11
9. Dan Sandiford #1S
10. Atlas Hembree #22
11. Scotty Gosnell #0
12. Joey Knowles #87
13. Daniel Tate #2D
14. Tyler Shults #9
15. Tanner Tate #2
16. Jesse Hurst Jr. #14
17. Josh Ramsey #1R
18. Brian Tate #79