Coca-Cola 'Fall Brawl' scheduled Saturday, Nov. 7 at Volunteer Speedway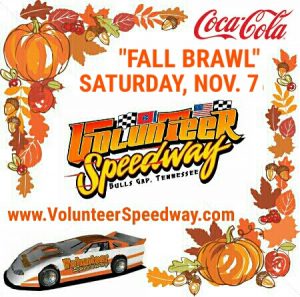 Coca-Cola "Fall Brawl" scheduled SATURDAY, NOV. 7 at Volunteer Speedway … Complete event details below, please read:
RACE DATE: Saturday, Nov. 7, 2020
EVENT: Coca-Cola "Fall Brawl" … ☆☆☆ There will be Coca-Cola merchandise given away, such as Coca-Cola popcorn machine, Coca-Cola refrigerator (looks like Coca-Cola can), Coca-Cola cellphone/credit card holders (400), and first 50 paid adult grandstand admissions receive free Coca-Cola from the concession stand. ☆☆☆
LOCATION: Volunteer Speedway, located just off Interstate 81 (Exit 23) at 14095 West Andrew Johnson Highway (Hwy. 11-E), in Bulls Gap, Tennessee 37711.
GATES: Pit gates open at 10 a.m., grandstand gates at 11 a.m. … Drivers meeting at 12:30 p.m., with hot laps/qualifying starting at 1 p.m. … Prayer and national anthem, followed by green-flag feature racing.
ADMISSION: Adult grandstand $12, with kids 10-and-under admitted free. … Adult pit/tier-parking $30, youth (5-12) $15, with ages 4-and-under free.
RACING: Crate Late Model (25 laps), Sportsman Late Model (20 laps), Modified Street (20 laps), Classic (20 laps), Street Stock (20 laps), Front Wheel Drive (20 laps), and Mini Late Model (15 laps).
HOT LAPS/QUALIFYING: Hot lap (5 hot laps) times via the transponder being qualifying for Modified Street, Classic, Street Stock and Front Wheel Drive. … Crate Late Model and Sportsman Late Model will qualify 2 laps.
☆ Volunteer Speedway safety rules apply for all divisions, meaning RaceCeiver, Window Net and Racing Gloves required. ☆
☆☆ Invite your family members, friends, neighbors and co-workers to visit "The Gap" for exciting racing action on the high banks SATURDAY, NOV. 7. ☆☆
Volunteer Speedway: 423-235-5020 www.VolunteerSpeedway.com