$5 adult grandstand admission Saturday, Aug. 22 at Volunteer Speedway — Contingency Connection Racer Rewards presents 'Fan Appreciation Night'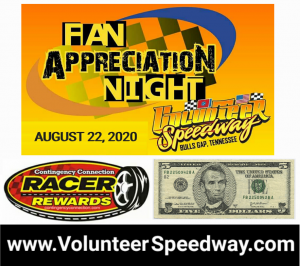 $5 adult grandstand admission Saturday, Aug. 22 at Volunteer Speedway — Contingency Connection Racer Rewards presents 'Fan Appreciation Night'

RACE DATE: Saturday, Aug. 22, 2020
EVENT: Contingency Connection Racer Rewards presents Fan Appreciation Night
LOCATION: Volunteer Speedway – Bulls Gap, Tenn., at Exit 23 on Interstate 81.
ADMISSION: $5 adult grandstand, with kids 10-and-under admitted free. … Adult pit/tier-parking $30, youth (5-12) $15, with ages 4-and-under free.
GATES: Pit gates open at 4 p.m. and grandstands at 5 p.m.
RACING: Crate Late Model (25 laps), Sportsman Late Model (20 laps), Modified Street (20 laps), Classic (20 laps), Street Stock (20 laps), Front Wheel Drive (20 laps), and Sharp Mini Late Model (15 laps).
DRIVER MEET-AND-GREET (6:30 p.m. – 7:30 p.m.): Fan Appreciation Night on-track activities for meet-and-greet with drivers/race teams on front straightaway and infield pits. Plus, kids' power wheels and bicycle races for ages (5-7 and 8-10).
HOT LAPS/QUALIFYING: Hot laps will begin around 7:45 p.m., with (5 hot laps) times via the transponder being qualifying for Modified Street, Classic, Street Stock, Front Wheel Drive and Sharp Mini Late Model. … Crate Late Model and Sportsman Late Model will qualify 2 laps. … Prayer and national anthem, followed by green-flag feature racing starting around 9 p.m.
☆ Volunteer Speedway safety rules apply for all divisions, meaning RaceCeiver, Window Nets and Racing Gloves required. ☆
☆☆ Invite your family members, friends, neighbors and co-workers to visit "The Gap" for a night of exciting racing action on the high banks SATURDAY, AUG. 22. ☆☆
☆☆☆ Volunteer Speedway is located just off Interstate 81 (Exit 23) at 14095 West Andrew Johnson Highway (Hwy. 11-E), in Bulls Gap, Tennessee 37711. ☆☆☆
Volunteer Speedway: 423-235-5020 www.VolunteerSpeedway.com