Madden captures $3,500 'Southern Nationals Series' victory at Volunteer Speedway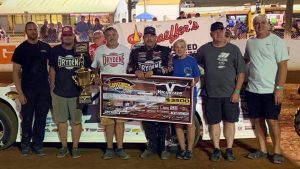 Madden captures $3,500 'Southern Nationals Series' victory at Volunteer Speedway
BULLS GAP, Tenn. (July 13, 2020) — The Schaeffer's Oil Southern Nationals Series presented by Sunoco Race Fuels headlined racing Monday night at Volunteer Speedway. The two-week mini-tour around the Southeast features events at 12 tracks and was ninth time the series has visited "The Gap," with the last stop back in 2013.

Chris Madden of Gray Court, S.C., a five-time Southern Nationals Series champion, celebrated in victory lane with his $3,500 victory as he increased his all-time series best win total to 26.

Madden was fastest of 24 cars in qualifying at 13.488 seconds to earn pole position for the 35-lap main event over five-time Volunteer Speedway Super Late Model champion Vic Hill. The top 10 drivers from qualifying were locked into starting positions while two B-mains, won by David Payne and Pearson Lee Williams, completed the rest of the lineup.

At drop of the green flag Madden won the drag race down the front straightaway over Hill on the start, but Hill rode the cushion around the top between turns one and two and powered into the lead down the backstretch. Back around to complete the opening lap Hill led Madden, Brandon Overton, Cory Hedgecock and Ross Bailes.
While Hill was being pressured for the lead by Madden, Overton and Hedgecock were battling for the third spot. Racing into the first turn on lap 7, with Hill down in the low groove Madden sailed off hard into the corner on the high side to pull even as they raced side-by-side down the backstretch. Overton worked past Hill on lap 10 and set his sights ahead on leader Madden, who had stretched his advantage to slightly over a half-straightaway. Hill dropped back to fourth when Hedgecock passed him on lap 14.

Leader Madden was working some slower traffic at rear of the field, but he quickly maneuvered his way past them to not really allow Overton to close ground. The event's only caution flag waved on lap 21 when Williams slowed with a flat right-rear tire in the fourth turn.
Back under green Madden was showing the way out front, while Hedgecock grabbed second over Overton. Good, hard racing between Hedgecock and Overton saw the duo thrill fans as they executed slide-jobs in the corners swapping real estate over six circuits before Overton claimed second in the running order.

But there would be no catching Madden, driving the the Millwood Motorsports, Millwood Plumbing, Machine Construction Company, Drydene, On-Time Hauling, Henderson Amusements, Penske Shocks and Competition Race Equipment-sponsored Clements Racing Engines-powered Rocket Chassis, cruised to the $3,500 payday over Overton, Hedgecock, Bailes and Logan Roberson. Completing the top 10 finishers were Hill, Tyler Millwood, Donald McIntosh, Jensen Ford and Payne.
Josh Henry of Newport finally got his new Savage-chassis race car dialed-in to perfection and rolled to a commanding Crate Late Model victory over Jordon Horton, Drew Kennedy, Rusty Ballenger and Tim Sant.

Jake Whitehead of Maryville jumped out to lead at start of the Sportsman Late Model feature and never looked back en route to going flag-to-flag for the victory over Mitchell Burke, Clyde Stanton, Michael Boyd and David Bullington.
Wayne Rader of Parrottsville held off a hard-charging Kaleb Trent to capture the Modified Street feature win, with Bobby Petty, Austin Neely and Ross White rounding out the top five finishers.

Trevor Sise of Knoxville knows his way to victory lane at Volunteer Speedway, he's parked there on several occasions and he's also the 2018 Crate Late Model champion. Trevor decided to have some fun racing in the Classic division and the battle for the win came down between himself and Shaun Sise, with Trevor earning Sise family bragging rights. Finishing third through fifth, respectively, were Tim Bounds, Charles Bates and Will Carey.
VOLUNTEER SPEEDWAY – BULLS GAP, TN – SCHAEFFER'S OIL SOUTHERN NATIONALS SERIES PRESENTED BY SUNOCO RACE FUELS ($3,500-TO-WIN) – RACE RESULTS – JULY 13, 2020
1. Chris Madden #44-Gray Court, SC $3,500

2. Brandon Overton #76-Evans, GA $2,000

3. Cory Hedgecock #23-Loudon, TN $1,500

4. Ross Bailes #58-Clover, SC $1,200

5. Logan Roberson #17-Waynesboro, VA $900

6. Vic Hill #1-Mosheim, TN $700

7. Tyler Millwood #31-Kingston, GA $600

8. Donald McIntosh #7M-Dawsonville, GA $550

9. Jensen Ford #83-Johnson City, TN $525

10. David Payne #8-Murphy, NC $500

11. Ryan King #1G-Seymour, TN $480

12. Forrest Trent #101-Talbott, TN $470

13. Clay Coghlan #6-Dandridge, TN $460

14. Jake Knowles #66-Rome, GA $450

15. John Baker #14-Norman Park, GA $440

16. Ryan Crane #10-Panama City, FL $430

17. Aaron Guinn #97-Russellville, TN *** $620

18. Craig Greer #7-Cleveland, TN $410

19. Jadon Frame #27-Winchester, TN $400

20. Dusty Carver #9-Englewood, TN $400

21. Pearson Lee Williams #2-Dublin, GA $400

22. Travis Fultz #3-Tazewell, TN $400

23. Mack McCarter #51-Gatlinburg, TN $400

Time of Race: 13 minutes, 20 seconds
Margin of Victory: 02.379 seconds
Yellow Flags: One (lap 21)
Lap Leaders: Hill (1-6), Madden (7-35)
Overall Fast Qualifier: Chris Madden 13.488 seconds
Highest Finishing CT525 Engine ($200): None
Highest Finishing Steel Head/SPEC Engine *** ($200): Aaron Guinn
Provisional Starters: Donald McIntosh, Craig Greer, Jadon Frame
Heat #1: 1. David Payne #8, 2. Travis Fultz #3, 3. Jake Knowles #66, 4. Mack McCarter #51, 5. Ryan Crane #10, 6. Donald McIntosh #7M, Jadon Frame #27

Heat #2: 1. Pearson Lee Williams #2, 2. Forrest Trent #101, 3. John Baker #14, 4. Dusty Carver #9, 5. Aaron Guinn #97, 6. Craig Greer #7, Ahnna Parkhurst #23 (DNS).
CRATE LATE MODEL (20 laps)
Did Not Start: Adam Ahl #7
SPORTSMAN LATE MODEL (20 laps)
MODIFIED STREET (20 laps)