Mitchell banks $10,000 for 'Summer Speedweek' World of Outlaws Late Model victory at Volunteer Speedway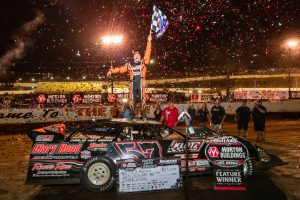 Zack Mitchell captures his first career World of Outlaws Late Model Series victory.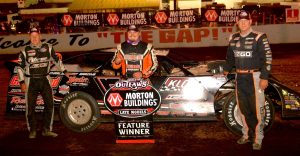 Zack Mitchell, Dale McDowell and Darrell Lanigan in World of Outlaws Late Model Series victory lane at Volunteer Speedway.

Mitchell banks $10,000 for 'Summer Speedweek' World of Outlaws Late Model victory at Volunteer Speedway
BULLS GAP, Tenn. (June 20, 2020) — There have been many large crowds through the past 46 years in history of Volunteer Speedway, but none big as Saturday for Night 2 of "Summer Speedweek" presented by Food City for appearance by the World of Outlaws Late Model Series.
With the World of Outlaws Late Model Series, Crate Late Model and Sportsman Late Model classes in action, "Late Model Mania" lived up to its billing on the legendary high banks at "The Gap"
That first-career win is a moment that drivers never forget, and Zack Mitchell saw his moment and seized it.
Leading from wire-to-wire, Mitchell of Enoree, South Carolina rolled into "The Gap" and grabbed the bull that is the star-studded field of World of Outlaws by the horns. His reward for that first career Morton Buildings Late Model Series feature win? A cool $10,000 check.
"Man, if you would've told me I would win this race on the way up here, I would've said you're a liar," Mitchell said in disbelief after a jubilant celebration. "This is just surreal. To come here and win against competition like this, I just can't believe it."
Earning the outside pole of the 50-lapper thanks to a heat race victory and fourth-place qualifying effort, Mitchell lined up on the front row alongside Darrell Lanigan of Union, Ky. in the catbird seat. Lanigan, chasing his 74th career World of Outlaws win, raced into turn one with control of the lead, but Mitchell quickly find momentum on the high side and rocketed by Lanigan's No. 29V to assume the lead down the backstretch.
From there, a 29-lap green flag run brought the feature to life as the field stretched out and jockeyed for position. Entering lap traffic on lap 10, Mitchell faced his toughest task as he had to navigate the back markers with a rear view mirror full of Darrell Lanigan and Dale McDowell. While it was Mitchell, Lanigan and McDowell occupying the podium spots, Friday's polesitter Scott Bloomquist of Mooresburg, Tenn. and Friday's winner Brandon Sheppard of New Berlin, Ill. gave chase to them.
Dealing with a trio of restarts just past halfway, Mitchell was never seriously challenged while McDowell focused on passing Lanigan for second, which he did on lap 30. Acing the final restart with 19 laps left, Mitchell quickly distanced himself from McDowell with assistance of a near-perfect Barry Wright Race Cars, Clemons powered No. 57.
"I was just aiming that thing into the corner and it went anywhere I wanted," Mitchell said on his car's ability. "This thing was flawless. Barry Wright Race Cars, Clements horsepower, everything ran great. It's pretty cool to race on a track like this. We don't get many slick tracks around home."
Mitchell found lap traffic one final time with ten laps left, but his 2.2 second cushion over McDowell became essentially unbeatable. McDowell of Chickamauga, Ga. ran it down to 1.3 seconds, but ran out of time as the checkered flag dropped and Zack Mitchell sealed the deal on his first career World of Outlaws Morton Buildings Late Model Series feature win at Volunteer Speedway.
"Hats off to everyone on this deal: my dad, Tim, Mike, Dalton my fiancé, they all mean so much to me," an emotional Mitchell let out. "I know I'm forgetting somebody, but wow. I'm out of breath. I think I held my breath the whole 50 laps."
Chasing Mitchell to the line with a second-place finish was Dale McDowell aboard the Shane McDowell Racing, E-Z-GO Vehicles No. 17M Team Zero Race Car. A former two-time winner at the Bulls Gap 4/10-mile, McDowell was strong on Saturday night, but not strong enough to stop a determined first-time winner.
"I feel like I was probably a little better on the bottom side of the race track managing my tires, but those guys were a little better farther up," McDowell noted post-race. "It just wasn't our night. Congratulations to Zack, I know this is a huge win for him and he drove a really great race."
Darrell Lanigan, who authored a remarkable turnaround from his past few performances, returned to peak condition with a podium run at Volunteer. Finding the speed in the Barry Wright Race Cars No. 29V again, the three-time World of Outlaws champion became a force at the front again and actually gained ground on Brandon Sheppard and Ricky Weiss in the title hunt, where he sits third.
"We just lacked a little bit of instant traction, but all in all we had a great car all night long," Lanigan said afterwards. "I'm just really proud of these guys. We struggled hard this past month and they went home to work on this car and got it way better. Dale [McDowell] was just better than us on restarts there, but overall no complaints."
Hometown hero Scott Bloomquist from Mooresburg completed his weekend at the Bulls Gap track with two top five finishes in his pocket after a fourth-place effort on Saturday for the Team Drydene No. 0. Brandon Overton of Evans, Ga. finalized the top five just one night after an ignition failure took his Wells Motorsports No. 76 Longhorn Chassis out of the lead.
Rounding out the top ten at Volunteer Speedway was Rookie of the Year leader Ashton Winger, Kyle Stricker, points leader Brandon Sheppard, Manhattan, Kansas native Chase Junghans, and five-time Volunteer Speedway Super Late Model champion and noted racing engine builder Vic "The Thrill" Hill.
MORTON BUILDINGS WORLD OF OUTLAWS LATE MODEL SERIES (50 laps)
1. 57-Zack Mitchell [2][$10,000]; 2. 17m-Dale McDowell [4][$5,000]; 3. 29v-Darrell Lanigan [1][$3,000]; 4. 0-Scott Bloomquist [6][$2,500]; 5. 76-Brandon Overton [5][$2,000]; 6. 12-Ashton Winger [10][$1,700]; 7. 8-Kyle Strickler [8][$1,400]; 8. 1-Brandon Sheppard [3][$1,300]; 9. 18-Chase Junghans [12][$1,200]; 10. 5h-Vic Hill [15][$1,100]; 11. 101-Forrest Trent [7][$1,050]; 12. 28-Dennis Erb [21][$1,000]; 13. 7-Ricky Weiss [9][$950]; 14. 0m-Chris Madden [22][$900]; 15. 97c-Michael Chilton [13][$850]; 16. B1-Brent Larson [19][$800]; 17. 53-Ray Cook [20][$770]; 18. 99b-Boom Briggs [14][$750]; 19. 97-Cade Dillard [23][$730]; 20. 4g-Kody Evans [24][$700]; 21. K37-Drew Kennedy [16][$700]; 22. 23-Cory Hedgecock [11][$700]; 23. 31-Tyler Millwood [18][$700]; 24. 24d-Michael Brown [17][$700].
Lap Leader(s): Mitchell 1-50
Hard Charger Award: Dennis Erb [+9]
Qualifying Flight-A – 1. 1-Brandon Sheppard, 13.502; 2. 29v-Darrell Lanigan, 13.598; 3. 76-Brandon Overton, 13.742; 4. 23-Cory Hedgecock, 13.753; 5. 7-Ricky Weiss, 13.758; 6. 0-Scott Bloomquist, 13.947; 7. 97c-Michael Chilton, 14.188; 8. 5h-Vic Hill, 14.209; 9. 28w-Jeff Wolfenbarger, 14.234; 10. 7t-Drake Troutman, 14.243; 11. 31-Tyler Millwood, 14.246; 12. B1-Brent Larson, 14.356; 13. 51m-Joey Moriarty, 14.475; 14. 3-Steve Smith, 14.63; 15. 7m-Donald Mcintosh, NT
Qualifying Flight-B – 1. 17m-Dale McDowell, 13.775; 2. 18-Chase Junghans, 13.805; 3. 0m-Chris Madden, 13.923; 4. 57-Zack Mitchell, 13.945; 5. 101-Forrest Trent, 14.058; 6. 97-Cade Dillard, 14.081; 7. 99b-Boom Briggs, 14.201; 8. 8-Kyle Strickler, 14.239; 9. 12-Ashton Winger, 14.286; 10. K37-Drew Kennedy, 14.418; 11. 28-Dennis Erb, 14.431; 12. 53-Ray Cook, 14.465; 13. 24d-Michael Brown, 14.833; 14. 4g-Kody Evans, 14.894
Drydene Heat #1 – Flight (A) (10 Laps) – Top 4 Transfer – 1. 1-Brandon Sheppard [1]; 2. 76-Brandon Overton [2]; 3. 7-Ricky Weiss [3]; 4. 97c-Michael Chilton [4]; 5. 31-Tyler Millwood [6]; 6. 28w-Jeff Wolfenbarger [5]; 7. 51m-Joey Moriarty [7]; 8. 7m-Donald Mcintosh [8]
Drydene Heat #2 – Flight (A) (10 Laps) – Top 4 Transfer – 1. 29v-Darrell Lanigan [1]; 2. 0-Scott Bloomquist [3]; 3. 23-Cory Hedgecock [2]; 4. 5h-Vic Hill [4]; 5. B1-Brent Larson [6]; 6. 7t-Drake Troutman [5]; 7. 3-Steve Smith [7]
Drydene Heat #3 – Flight (B) (10 Laps) – Top 4 Transfer – 1. 17m-Dale McDowell [1]; 2. 101-Forrest Trent [3]; 3. 12-Ashton Winger [5]; 4. 99b-Boom Briggs [4]; 5. 24d-Michael Brown [7]; 6. 28-Dennis Erb [6]; 7. 0m-Chris Madden [2]
Drydene Heat #4 – Flight (B) (10 Laps) – Top 4 Transfer – 1. 57-Zack Mitchell [2]; 2. 8-Kyle Strickler [4]; 3. 18-Chase Junghans [1]; 4. K37-Drew Kennedy [5]; 5. 53-Ray Cook [6]; 6. 4g-Kody Evans [7]; 7. 97-Cade Dillard [3]
Last Chance Showdown 1 (10 Laps) – Top 6 Transfer – 1. 24d-Michael Brown [2][-]; 2. 31-Tyler Millwood [1][-]; 3. B1-Brent Larson [3][-]; 4. 53-Ray Cook [4][]; 5. 28-Dennis Erb [6][]; 6. 0m-Chris Madden [10][]; 7. 4g-Kody Evans [8][]; 8. 7t-Drake Troutman [7][$110]; 9. 28w-Jeff Wolfenbarger [5][$110]; 10. 3-Steve Smith [11][$110]; 11. 51m-Joey Moriarty [9][$110]; 12. 97-Cade Dillard [12][]; 13. 7m-Donald Mcintosh [13]
CRATE LATE MODEL (25 laps)
1. Zach Sise #9
2. Jensen Ford #83
3. Josh Henry #B00
4. Ross White #0
5. Rusty Ballenger #29
6. Trevor Sise #73
7. Michael Bland #2
8. Terry Poore #2P
9. Tyler Arrington #002
10. Jason Welshan #01
11. Ahnna Parkhurst #23
12. Shannon Emery #52
13. Clay Coghlan #6
14. Chris Chandler #8
15. Adam Ahl #7
16. Tim Maupin #3
17. Taylor Coffman #30
18. Jamie Stanley #5
19. Michael Smith #4
20. Cameron Skinner #33X
21. Nathan Martin #3
22. Tim Sant #79
23. Adam Tolliver #21
24. Michael Wood #66
Did Not Start: Tyler Smith #32, Bradley Strong #08, Kevin Jackson Jr. #20, Adam Collins #47
SPORTSMAN LATE MODEL (25 laps)
1. Addison Cardwell #25
2. Travis Fultz #T0
3. Michael Boyd #3
4. Clyde Stanton #C11
5. Kip Sawyer #44
6. Brad Seagle #31
7. Adam Mitchell #50
8. James Parrott #10P
9. Nicholas Shelton #9
10. David Bullington #20
11. Chris Coffey #59
12. Vic Chandler #88
13. Joe Bray #76
14. Kyle Manis #25K
15. Warren McMahan #33
16. Aaron Jones #7J
17. Mason Bare #24
18. Tracy Wolfe #11
19. Dustin Ratliff #10
20. Brad Dyer #20
21. Ray Jarnagin #773
22. Cody Brake #58
23. Billy Branch #10B
Did Not Start: Rick Utsman #U12, Kris Pauley #B54, Josh Detwiler #38D, Brandon Waller #71