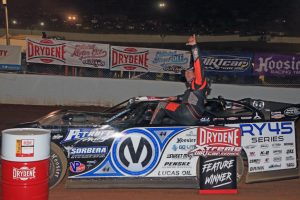 Madden captures Drydene Xtreme DIRTcar Series 'Grinch at The Gap' $5,000 victory
BULLS GAP, Tenn. (Dec. 7, 2019) — Perfect weather conditions Saturday for the first week of December in East Tennessee, with afternoon temperature in the low 60s under sunny skies, proved to be a major success for Volunteer Speedway in helping get the motorsports community into the Christmas holiday spirit with running of the inaugural "Grinch at The Gap," sanctioned by the Drydene Xtreme DIRTcar Series.
Chris Madden of Gray Court, S.C., has parked in victory lane at Volunteer Speedway on several occasions over the years, and he added yet another trophy to his collection by capturing the $5,000 Grinch 40 main event win.
Madden, who was fastest in qualifying around the high banks at 13.016 seconds, passed Kyle Strickler for the lead on lap 22 between turns three and four and once out front never looked back en route to claiming his second straight Drydene Xtreme DIRTcar Series Winter Tour around the Southeast victory. He won a couple of weekends ago at Cherokee Speedway in Gaffney, S.C.
"I think Kyle (Strickler) was just a little bit free and we were able to maneuver a little bit better than he was," Madden said. "We had a good racecar tonight, and Strickler did too. He hasn't been in a Late Model that long, but he did a great job.
"A 40-lap feature kind of worries me a little bit to start sixth, because that's not real long. Fortunately, we had a couple of cautions work our way and our car was good enough that we could maneuver around (in traffic). The racetrack was good enough to run two- or three-wide, so that was the good part."
Madden, Michael Chilton and Strickler, respectively, were winners of the three heat races. The top two finishers from each heat drew for their starting positions, and it was a tough draw for Madden as he selected No. 6 to place him outside of the third row going green. The redraw saw Strickler get the pole starting spot with Robby Moses lining up beside of him.
Strickler rocketed out into the lead on the start over Moses, Shanon Buckingham, Zack Mitchell and Madden. Madden moved into the third spot on lap 15, and just two circuits later off a restart he powered past Buckingham into second place directly behind Strickler.
With Madden really hooked up down around the bottom of the track, racing down the backstretch into the third turn on lap 22 he dove to inside of Stricker. Racing up off (turn) four, Madden took the lead from Strickler and quickly began to distance his car from those in pursuit.
Madden went on to win over Strickler, Brandon Overton, Buckingham and Chris Ferguson. Completing the top 10 finishers were Donald McIntosh, Logan Roberson, Moses, Hedgecock and Pearson Williams.
With this being the first time Strickler had ever raced at Volunteer Speedway, all things considered he was satisfied with a runner-up finish.
"The lapped traffic was sketchy, for sure," Strickler said. "I knew where Chris started and I saw him start clicking them off when we had all those restarts. I knew he was really good, and when the signal guy was telling me someone was really close, I figured it was him.
"I was really comfortable up until we got into that one lapped traffic deal where they were two-wide in front of me and stacked three-deep ahead of them. I've never been here before, everybody's always told me I'd love this place and I definitely did."
Overton, who started ninth, really got his car wound-up on the topside late in the race as he moved up the steep banking in the turns to pick off several positions. On the white flag lap, racing off the second corner he pulled alongside Buckingham to battle for third down the backstretch. Speeding up off the fourth turn, Overton cleared Buckingham to claim the final podium spot.
"Once my tires got some heat, I felt like the (car) was getting better and better," Overton said. "I would have liked to see the race go 50 laps or another caution or something when I got to third.
"All throughout the race I was trying to be patient, but every time I would try to slow down and not hurt my tires, somebody would come sliding across my nose. I finally just started giving it back to them. You really had to take your race car up (banking) to get around anybody."
Tyler Arrington was fastest in Crate Late Model qualifying at 13.489 seconds, with Forrest Trent of Talbott second quickest. Trent grabbed the lead on opening lap over Arrington, Zack Sise, Shannon Emery and Kyle Courtney.
Arrington was pressuring Trent on both ends of the track, looking under him in the turns hoping the leader would make a slight bobble to open the door to take the lead. But lap-after-lap, Trent hit his marks and never allowed Arrington opportunity to get past him.
Caution waved on lap 19 involving Courtney, Emery and Jason Cardwell.
Off the restart Arrington was glued to Trent's back bumper, while behind them Sise, Terry Poore, Chris Coffey and Tim Maupin were battling for real estate. Trent held Arrington off for the $1,500 victory, with Sise, Coffey and Maupin rounding out the top five at the finish.
A strong 28-car field of Sportsman Late Models took the green flag and immediately action was two- and three-wide all back through the field. Clyde Stanton, from Knoxville, along with fellow front-row starter Adam Mitchell battled for the lead, and right on their tails were Zach Sise, Joshua Sneed, David Bullington, Warren McMahan, William Barton, Brad Seagle, Joe Bray and Roger England. Several cautions waved slowing the action and ultimately attrition eliminated several competitors from the race.
With laps winding down, the battle up front for the lead intensified between Stanton and 18-year-old wheelman Sise. Sise made a bold move between turns three and four to move past Stanton and would go on to receive the checkered flag ahead of Stanton.
However, post-race Stanton and his crew brought to attention of track officials that earlier in the season Sise had won a Limited (Steel-Head) Late Model feature at another East Tennessee track. With Sportsman Late Model intended to be an entry-level class for low-budgeted teams, Volunteer Speedway and most other tracks rules around the region state in order to be eligible to run in Sportsman, you cannot have won a race in either a Super Late Model or Limited Late Model in the past three years at any track.
Sise was thus disqualified and the victory went to the "Mule Hollow Missle" Stanton, followed by Barton, Mitchell, Seagle and McMahan.
Austin Atkins of Morristown captured the Modified Street feature win over Gary Blanken, Wayne Rader, Chris Rickett and Kaleb Trent.
Logan Cobb of Morristown recorded his first-ever Street Stock victory over Evan Wrinkle Jr., Donovan Long, Tony Trent and Josh Beal.
You could have thrown a blanket over the top five finishers in the Classic race, where Adam Engel of Knoxville sped to his first-ever feature win at "The Gap" over Lee Merritt, Michael Millsap, Shaun Sise and Tim Bounds.
Jacob Sharp of Crossville captured his third straight Front Wheel Drive victory over Dustin Duncan, Nathan Adams, James Powell Jr. and Joshua Ramsey.
Joe Freels, Daniel Moody and Shane Bullock battled throughout the 20-lap Mini Stock feature before Freels, from Coalfield, emerged with the win over Moody, Bullock, Greg Everhart and Richard Allen.
VOLUNTEER SPEEDWAY – BULLS GAP, TN – SATURDAY, DEC. 7 – OFFICIAL RACE RESULTS
XTREME DIRTCAR SERIES – GRINCH AT THE GAP
Showing Finish Position, Starting Position In Parentheses, Driver, Car #, Earnings
1. (6) Chris Madden #0M – $5,000
2. (1) Kyle Strickler #8 – $2,500
3. (9) Brandon Overton #76 – $1,700
4. (3) Shanon Buckingham #50 – $1,400
5. (11) Chris Ferguson #22 – $1,200
6. (14) Donald McIntosh #7 – $1,000
7. (7) Logan Roberson #17 – $800
8. (2) Robby Moses #21 – $700
9. (8) Cory Hedgecock #23 – $600
10. (13) Pearson Williams #2 – $550
11. (17) David Webb #13 – $500
12. (15) Jeff Smith #70 – $500
13. (22) Steve Smith #3 – $500
14. (16) Tim Vance #17V – $500
15. (20) Aaron Guinn #97G – $500
16. (18) Tommy Bailey #11 – $500
17. (5) Michael Chilton #97 – $500
18. (21) Jordan Rodabaugh #66 – $500
19. (19) Will Harris #21 – $500
20. (12) Trent Ivey #88 – $500
21. (10) Ryan King #1G – $500
22. (23) Daniel Dial #19 – $500
23. (4) Zack Mitchell #57 – $500
Heat #1 – Top 8 Transfer: 1. Chris Madden; 2. Zack Mitchell; 3. Logan Roberson; 4. Ryan King; 5. Pearson Williams; 6. Tim Vance; 7. Will Harris; 8. Steve Smith
Heat #2 – Top 8 Transfer: 1. Michael Chilton; 2. Shanon Buckingham; 3. Cory Hedgecock; 4. Chris Ferguson; 5. Donald McIntosh; 6. David Webb; 7. Aaron Guinn; 8. Daniel Dial
Heat #3 – Top 8 Transfer: 1. Kyle Strickler; 2. Robby Moses; 3. Brandon Overton; 4. Trent Ivey; 5. Jeff Smith; 6. Tommy Bailey; 7. Jordan Rodabaugh
CRATE LATE MODEL (30 laps)
1. Forrest Trent #101
2. Tyler Arrington #002
3. Zach Sise #9
4. Chris Coffey #97
5. Tim Maupin #3
6. Terry Poore #2
7. Jeremy Livingood #00L
8. Kyle Courtney #144
9. Steven Martin #46
10. William Blankenship #32
11. Jeremy Creech #15
12. Michael Persinger #32P
13. Ruben Mayfield #00
14. Jamie Stanley #5
15. Jason Cardwell #07
16. Shannon Emery #52
17. Adam Tolliver #21
18. Taylor Coffman #30
19. Adam Collins #47
20. Jeff Queen #28
Did Not Start: Jason Welshan #01
SPORTSMAN LATE MODEL (20 laps)
1. Clyde Stanton #C11
2. William Barton K0
3. Adam Mitchell #50
4. Brad Seagle #31
5. Warren McMahan #33
6. Roger England #E5
7. Floyd Self #3
8. Joshua Sneed #79
9. Nicholas Shelton #9
10. Clint Hodges #83H
11. Dillon Daves #35
12. Josh Chesney #X
13. Michael Boyd #3B
14. Tyler Dixon #7
15. Brandon Waller #71
16. Jonathan Wolfe #27
17. Lucas Fuller #77
18. Robbie Buchanan #13
19. David Bullington #20
20. Joe Bray #76
21. Rick Utsman #U12
22. Jackie Yates #43
23. David Robins #97
24. Kris Pauley #B54
25. Tommy Cameron #40
26. Troy Eads #52
27. Kyle Manis #25K
Disqualified Post-Race (Due To Having Won Steel-Head Late Model Race In 2019): Zach Sise #25
MODIFIED STREET (20 laps)
1. Austin Atkins #14
2. Gary Blanken #05
3. Wayne Rader #01
4. Chris Rickett #21
5. Kaleb Trent #3
6. David Clark #13
7. McKenlee Hall #44
8. Kurt Owens #14K
9. Rocky Ogle #9
10. Shannon Emery #M2
11. John Grooms #93
12. Jason Rollins #012
STREET STOCK (20 laps)
1. Logan Cobb #C4
2. Evan Wrinkle Jr. #18
3. Donovan Long #15
4. Tony Trent #18T
5. Josh Beal #51
6. Colby Long #10
7. Jason Rollins #012
8. Alex Vance #71
9. Michael Simmons #23
10. Alex Qualls #71
11. Jeff Fox #0
12. Chesten Anderson #77
13. Tanner Owens #17
14. Raymond Sheppard #7
CLASSIC (20 laps)
1. Adam Engel #51
2. Lee Merritt #14
3. Michael Millsap #515
4. Shaun Sise #J16
5. Tim Bounds #11
6. Scotty Helton #6
7. Jim Canning Jr. #13
8. Will Carey #16
9. Chris McKinney #113
10. John Stevens #7
11. Shane Taylor #42
12. Mark Sise #59
13. Nicholas King #66
14. Adam Ogle #26
15. Quincy Arnwine #17
FRONT WHEEL DRIVE (20 laps)
1. Jacob Sharp #1
2. Dustin Duncan #21
3. Nathan Adams #A93
4. James Powell Jr. #27
5. Joshua Ramsey #00
6. Josh Detwiler #38D
7. Daryl Teffeteller #72
8. Todd Duncan #D3
9. Cody Bean #2
10. James Ray #83
11. Nick Adams #90
12. Mike Jones Jr. #7
13. Bryan Williams #38
14. Jerry Gibson Jr. #G1
15. Dustin Petty #73
16. Joey Knowles #87
17. Chris Robinson #74
Did Not Start: Marcus Mays #12, Jerry French #98
MINI STOCK (20 laps)
1. Joe Freels #77
2. Daniel Moody #17
3. Shane Bullock #2
4. Greg Everhart #70
5. Richard Allen #19
6. Walter Walsh #3rd Man
Volunteer Speedway: 423-235-5020 www.VolunteerSpeedway.com