White bags the 'Food City 40' American Crate All-Star Series $2,000 victory at Volunteer Speedway; with Coffey, Trent, Stevens, Atkins, Byers also capturing wins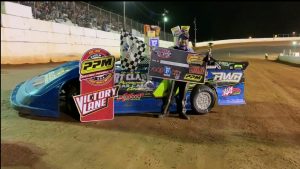 White bags the 'Food City 40' American Crate All-Star Series $2,000 victory at Volunteer Speedway; with Coffey, Trent, Stevens, Atkins, Byers also capturing wins
BULLS GAP, Tenn. (Aug. 10, 2019) — The National Weather Service predicted hot temperatures in the 90s Saturday around East Tennessee, and the action was also heated on the legendary high banks at Volunteer Speedway as yet another big crowd packed the grandstands for the American Crate All-Star Series $2,000-to-win Food City 40.
Ross White of Knoxville, the 2017 Crate Late Model track champion at "The Gap," powered around early race leader Andy Ogle on lap 12 and once out front never looked back en route to capturing the Food City 40 victory.
Chris Coffey of Morristown led flag-to-flag in winning the Sportsman Late Model feature, while Kaleb Trent of Rogersville captured his first-ever Modified Street victory.
John Stevens of Wallins Creek, Kentucky, sped to yet another Classic victory, while Austin Atkins grabbed the Street Stock win and John Byers took the Mini Stock victory.
Andy Ogle was fastest in American Crate All-Star Series qualifying at 13.883 seconds to narrowly edge out Ross White's quick lap of 13.889.
The Quick 6 Dash determined starting positions for the first three rows. Ogle recorded the win over White, Tim Byrd, Heath Alvey, Rusty Ballenger and Zach Sise. Trevor Sise and Eli Beets each picked up heat race wins.
Ogle and White raced side-by-side down the front straightaway into the first turn on the opening lap, with Ogle powering into the lead as they sped off turn two down the backstretch, followed by Byrd, Alvey and Trevor Sise. The action that followed involving Rusty Ballenger, Zach Sise, Beets, Clay Coghlan, Tyler Arrington, Adam Ahl, Blake Craft and Aaron Guinn was well worth the price of admission as they battled two- and three-wide in the high-banked turns.
Ogle was being pressured for the lead by White, while Byrd was sticking his nose underneath White in the corners looking for an opening. White got alongside Ogle on lap 12 before taking the lead, leaving Ogle to try hold off advances from three-time Crate Late Model track champion Byrd.
Once out front White quickly began putting some distance between his car and closest challengers Ogle and Byrd. While positions back through the top 10 in the running order changed as the laps clicked off, White was in command out front as he cruised to his first American Crate All-Star Series victory over Ogle, Byrd, Ballenger and Trevor Sise.
Completing the top 10 finishers were Ahl, Craft, Arrington, Guinn and Alvey.
Jesse Helton was fastest in Sportsman Late Model qualifying at 14.118 seconds to earn the pole position for the 25-lap feature. Helton and Chris Coffey led the 19-car field to green from the front row and battled on the opening lap before Coffey grabbed the lead over Helton and Adam Mitchell.
Helton, a two-time winner this season was glued to Coffey's rear bumper through the first half of the race before Coffey began to gradually pull away. Coffey hit his marks lap-after-lap and never gave Helton an opportunity to close back in as he captured his second victory in 2019 over Helton, Mitchell, Vic Chandler and Joshua Sneed.
When a driver first straps on the helmet and tightens the belts, the dream is to someday park in victory lane and celebrate. They say that dreams do come true when you aim for the shooting star, and Kaleb Trent was indeed shinning brightly as he drove to an impressive flag-to-flag win in the 20-lap Modified Street feature for his first-ever victory. Trent was chased to the checkered flag by defending division champion Gary Blanken, David Clark, Dustin Ratliff and Kurt Owens.
John Stevens definitely has the bull's-eye across his back in the Classic division, but yet none of his fellow competitors have been able to hit the target and shoot him down. Stevens rolled to his division-leading eighth feature win over Charles Bates, Richie Overholser, Chuck Kilian and Chad Manning.
Austin Atkins outran Tony Trent, Jason Rollins, Marvin Green Jr. and Dan Smith to capture his fourth Street Stock win on the season.
John Byers grabbed the lead at start of the 20-lap Mini Stock feature and sped to his second straight win over Chad Manning, Mitchell Fox, Greg Everhart and Richard Allen.
VOLUNTEER SPEEDWAY – BULLS GAP, TN – AUGUST 10, 2019 – OFFICIAL RESULTS
AMERICAN CRATE ALL-STAR SERIES PRESENTED BY PPM "FOOD CITY 40" ($2,000-to-win)
1. Ross White #0
2. Andy Ogle #68
3. Tim Byrd #24
4. Rusty Ballenger #29
5. Trevor Sise #73
6. Adam Ahl #7
7. Blake Craft #01
8. Tyler Arrington #002
9. Aaron Guinn #97
10. Heath Alvey #7
11. Clay Coghlan #6
12. Gary Crittenden #18
13. Chris Chandler #8
14. Jordon Horton #57
15. Cameron Skinner #33X
16. Tim Maupin #3
17. Shannon Emery #52
18. Tim Sant #79
19. Tyler Smith #32
20. Michael Smith #4
21. Tommy Eastridge #37
22. Eli Beets #109
23. Kenny Howell #21
24. Jody Adkins #41
25. Zach Sise #9
QUICK 6 DASH (6 laps): 1. Andy Ogle, 2. Ross White, 3. Tim Byrd, 4. Heath Alvey, 5. Rusty Ballenger #29, 6. Zach Sise
HEAT #1 (10 laps): 1. Trevor Sise, 2. Tyler Arrington, 3. Blake Craft, 4. Aaron Guinn, 5. Gary Crittenden, 6. Shannon Emery, 7. Chris Chandler, 8. Tim Maupin, 9. Tyler Smith, 10. Tim Sant
HEAT #2 (10 laps): 1. Eli Beets, 2. Clay Coghlan, 3. Adam Ahl, 4. Cameron Skinner, 5. Kenny Howell, 6. Michael Smith, 7. Jody Adkins, 8. Tommy Eastridge, 9. Jordon Horton
SPORTSMAN LATE MODEL (25 laps)
1. Chris Coffey #97
2. Jesse Helton #25
3. Adam Mitchell #50
4. Vic Chandler #88
5. Joshua Sneed #79
6. Brad Dyer #20
7. Kyle Manis #25K
8. Joshua Evans #119
9. Chris Long #75
10. David Bullington #20B
11. Floyd Self #3
12. Mike Kelley #8
13. Justin Talley #23
14. Jerry Williams Jr. #28
15. Aaron Jones #7
16. Joe Bray #76
17. Brandon Waller #71
18. Nicholas Shelton #9
19. Billy Galloway #G21
Did Not Start: Jackie Yates #43
MODIFIED STREET (20 laps)
1. Kaleb Trent #3
2. Gary Blanken #05
3. David Clark #13
4. Dustin Ratliff #10
5. Kurt Owens #14
6. Lance Creasman #C8
7. Jeffrey Melton #4
8. Eric Hux #01
9. Tyler Haynes #11
10. Ryan Watson #11W
11. Wayne Rader #01R
12. Willie Busler #31B
13. John Grooms #93
CLASSIC (20 laps)
1. John Stevens #7
2. Charles Bates #27
3. Richie Overholser #88
4. Chuck Kilian #96
5. Chad Manning #6
6. Luke Ellis #17
7. Jim Canning Jr. #31
8. Adam Ogle #26
9. Jon Cook #38
STREET STOCK (20 laps)
1. Austin Atkins #14
2. Tony Trent #18
3. Jason Rollins #012
4. Marvin Green Jr. #15
5. Dan Smith #05
6. Coby Scott #4
7. Caleb Byrd #06
MINI STOCK (20 laps)
1. John Byers #83
2. Chad Manning #7up
3. Mitchell Fox #1
4. Greg Everhart #70
5. Richard Allen #19
6. Robert Fox #54
7. Damian Holt #18
8. Tommy Cameron #40
9. Walter Walsh #3rd Man
CONTACT INFO
Volunteer Speedway: 423-235-5020 www.VolunteerSpeedway.com
General Manager: 423-676-9080
Greg Harvey (Technical Inspection Director): 423-384-3511