Big crowd watch Byrd, Helton, Rader, Stevens, Atkins, Byers visit victory lane on 'Fan Appreciation Night' at Volunteer Speedway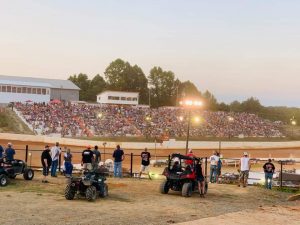 Big crowd watch Byrd, Helton, Rader, Stevens, Atkins, Byers visit victory lane on 'Fan Appreciation Night' at Volunteer Speedway
BULLS GAP, Tenn. (Aug. 3, 2019) — Big crowd, along with great racing at "The Gap" is a guaranteed winning combination!
Arguably one of the biggest crowds in recent history gathered Saturday at the legendary Volunteer Speedway for Fan Appreciation Night presented by 96.3 FM The Possum, and fans were entertained with an action-packed six division racing program that was fully completed at 10:35 p.m.
Tim Byrd of Jonesborough led flag-to-flag in winning the Crate Late Model feature, while Jesse Helton of Rogersville captured the Sportsman Late Model victory on the high banks.
Wayne Rader of Parrottsville captured the Modified Street victory of the season, while John Stevens of Wallins Creek, Kentucky, sped to yet another Classic victory.
Austin Atkins recorded the Street Stock win, with John Byers of Knoxville taking the Mini Stock victory.
Tim Byrd set fast-time at 13.887 seconds in Crate Late Model qualifying, with Gary Crittenden second quickest. Byrd powered into the lead on the opening lap over Crittenden, Layne Clifton, Rusty Webb, Rusty Ballenger, Taylor Coffman and Taran Hurst. But eyes were focused on Tim Maupin, who had set third-fastest time in qualifying but came up light at the scales and was forced to start the 30-lap feature from rear of the field.
Byrd was in command out front showing the way over Crittenden and Webb, who had worked his way past Clifton for the third spot. Maupin closed behind Ballenger on lap 8 and over the next few laps both Ballenger and Maupin gained positions by passing Clifton and Webb. A strong run in second ended for Crittenden with mechanical issues on lap 24.
But the race belonged to three-time Crate Late Model track champion Byrd as he easily captured his third victory on the season over Ballenger, Maupin, Webb and Clifton.
Jody Horton and Jesse Helton led the impressive 23-car Sportsman Late Model starting field to green from the front row. Horton and Helton raced side-by-side over the opening lap before Helton moved ahead between turns three and four. Behind the front-running duo the action was two- and three-wide around the high banks with Joshua Sneed, Adam Mitchell, Brad Dyer, Chris Coffey, Kip Sawyer, Warren McMahan, Rex Coffey and Ray Jarnigan battling for real estate. Horton dropped out of the race on lap 11, giving Helton a little breathing room.
Hitting his marks lap-after-lap, Helton went on to record his second Sportsman Late Model feature win on the season over Chris Coffey, Mitchell, Sneed and Rex Coffey. … The competitive race saw the top 13 finishers on the lead lap at the checkered flag.
Wayne Rader grabbed the lead at start of the 20-lap Modified Street feature over Dustin Ratliff, while Kurt Owens and Gary Blanken raced side-by-side battling for the third spot. Owens took the position and began working on Ratliff for second. Just past halfway Owens moved into second place and set his sights on leader Rader. But there would be no catching Rader as he captured his second victory of the season over Owens, Ratliff, Logan Hickey and Blanken.
John Stevens and Chuck Kilian battled for the lead on opening lap of the Classic feature before Stevens moved to the point. Once in the lead Stevens never looked back en route to capturing his division-leading seventh victory over Chris McKinney, Charles Bates, Kilian and Chad Manning.
Austin Atkins outran Tony Trent, Tony Trent, Coby Scott and Dan Smith to record his third Street Stock win on the season.
John Byers raced to his first Mini Stock win on the season over Chad Manning, Chuck McMahan, Tommy Cameron and Mitchell Fox.
VOLUNTEER SPEEDWAY – BULLS GAP, TN – SATURDAY, AUG. 3, 2019 – FAN APPRECIATION NIGHT PRESENTED BY 96.3 FM THE POSSUM – RACE RESULTS
CRATE LATE MODEL (30 laps)
1. Tim Byrd #24
2. Rusty Ballenger #29
3. Tim Maupin #3
4. Rusty Webb #22
5. Layne Clifton #23
6. Taylor Coffman #30
7. Taran Hurst #22
8. Jackie Hughes #27
9. Kevin Jackson Jr. #20
10. Kris Pauley #B54
11. Gary Crittenden #18
SPORTSMAN LATE MODEL (25 laps)
1. Jesse Helton #25
2. Chris Coffey #97
3. Adam Mitchell #50
4. Joshua Sneed #79
5. Rex Coffey #3
6. Kip Sawyer #44
7. Brad Dyer #20
8. Ray Jarnagin #773
9. Floyd Self #3
10. Chris Raines #00
11. Mike Kelley #8
12. Warren McMahan #33
13. Logan Seal #17
14. Chris Long #75
15. Justin Talley #23
16. David Bullington #20
17. Danny Helton #29
18. Dale Reed #52
19. Dakota Holt #13
20. Jody Horton #56J
21. Ernie Stuart #31
22. Josh Beal #51
23. Aaron Jones #7
Did Not Start: Brandon Waller #71
MODIFIED STREET (20 laps)
1. Wayne Rader #01
2. Kurt Owens #14
3. Dustin Ratliff #10
4. Logan Hickey #7
5. Gary Blanken #05
6. Nick Presley #69
7. Austin Atkins #24
8. Kaleb Trent #3
9. RJ Mayes #6M
10. John Grooms #93
11. Landon Steele #S18
CLASSIC (20 laps)
1. John Stevens #7
2. Chris McKinney #113
3. Charles Bates #27
4. Chuck Kilian #96
5. Chad Manning #6
6. Jim Canning Jr. #31
7. Nicholas King #66
8. Luke Ellis #17
9. Sarah Osborne #13
10. Tyler Trent #61
Did Not Start: Jon Cook #38, Robert Kenyon #71K
STREET STOCK (20 laps)
1. Austin Atkins #14
2. Tony Trent #18
3. Tony Trent #501
4. Coby Scott #4
5. Dan Smith #05
6. Caleb Byrd #06
Did Not Start: Tracy Wolfe #1
MINI STOCK (20 laps)
1. John Byers #83
2. Chad Manning #7up
3. Chuck McMahan #99
4. Tommy Cameron #40
5. Mitchell Fox #1
6. Tommy Mettler #44
7. Greg Everhart #70
8. Stephen Russell # 77
9. Robert Fox #54
10. Damon Holt #18
Did Not Start: Walter Walsh #3rd Man
CONTACT INFO
Volunteer Speedway: 423-235-5020 www.VolunteerSpeedway.com
General Manager: 423-676-9080
Greg Harvey (Technical Inspection Director): 423-384-3511