Please remember the McCarter family in your thoughts and prayers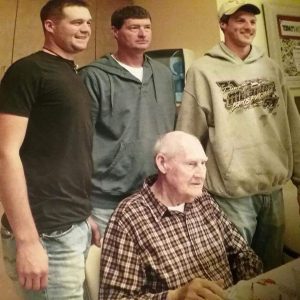 Please remember Volunteer Speedway promoter Mitch McCarter and family in your thoughts and prayers. Mitch's father, Mr. Pershing McCarter, passed away on Sunday, December 10, 2017.
~~~~~~~~~~~~
Pershing McCarter, 90, of Pigeon Forge, Tenn., passed away on Sunday, December 10, 2017. He was born in the Sugarlands on March 6, 1927.
Pershing served honorably in the United States Navy and was a WWII Veteran. He was a farmer and a businessman.
He was preceded in death by his wife, Peggy Rose McCarter; parents, William and Pearl McCarter; son, Randall McCarter; 5 siblings; and 2 grandchildren.
Pershing is survived by his children, Darla McCarter, Marsha Wilson and husband, Johnny, Michelle Galyon and husband, Steve, Mitch McCarter and wife, Tanya; 11 grandchildren; several great-grandchildren; sister, Mary McCarter; many nieces and nephews; and his very special caregiver and friend, Dean Cooper.
The family will receive friends from 1 to 3 PM Wednesday, December 13 at Atchley Funeral Home, Sevierville. The graveside service will be held 3:30 PM Wednesday at Shiloh Cemetery with Ray Ball officiating. Military honors will be provided by American Legion Post #104.
Pershing's grandsons will serve as Pallbearers. Honorary Pallbearers are the Board of Directors at Tennessee State Bank, Todd Proffitt, Lawrence Proffitt, Travis McCroskey, Wayne Ayers, Charles Frost, and Robert Tino.
Online condolences may be made at www.AtchleyFuneralHome.com