Knight gets first career Fastrak Racing Series victory at Volunteer Speedway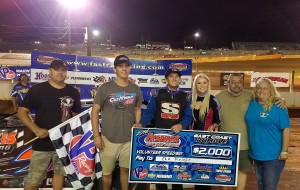 Knight gets first career Fastrak Racing Series victory at Volunteer Speedway
BULLS GAP, Tenn. (Sept. 2, 2016) — The Labor Day holiday weekend marks the unofficial end of summer, and actually Friday night at Volunteer Speedway had the distinctive feel of fall in the air for opener of the Carnesville, Ga.-based Fastrak Racing Series Dirt Late Model 13th annual East Coast Rumble tripleheader.
The tripleheader features three consecutive nights of racing, at three different tracks, and in three different states, with Volunteer Speedway getting things started with a $2,000-to-win show. Racing action then moves to Tyler County Speedway in Middlebourne, W.Va., paying $5,000-to-win on Saturday, Sept. 3, and then concludes on Sunday, Sept. 4 at Wythe Raceway in Rural Retreat, Va., for a $3,000-to-win event. The series driver accumulating the most points over the three nights of racing will earn the Heavyweight Champion Belt.
Cla Knight of North Augusta, S.C., came out swinging in round one to capture his first career Fastrak Racing Series Dirt Late Model victory, holding off Pierce McCarter and Bryson Dennis for the win.
"Man, this win here tonight is what not only myself but our race team has been working so hard for," said a smiling Knight after climbing from his car on the front straightaway in victory lane to cheers from the crowd. "We're racing against stiff competition on the Fastrak Racing Series Dirt Late Model tour and we've had several top five finishes and come awfully close to winning a race, but we just hadn't been able to close the deal. This is so awesome to finally get our first win."
Philip Thompson was overall fastest qualifier of the 24 entries from three groups of time trials with a quick-time of 13.100 seconds. Thompson also won the first heat, while Benji Hicks and Jensen Ford respectively won the second and third heats.
Hicks jumped out to the lead at the start over Thompson, Knight, Ford and Forrest Trent. Trent got into Ford between turns one and two on the second lap to trigger a wreck involving several cars, with Trent, Ron Parker, Brandon Umberger and David Smith seeing their race end early with significant damage, while others continued on with bent sheet-metal. Also while under caution, leader Hicks headed into the pits with right-front suspension damage to drop him from contention.
Off the double-file restart Thompson powered ahead of Knight, Ford, McCarter and Walker Arthur. Knight got around Thompson for the lead just a couple of laps after going back green, and unfortunately for Thompson his strong run would end on lap 8 when he suddenly slowed and entered the pits off turn four.
With Knight in command out front, behind him the racing was intense between Ford, McCarter, Arthur and Matt Henderson. Ford was fighting an ill-handling car plus had no front brakes following his early race incident with Trent, which allowed the trio of McCarter, Arthur and Henderson to get past him. Arthur dropped out of the race on lap 16 with suspension damage.
On a soft track that was wet and tacky, it also meant the surface rolled up in the corners and got rough. Attrition sidelined several strong cars before the halfway mark.
While Knight was comfortably holding down the point, McCarter had his hands full trying to hold back Henderson. And behind the front-running trio, 19-year-old Volunteer Speedway regular Dennis was having a strong run in fourth place ahead of Ford and Chris Steele.
Dennis passed Henderson to move into third in the running order on lap 26, with Ford also coming along for the ride and dropping Henderson back to fifth. Ford got around Dennis on lap 29 between turns one and two, but Dennis would not go down without a fight and he battled his way back around Ford to once again secure the third spot.
With 10 laps remaining and Knight holding onto the lead, the top seven cars were all on the same straightaway. McCarter was within striking distance on Knight's rear bumper, hoping to be able make a move to take the lead.
But the 20-year-old, third generation racer Knight would not be denied his first-ever Fastrak Racing Series Dirt Late Model victory as he drove the Augusta Aquatics/Maxxis Kart Racing/Town & Country Packing/Commercial Industrial Supply/Koury Racing Engines/Allstar Graphix/Behrent's Performance Warehouse/Brian's Kustom Paint/Penske Shocks/Kar House Racing Radiators/Hoosier Tire South/VP Racing Fuels/Simpson/Longhorn Chassis/No. 42 Chevrolet Camaro, to the $2,000 win over McCarter, Dennis, Ford and Henderson.
Completing the top 10 finishers were Steele, Chase Washington, Gary Crittenden, Trent and Marcus Minga.
"Before I started driving dirt late models, I had several World Karting Association wins and also multiple championships," Knight said. "I've had a lot of people help me get to this point in racing and I'm so very thankful to each and everyone that's been a part of it.
"My dad and mom (Ken and Deanne Knight), I can't thank them enough for all the opportunities they provide me in life and just for their support to allow me do what I love – drive a race car. Today's my dad's birthday, and I don't know a better present that I could give him than for us to celebrate in victory lane."
During the week John Tweed of Greeneville serves as President and CEO of Landair Transportation, but when the weekend rolls around he enjoys getting behind the wheel of a dirt late model at Volunteer Speedway.
After setting fast-time (13.168 seconds) in qualifying to earn pole position for the 30-lap Sportsman Late Model feature, Tweed grabbed the lead over Adam Tolliver, Tim Maupin, Rex Coffey and Josh Collins on the opening lap.
Maupin got around Tolliver for second place just a couple of laps in, and after a little contact between turns one and two on the sixth circuit, Coffey moved past Tolliver to take over the third spot. Matters only worsened for Tolliver when the engine erupted in smoke on lap 10 to end his race early, to initially bring out the caution and then red flag to allow track officials to clean up oil on the surface between turns one and two.
Back under green off the restart, with Tweed leading Maupin and Coffey, only one lap was completed when Kyle Courtney got into Tim Byrd to send the two-time track champion Byrd spinning in the fourth turn.
While the battle up front the entire race for the lead between Tweed and Maupin was good, just behind them Coffey, Collins and Heath Alvey were racing hard for position. It's said cautions breed cautions, and tonight it proved to be true as Stephen Martin, Chris Coffey and Brandon Martin each spun to bring out cautions, plus two yellows waved for debris to slow the pace.
Over the final five laps Tweed, driving the Landair Transportation/Pilot Travel Center/Landmark Trucks, LLC/Copies Unlimited/Tweed Enterprises/Vic Hill Race Engines/Fastlane Signs & Graphics/Longhorn Chassis/No. 5 Chevrolet Camaro, knew if he made slightest mistake the hard-charging Maupin would get by him and take the lead. But Tweed clicked off flawless laps to take his second career victory, with Maupin, Rex Coffey, Courtney and Alvey rounding out the top five finishers.
Chris Rickett of Morristown moved into the lead at drop of the green over Austin Neely in the 25-lap Modified Street feature. While Neely challenged Rickett in the early laps by sticking his nose under the leader racing off the corners, on each occasion Rickett held Neely off and maintained his view from out front. But just as he's done several times this season, Rickett pulled away down the stretch to record the win over Neely, Jon Cook, Kaleb Trent and Chuck Kilian.
SEPTEMBER 2, 2016 – FASTRAK RACING SERIES – 13TH ANNUAL LABOR DAY WEEKEND "EAST COAST RUMBLE"
1. Cla Knight #42-North Augusta, SC
2. Pierce McCarter #71-Gatlinburg, TN
3. Bryson Dennis #15-Greeneville, TN
4. Jensen Ford #83-Jonesborough, TN
5. Matt Henderson #17-Loudon, TN
6. Chris Steele #222-York, SC
7. Chase Washington #38-Houlka, MS
8. Gary Crittenden #18-Mohawk, TN
9. Forrest Trent #101-Talbott, TN
10. Marcus Minga #19-Brewer, MS
11. Teddy Tate #99-Rural Retreat, VA
12. Matthew Nance #24-Ronda, NC
13. Walker Arthur #87-Forest, VA
14. Vic Chandler #88-Weaverville, NC
15. Philip Thompson #24-Morristown, TN
16. Tyler Arrington #002-Honaker, VA
17. Kenny Peeples Jr. #k22-Rural Retreat, VA
18. Benji Hicks #55-Mount Airy, NC
19. Brandon Umberger #12-Rural Retreat, VA
20. Ron Parker #8-Belwood, NC
21. David Smith #11-Inman, SC
Did Not Start: Mack McCarter #51-Gatlinburg, TN; Ryan Montgomery #12-Fairmont, WV; Greg Martin #24-Knoxville, TN
HEAT #1: 1. Philip Thompson #24, 2. Cla Knight #42, 3. Mack McCarter #51, 4. Ron Parker #8, 5. Vic Chandler #88, 6. Matthew Nance #24, (DNS) Ryan Montgomery #12
HEAT #2: 1. Benji Hicks #55, 2. Forrest Trent #101, 3. Pierce McCarter #71, 4. Chris Steele #222, 5. Marcus Minga #19, 6. Kenny Peeples Jr. #k22, 7. Chase Washington #38, (DNS) Greg Martin #24
HEAT #3: 1. Jensen Ford #83, 2. Brandon Umberger #12, 3. Matt Henderson #17, 4. Walker Arthur #87, 5. David Smith #11, 6. Bryson Dennis #15, 7. Gary Crittenden #18, 8. Tyler Arrington #002, 9. Teddy Tate #99
SPORTSMAN LATE MODEL (30 laps)
1. John Tweed #5
2. Tim Maupin #3
3. Rex Coffey #222
4. Kyle Courtney #171
5. Heath Alvey #7
6. Josh Collins #63
7. Tim Byrd #24
8. Stephen Martin #46
9. Ray Jarnagin #773
10. Chris Coffey #97
11. Blane Huffman #27
12. Richard Adkins #73
13. Brandon Miller #89
14. Michael Courtney #c11
15. Andy Ogle #68
16. Taran Hurst #22
17. Adam Tolliver #28
18. Chase Lawson #4
19. Kyle Cole #18
20. Brandon Self #03
Did Not Start: Tyler Smith #32, Kyle Manis #25
MODIFIED STREET (25 laps)
1. Chris Rickett #36
2. Austin Neely #3
3. Jon Cook #0z
4. Kaleb Trent #3
5. Chuck Kilian #96
6. David Bullington #20
7. Brandon Crawford #00
8. Bryan Presley #69
9. Michael Woods #66
10. Lewis Gordin #88
Did Not Start: Wendell Spence #21
~~~~~~~~~~~~
For more information, contact any of the following listed below:
Fastrak Dirt Late Model Racing Series: 678-935-7304 www.FastrakRacing.com
Stan Lester CEO – Fastrak Racing Series: 706-371-6349
Volunteer Speedway (Recording Only): 423-235-5020 www.VolunteerSpeedway.com
Phyllis Loven – Track Owner: 423-676-9081
Vic Hill – Race Promoter (Vic Hill Racing Engines): 423-312-4206