Davenport captures $12,000 'Scorcher' victory at Volunteer Speedway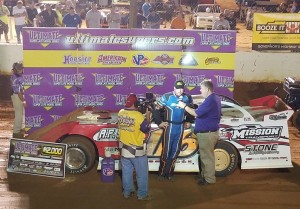 Davenport holds Owens and Bloomquist off for $12,000 'Scorcher' victory at Volunteer Speedway
BULLS GAP, Tenn. (Aug. 18, 2016) — The Ultimate Super Late Model Series and Ultimate Battle of the Bluegrass Series co-sanctioned 12th annual Scorcher will go down in the Volunteer Speedway record book as one of the most exciting editions of the event at "The Gap."
Jonathan Davenport, from Blairsville, Ga., captured the $12,000 victory but not without some controversy as he tangled with Scott Bloomquist while batting for the lead on lap 21, which ended with Bloomquist spinning in the fourth turn exiting onto the front straightaway.
"That was a hell of a race there," Davenport said after climbing from his car in victory lane on the front straightaway. "I really don't know what happened to Scott (Bloomquist) there. We rubbed a little bit and I don't know if it knocked the (steering) wheel out of his hand or whatever, but it's like he turned more left. I wasn't going more right, so I really don't know what happened there. It was real hard to pass during the race, especially with lapped cars.
"It's just a great pleasure getting to run this great equipment that Randy (Weaver) has. But the main thing is we just want to see him get better and get back in the seat."
With rain falling all around East Tennessee overnight Wednesday into Thursday morning and throughout much of the day, Mother Nature threatened to wash out running of the Scorcher. Following steady rain around midday which subsided around 3 p.m., skies cleared and sun began to shine late in the afternoon.
The huge crowd in attendance saw Bloomquist set fast-time in qualifying, as he toured the high banks at a near-new track record of 12.073 seconds. He won the first of three heat races to secure the pole starting position for the 50-lap main event, with Davenport and Dale McDowell respectively winning the other two heats.
Bloomquist won the drag race down the front straightaway into the first turn over Davenport on the start to take the lead, but as the field came back around to complete the opening lap, fourth-starting Billy Ogle Jr. slowed coming off the fourth turn with a flat tire. Drivers went to both the inside and outside of Ogle, but still a multi-car wreck happened between turns one and two involving Ogle, Mark Vineyard and Kenny Collins, with McDowell and Chris Madden also suffering damage to end their race quickly.
Bloomquist led Davenport, Ricky Weiss, Chad Ogle and Jimmy Owens off the restart. With the heavy, wet track conditions after the amount of rain that had been dumped on the track surface, fans were on edge of their seats as Bloomquist was setting a blistering pace out front. Back through the top 12 cars in the running order, drivers were jockeying for real estate.
Bloomquist caught the rear of the field to beginning lapping slower cars on lap 10, which allowed Davenport to close right to the leader's back bumper. But once Bloomquist cleared the lapped cars he put a few car lengths between himself and Davenport. Both Owens and Donald McIntosh worked their way past Chad Ogle to drop him back to sixth in the running order.
Lapped traffic would factor into who would eventually win the race when Bloomquist and Davenport got together on lap 21 in the fourth turn, with Bloomquist spinning from the lead to bring out the caution. After going into the pits for attention from his crew, Bloomquist rejoined the field to restart in the tenth spot, the last car on the lead lap.
With Davenport out front going back green, once up to speed Owens quickly got past Weiss for second place and closed right in on Davenport. But all eyes were on Bloomquist as he began making a bonsai charge back towards the front, getting around Shanon Buckingham, Jeff Wolfenbarger and Vic Hill in succession to move into the seventh spot, with Chad Ogle directly ahead in sixth. Caution waved for Dennis Franklin when he slowed on lap 26.
Davenport had Owens glued to his back bumper back under green, followed by Weiss, McIntosh and Ryan King. Bloomquist passed Chad Ogle for sixth place on lap 31. Caution waved on lap 33 and ended a strong third place run for Weiss, when he slowed to a stop high in the fourth turn with a broken transmission.
Going back green Davenport was showing the way out front over Owens, McIntosh, King and Bloomquist. Bloomquist passed King for fourth on lap 36 racing off (turn) two down the backstretch, and just four circuits later he got around McIntosh for third.
Owens had the crowd cheering when he started looking underneath Davenport for the lead with 10 laps remaining, but on each occasion Davenport managed to hold his ground. Bloomquist was closing in on Davenport and Owens.
With Davenport having difficulty getting past the lapped car of Jeremy Hines, Owens made his move and pulled alongside of Davenport to challenge for the lead. But Davenport took matters into his owns hands and turned (spun) Hines out of his way to once again bring the caution out on lap 42.
Two additional caution periods would slow the action and eliminate Hill on lap 44 with a broken rear-end, and then King on lap 46 with a broken axle tube when his car lost a rear wheel.
The stage was set for a four-lap shootout to the finish. But Davenport, driving the Randy Weaver-owned Stone Land Cleaning & Excavating/Mission Transport/A.F. Stone Professional Medical Services/The Bailey Company/Outlaw Racing Southeast/Cornett Racing Engines/Longhorn Chassis/No. 116 Ford Mustang, would come out firing and hold both Owens and Bloomquist off for the $12,000 Scorcher win, with McIntosh and Chad Ogle rounding out the top five.
Completing the top 10 finishers were Wolfenbarger, Billy Ogle Jr., Jimmy McNamara, King and Derek Fisher.
Owens was satisfied to come home with a runner-up finish.
"We had a pretty good hot rod tonight," Owens said. "The crew's worked their tail off the last few days. It was a rough night and I'm glad to come home with a second."
Bloomquist was disappointed with the lap 21 incident with Davenport, but overall was pleased to work his way back up through the field for a third-place finish.
"Lapped traffic was a little bit tough," Bloomquist said. "Getting to them first, we were trying to move around. And everybody saw the rest. But the car was good. It (contact) didn't really just destroy the car. It wasn't as good as it was before Davenport and I got together, but I managed to get back up to finish third and I consider that decent."
Two former track champions, Tim Byrd of Jonesborough and Tim Maupin, paced the 22-car field of Sportsman Late Models competitors in qualifying, with Byrd timing-in at 13.473 seconds and Maupin at 13.483.
The first attempt at starting the 30-lap feature saw the red flag quickly wave for a multi-car wreck between turns one and two involving Andy Ogle, Drew Kennedy, Warren McMahan, Stephen Martin and Justin Winters, with Winters getting upside down. Ogle was the only car able to continue, as all others had significant damage.
Finally under green and Byrd grabbed the lead over Maupin, Heath Alvey, Vic Chandler and Jed Emert. Chandler slowed on the fourth lap to bring out the caution.
Back up to speed and Byrd led Maupin and Alvey, while the big mover was Bryson Dennis as he advanced from sixth to fourth in the running order as he passed Gary Crittenden and Emert.
All eyes were focused on the lead duo of Byrd and Maupin, as Maupin was applying pressure wanting the top spot. While working slower cars at back of the field when lapping began, Maupin battled his way past Bryd. But the pass was nullified when the caution waved and the field reverted back to the previous completed green flag lap.
Over the final 10 laps, Byrd and Maupin dueled for the lead with Maupin on a few occasions getting underneath Bryd racing up off the corners. But each time Byrd slammed the door shut and maintained his advantage out front and would go on to record the victory over Maupin, Alvey, Dennis and Floyd Self.
Shannon Emery jumped out to the early lead in the Modified Street "Havoc" feature over Chris Rickett and Austin Neely. With the trio putting some distance between themselves up front and those behind them in pursuit, Emery stayed on the point until Rickett, from Morristown, got around him on lap 20.
Emery's night ended just one lap later when he slowed at end of the backstretch and entered the pits in turn four with smoke billowing from underneath the hood. Rickett captured the win over Neely, Brad Davis, Jeffrey Melton and Jon Cook.
VOLUNTEER SPEEDWAY – BULLS GAP, TN – AUGUST 18, 2016
ULTIMATE LATE MODEL SERIES – $12,000 TO WIN 12TH ANNUAL SCORCHER
Showing Finish Position, Starting Position In Parentheses, Driver Name, Car Number, Hometown, Money Earned, Laps Completed In Parentheses
1. (2) Jonathan Davenport #116-Blairsville, GA $12,000 (50)
2. (10) Jimmy Owens #20-Newport, TN $7,500 (50)
3. (1) Scott Bloomquist #0-Mooresburg, TN $4,000 (50)
4. (12) Donald McIntosh #7-Dawsonville, GA $3,000 (50)
5. (8) Chad Ogle #10-Sevierville, TN $2,000 (50)
6. (5) Jeff Wolfenbarger #28-Clinton, TN $1,900 (50)
7. (4) Billy Ogle Jr. #201-Knoxville, TN $1,800 (49)
8. (21) Jimmy McNamara #23-Denver, NC $1,700 (47)
9. (13) Ryan King #1g-Seymour, TN $1,600 (46)
10. (20) Derek Fisher #38-Olympia, KY $1,500 (45)
11. (19) Vic Hill #1-Mosheim, TN $1,400 (44)
12. (17) Jeremy Hines #5H-Brownstown, IN $1,300 (42)
13. (16) Glenn Elliott #5-Sykesville, MD $1,200 (33)
14. (6) Ricky Weiss #7-Headingly, Manitoba, Canada $1,100 (32)
15. (14) Shanon Buckingham #50-Morristown, TN $1,000 (28)
16. (15) Dennis Franklin #2-Gaffney, SC $950 (26)
17. (22) Brian Ligon #4-Augusta, GA $900 (22)
18. (18) Chad White #20-Saint Joseph, MI $800 (20)
19. (9) Mark Vineyard #4-Powell, TN $800 (1)
20. (3) Dale McDowell #17m-Chickamauga, GA $800 (1)
21. (11) Kenny Collins #1-Colbert, GA $800 (1)
22. (7) Chris Madden #44-Gray Court, SC $800 (1)
Did Not Start: Tommy Kerr #4T-Maryville, TN
Fast Time: Scott Bloomquist – 12.073 seconds
HEAT #1: 1. Scott Bloomquist #0, 2. Billy Ogle Jr. #201, 3. Chris Madden #44, 4. Jimmy Owens #20, 5. Ryan King #1g, 6. Chad Elliott #5, 7. Vic Hill #1, 8. Brian Ligon #4
HEAT #2: 1. Jonathan Davenport #116, 2. Jeff Wolfenbarger #28, 3. Chad Ogle #10, 4. Kenny Collins #1c, 5. Shanon Buckingham #50, 6. Jeremy Hines #5H, 7. Derek Fisher #38 – DNS: Tommy Kerr #4T
HEAT #3: 1. Dale McDowell #17m, 2. Ricky Weiss #7, 3. Mark Vineyard #4, 4. Donald McIntosh #7, 5. Dennis Franklin #2, 6. Chad White #20, 7. Jimmy McNamara #23
SPORTSMAN LATE MODEL (30 laps)
1. Tm Byrd #24
2. Tim Maupin #3
3. Heath Alvey #7
4. Bryson Dennis #15
5. Floyd Self #3
6. Kenny Ford #61
7. Tyler Smith #32
8. Andy Ogle #68
9. Chris Coffey #97
10. Brandon Starnes #68
11. Hunter Kerr #4H
12. David Duplissey #D2
13. Gary Crittenden #18
14. Jed Emert #98
15. Vic Chandler #88
16. Kip Sawyer #00
17. Dennis Stiles #00
18. Drew Kennedy #k37
19. Warren McMahan #33
20. Stephen Martin #46
21. Justin Winters #j1
Did Not Start: Taran Hurst #22
MODIFIED STREET (25 laps)
1. Chris Rickett #36
2. Austin Neeley #3
3. Brad Davis #88
4. Jeffrey Melton #4
5. Jon Cook #0z
6. David Bullington #20
7. Bret Banks #3
8. Lewis Gordin #88
9. Shannon Emery #m2
10. Nick Presley #69
11. Bobby Mays #24
12. Cody Thompson #83
13. Dale Reed #52
14. Brandon Crawford #00
~~~~~~~~~~~~
For information about the Ultimate Super Late Model Series, visit the website at www.UltimateSupers.com
Kelley Carlton – Ultimate Super Late Model Series Director: 864-871-1442
Volunteer Speedway (Recording Only): 423 235-5020 www.VolunteerSpeedway.com
Phyllis Loven (Track Owner): 423-676-9081
Vic Hill (Vic Hill Race Engines): 423-312-4206