Madden captures Volunteer Speedway Old Man's Garage Spring Nationals Series $10,000 'Spring Thaw' victory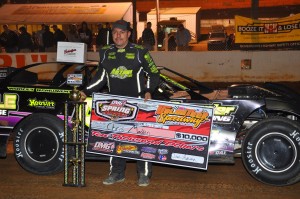 Madden captures Volunteer Speedway $10,000 'Spring Thaw' victory
BULLS GAP, Tenn. (April 16, 2016) — With NASCAR racing just up Interstate 81 at Bristol Motor Speedway, Volunteer Speedway also got in on the action this weekend by opening its 43rd year of dirt-track racing by hosting two exciting nights of the Ray Cook-promoted Old Man's Garage Spring Nationals Series.
It easily could've been a clean-sweep on the weekend for Chris Madden of Gray Court, S.C., as he was holding a commanding lead in Friday night's $4,000-to-win event before misfortune struck when he tangled with a lapped car, thus catapulting Mike Marlar of Winfield, Tenn., to the victory. But Madden bounced back from disappointment the night before to pocket $10,000 Saturday for winning the 15th annual Spring Thaw, which was his third victory overall in the event held each spring at "The Gap."
World of Outlaws Late Model Series regular Rick Eckert of York, Pa., was fastest qualifier from Group A with a lap of 13.463 seconds around the high banks, with Gregg Satterlee and Vic Hill second and third in the group.
Dale McDowell of Chickamauga, Ga., was quickest in Group B time-trials at 13.574 seconds to beat out Madden and Marlar in the group.
The four heat race winners respectively were Eckert, David Payne of Murphy, N.C., McDowell and Madden.
With the big crowd in attendance on their feet, McDowell grabbed the lead from his outside front row starting position over Eckert, Madden, Marlar and Payne trailing. While McDowell was setting a blistering pace out front, behind him Madden was pressuring Eckert for the second spot.
Madden dove to the inside of Eckert racing into the first turn on lap 14, and driving up off the second corner he powered his way past Eckert down the backstretch to take the position and set his sights ahead on leader McDowell. Lapped traffic began to come into play and Madden closed in on McDowell's rear bumper on lap 17.
Madden was primed-and-ready, just waiting for McDowell to open the door and on lap 23 racing off turn two he pulled the trigger to take a lead he would never relinquish. Marlar got up-on-the-wheel to drive around Eckert for third on lap 30, and just a couple of circuits later he passed McDowell to move into second place and quickly began closing the gap on leader Madden.
With the race running caution-free and Madden having to battle with cars he was attempting to place a lap down, the trio of Marlar, McDowell and Eckert remained within striking distance should the leader make a mistake.
But the Palmetto State chauffeur Madden, driving the Crowder Trucking/Century Plastics/Cushman Paint & Body/Millwood Plumbing/Allstar Performance/Stroble Mini Storage/Worley Monument/Hoosier Racing Tires/Clements Racing Engines/Longhorn Chassis/No. 44 Chevrolet Camaro, would not be denied a trip to victory lane and the $10,000 payday as he won over Marlar, McDowell, Eckert and Donald McIntosh.
Completing the top 10 finishers were Devin Gilpin, Greg Satterlee, Shanon Buckingham, Payne and Jason Covert.
With 25 Modified Street cars present, three heat races determined the starting lineup with Chris Rickett, Austin Neely and Kurt Owens the respective winners of the preliminaries.
Rickett, from Morristown, jumped out to the lead at drop of the green flag and never looked back on his way to recording the $700 feature win over Brad Davis, Jonathan Miracle, Tony Horton and Bret Banks.
APRIL 16, 2016 – OLD MAN'S GARAGE SPRING NATIONALS SERIES – VOLUNTEER SPEEDWAY – BULLS GAP, TN – $10,000-TO-WIN 15TH ANNUAL SPRING THAW
Showing Finish Position, Starting Position In Parentheses, Driver Name, Car Number, Hometown, Laps Completed In Parentheses
1. (4) Chris Madden #44-Gray Court, SC (60)
2. (6) Mike Marlar #157-Winfield, TN (60)
3. (2) Dale McDowell #17m-Chickamauga, GA (60)
4. (1) Rick Eckert #7-York, PA (60)
5. (10) Donald McIntosh #7-Dawsonville, GA (60)
6. (5) Devin Gilpin #1g-Columbus, IN (60)
7. (7) Gregg Satterlee #22-Indiana, PA (60)
8. (8) Shanon Buckingham #21-Morristown, TN (60)
9. (3) David Payne #8-Murphy, NC (60)
10. (11) Jason Covert #72-York Haven, PA (60)
11. (12) Mark Douglas #52D-Knoxville, TN (60)
12. (14) Chad Ogle #10-Sevierville, TN (60)
13. (16) Mark Vineyard #4-Powell, TN (60)
14. (20) Steve Smith #3-Powell, TN (60)
15. (15) Eric Wells #18-Hazard, KY (60)
16. (21) Stacy Boles #11B-Clinton, TN (60)
17. (13) Josh Putnam #212-Florence, AL (59)
18. (23) Vic Hill #1-Mosheim, TN (59)
19. (17) Billy Ogle Jr. #201-Knoxville, TN (59)
20. (9) John Tweed #5-Greeneville, TN (59)
21. (22) Robby Moses #21m-Maryville, TN (59)
22. (19) Adam Bowman #77-Seymour, IN (59)
23. (18) Tod Darda #91-LaGrange, GA (1)
HEAT #1 (Top 4 Transfer): 1. Rick Eckert, 2. Devin Gilpin, 3. John Tweed, 4. Josh Putnam, 5. Tod Darda, 6) Vic Hill, 7. Jordon Horton
HEAT #2 (Top 4 Transfer): 1. David Payne, 2. Greg Satterlee, 3. Jason Covert, 4. Eric Wells, 5. Adam Bowman, 6. Jake O'Neil, 7. Steve Smith
HEAT #3 (Top 4 Transfer): 1. Dale McDowell, 2. Mike Marlar, 3. Donald McIntosh, 4. Chad Ogle, 5. Billy Ogle Jr., 6. Robby Moses, 7. Mack McCarter
HEAT #4 (Top 4 Transfer): 1. Chris Madden, 2. Shanon Buckingham, 3. Mark Douglas, 4. Mark Vineyard, 5. Stacy Boles, 6. Ellery Leake
LAST CHANCE QUALIFIER (Top 4 Transfer): 1. Billy Ogle, 2. Tod Darda, 3. Adam Bowman, 4. Steve Smith, 5. Stacy Boles, 6. Vic Hill, 7. Robby Moses, 8. Jake O'Neil
OLD MAN'S GARAGE SPRING NATIONALS SERIES (Provisional Starting Berths): Stacy Boles, Robby Moses, Vic Hill
MODIFIED STREET (25 laps)
1. Chris Rickett #36
2. Brad Davis #88
3. Jonathan Miracle #p21
4. Tony Horton #56
5. Bret Banks #3
6. Nick Pressley #69
7. Cody Thompson #83
8. David Bullington #20
9. Charles Bates #27
10. Jon Cook #0z
11. Vic Chandler #88
12. Blake Kelley #K5
13. Dale Reed #52
14. Parker Estes #31
15. Logan Cobb #c4
16. Colby Taylor #15
17. R.J. Mayes #6m
18. Willie Busler #31
19. Kaleb Trent #3
20. Kurt Owens #14
21. Mike Williams #119
22. Bill Curl #57
23. Austin Neely #3
24. Landon Steele #18
25. Chuck Kilian #96
Ray Cook (Promoter) – Old Man's Garage Spring Nationals Series: (828) 360-5353
Chris Tilley – Public Relations Coordinator: (606) 219-1723
www.SouthernNationalsSeries.com
Volunteer Speedway (Recording Only): 423 235-5020
Phyllis Loven (Track Owner): 423-676-9081
Vic Hill (Vic Hill Race Engines): 423-312-4206