Marlar cashes in for $4,000 Volunteer Speedway 'Spring Thaw' victory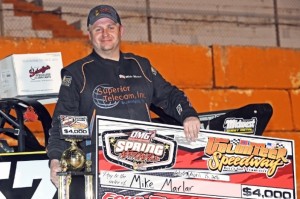 Marlar cashes in for $4,000 Volunteer Speedway 'Spring Thaw' victory
BULLS GAP, Tenn. (April 15, 2016) — The Ray Cook-promoted Old Man's Garage Spring Nationals Series helped Volunteer Speedway kick off its 43rd season of exciting dirt-track racing Friday night with running of the 15th annual Spring Thaw.
Mike Marlar of Winfield, Tenn., capitalized on the misfortune of race-long leader Chris Madden when he got together with a car suddenly slowing directly in front of him and spun in turn two just past the halfway point in the race to bring the caution flag out. Taking over the lead, Marlar would go on to hold both Dale McDowell and Rick Eckert off to capture the $4,000 victory.
Marlar was the quickest from Group A qualifying with a lap of 13.415 seconds, with five-time Volunteer Speedway Super Late Model champion Vic Hill second fastest to join Marlar in being locked into the starting lineup for the feature race out of that group.
Madden recorded the best time in Group B and overall when he toured the 4/10-mile high-banked oval in 13.318 seconds. He was joined by Chad Ogle in securing a spot on the feature starting grid from that group.
David Payne earned his way into the main event by taking the win in heat one ahead of Eric Wells, Josh Putnam and Adam Bowman while Jason Covert beat out Mark Vineyard, Devin Gilpin and Zack Olger in heat two.
Dale McDowell bested Gregg Satterlee, Cody Mahoney and Mark Douglas for the win in the third heat while Donald McIntosh was the victor in the fourth heat over Rick Eckert, Shanon Buckingham and Jake O'Neil.
Madden immediately set out to establish his dominance over the field when he bolted to the lead of the 40-lap feature from his outside front row starting position at the drop of the green flag. Marlar, Ogle, Hill, McDowell and Payne attempted to keep pace with the early leader during the initial laps but Madden was able to build a lead of several car lengths as the laps clicked off.
The racing, however, was fierce behind the front-runner as McDowell, Ogle and Hill went three-wide for the fourth spot on the second circuit with McDowell taking the position, also bringing McIntosh along for the ride to settle into fifth and dropping Hill back to sixth in the running order.
The first of four caution flags waved on lap 12 when Mack McCarter slowed with a flat tire, which provided Madden and the other front runners with a reprieve from slower traffic. After that yellow period, the fast-and-furious action for positions within the top five resumed as Ogle, McDowell and McIntosh went three-wide as they skirmished behind the lead duo of Madden and Marlar.
The pivotal moment of the race occurred on lap 24 when Madden found himself entangled with the car of O'Neil between turns one and two, after O'Neil slowed with a broken rear j-bar and was attempting to drop down and enter the turn two pit opening. With nowhere to go, the contact between Madden and O'Neil sent the race leader spinning and ultimately was forced to the rear of the field.
On the ensuing restart, Eckert made a strong move to the inside in turn one and managed to grab positions as he made his way up to the third spot. It was Marlar, however, who controlled the pace of the action following Madden's demise.
Marlar, driving the Delk Equipment Sales/RC Trading Company/Cornett Thunder Race Engines/Capital Race Cars/No. 157 Chevrolet Camaro, went on to capture his third career Old Man's Garage Spring Nationals Series victory over McDowell, Eckert, McIntosh and Satterlee. Completing the top 10 finishers were Covert, Wells, Buckingham, Payne and Boles.
With 35 Sportsman Late Models present, and the track normally only starting a 24-car field, the decision was made to allow all cars in attendance the opportunity to race by locking the top 18 from qualifying into the A-feature and the remainder of those cars from time trials ran a B-feature.
Defending Sportsman Late Model track champion, Tim Byrd of Jonesborough, was fastest in qualifying, with Jason Welshan second quickest. Byrd jumped out to the lead over Welshan, Jensen Ford, Adam Tolliver and John Tweed at start of the A-feature.
Tough luck for the second-running Welshan just prior to lap 10, when the lapped car of Warren McMahan got into the outside wall between turns one and two directly in front of Welshan. With nowhere to go the hard-charging Welshan saw his race end prematurely with the front-end on his machine smashed after tangling with McMahan.
Back under green, Byrd led Ford and Matt Henderson. While Byrd was on a rail out front setting the pace, behind him Ford had his hands full trying to hold Henderson back. Henderson got a good run off the fourth turn to get around Ford and move into second.
But there would be no catching Byrd as he led flag-to-flag for the $1,000 victory over Henderson, Ford, Forrest Trent and John Tweed.
Andy Ogle of Gatlinburg grabbed the lead at start of the Sportsman Late Model B-feature over Tyler Smith, Kip Sawyer, Gary Blanken and Ray Jarnigan.
Two early altercations slowed the action, with the first involving Austin Atkins and Kenny Ford, with the second collecting Taran Hurst, Cody Brake, Richard Adkins and Floyd Self.
With Ogle in control out front, Smith was having a strong run in holding Sawyer behind him. Sawyer finally got around Smith and began reeling Ogle in.
Sawyer got alongside Ogle between turns three and four and the duo received the white flag side-by-side. Rim-riding up on the outside, Sawyer looked to challenge Ogle for the victory. But instead he climbed the outer backstretch wall exiting turn two and came back down on the track and began flipping wildly forcing cars trailing to take evasive action.
With emergency personnel and track officials quickly on the scene, to cheers from the crowd Sawyer climbed from his badly damaged race car. Being the field had taken the white flag, the race was completed once the caution waved for Sawyer's wreck and Ogle recorded the victory over Smith, Blanken, Jarnigan and Wade Howerton.
APRIL 15, 2016 – OLD MAN'S GARAGE SPRING NATIONALS SERIES – VOLUNTEER SPEEDWAY – BULLS GAP, TN – 15TH ANNUAL SPRING THAW
1. Mike Marlar #157-Winfield, TN
2. Dale McDowell #17m-Chickamauga, GA
3. Rick Eckert #7-York, PA
4. Donald McIntosh #7-Dawsonville, GA
5. Gregg Satterlee #22-Indiana, PA
6. Jason Covert #72-York Haven, PA
7. Eric Wells #18-Hazard, KY
8. Shanon Buckingham #21-Morristown, TN
9. David Payne #8-Murphy, NC
10. Stacy Boles #11B-Clinton, TN
11. Josh Putnam #212-Florence, AL
12. Devin Gilpin #1g-Columbus, IN
13. Chris Madden #44-Gray Court, SC
14. Vic Hill #1-Mosheim, TN
15. Adam Bowman #77-Seymour, IN
16. Robby Moses #21m-Maryville, TN
17. Mark Vineyard #4-Powell, TN
18. Cody Mahoney #4-Madison, IN
19. Chad Ogle #10-Sevierville, TN
20. Jake O'Neil #0-Tucson, AZ
21. Mark Douglas #52D-Knoxville, TN
22. Zack Olger #0–St. John's, MI
23. Mack McCarter #51-Gatlinburg, TN
HEAT #1 (Top 4 Transfer): 1. David Payne, 2. Eric Wells, 3. Josh Putnam, 4. Adam Bowman, 5. Mack McCarter, 6. Robby Moses
HEAT #2 (Top 4 Transfer): 1. Jason Covert, 2. Mark Vineyard, 3. Devin Gilpin, 4. Zack Olger, 5. Ellery Leake, 6. Brad Mann
HEAT #3 (Top 4 Transfer): 1. Dale McDowell, 2. Gregg Satterlee, 3. Cody Mahoney, 4. Mark Douglas, 5. Tod Darda, 6. Steve Smith, 7. Joey Moriarty, 8. Billy Ogle Jr.
HEAT #4 (Top 4 Transfer): 1. Donald McIntosh, 2. Rick Eckert, 3. Shanon Buckingham, 4. Jake O'Neil, 5. Stacy Boles, 6. Jordon Horton, 7. Chris Chandler
DID NOT START TRANSFER: Ellery Leake #34, Brad Mann #7m, Tod Darda #91, Steve Smith #3, Joey Moriarity #51, Billy Ogle Jr. #201, Jordon Horton #56, Chris Chandler #8
SPORTSMAN LATE MODEL (A-Feature … 25 laps)
1. Tim Byrd #24
2. Matt Henderson #H2
3. Jensen Ford #83
4. Forrest Trent #101
5. John Tweed #5
6. Josh Henry #B00
7. Gary Crittenden #18
8. Phillip Thompson #24
9. Tim Maupin #2
10. Bryson Dennis #15
11. Terry Price #p2
12. David Duplissey #D2
13. Eric Weber #25
14. Warren McMahan #33
15. Jody Horton #56
16. Jason Welshan #29
17. Greg Huskey #32
18. Adam Tolliver 28
SPORTSMAN LATE MODEL (B-Feature … 15 laps)
1. Andy Ogle #68
2. Tyler Smith #32
3. Gary Blanken #05
4. Ray Jarnigan #73
5. Wade Howerton #15
6. Brandon Taylor #55
7. Tyler Pearson #00
8. Richard Adkins #73
9. James Cole #5
10. Cody Brake #58
11. Taran Hurst #22
12. Kip Sawyer #44
13. Austin Atkins #119
14. Floyd Self #3
15. Richard Bailey #41
16. Kyle Cole #18
17. Kenny Ford #48