Please remember Volunteer Speedway owner Phyllis Loven and her family in your thoughts and prayers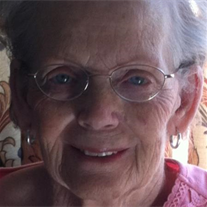 Jeneva Cox Fansler – Obituary (December 21, 1928 – March 27, 2016)
YUMA, Va. — Jeneva (Nevie) Cox Fansler, departed this life early Sunday (March 27, 2016) morning to join her Lord and her husband Paul, in Heaven.
She had been a resident of Yuma, Va., for nearly 70 years and most recently Life Care Center of Gray due to a period of declining health.
A loving wife, mother, grandmother and great-grandmother, she was born in Hawkins County, Tenn., to the late Lindsey and Mary Ely Cox on December 2, 1928.
She had operated Fansler Grocery for many years and later worked at Scott County Tobacco and Hood's Wholesale. She was an accomplished seamstress and quilter and was a charter member of the Kermit Craft Club. She loved the outdoors and enjoyed fishing, gardening and also carpentry.
She was a member of Pink Hill Baptist Church and had attended Catron's Chapel Baptist Church until her illness.
In addition to her parents and husband she was preceded in death by her sister, Minnie Lou Jarrett; brothers, Leo, R.C., Haynes and James Cox.
She is survived by her daughters, Phyllis Loven and husband Joe, Gray; Gail Sanders and husband Jeff, Apex, N.C.; Ginger Light and husband Jon, Kingsport; and son Melvin Fansler and wife Dolly, Billings, Montana; grandchildren, Kim Wilson and husband Steve, Mel Fansler and Christy, Lindsay Fansler and Courtney, Orion Fansler, Jonathan Light, Barrett Sanders, Loften Fansler and Easton Fansler; great-grandchildren, Emilyn Wilson, Hadley Wilson, Xander Fansler and Cohen Fansler; special brother- and sister-in-law, Jim and Stella Pierson; special cousin, Opal Bellamy; several other in-laws, nieces and nephews.
The family will receive friends from 5 until 7 p.m. Wednesday (March 30, 2016) at Scott County Funeral Home in Weber City, Va. A service will follow at 7 p.m. with Jerry Fansler speaking.
A graveside service will be conducted at 11a.m. Thursday (March 31, 2016) at Holston View Cemetery. Pallbearers will be Eddie Calhoun, Jonathan Light, Lindsay Fansler, Mike Fansler, Mike Hensley, Steve Wilson, Mel Fansler and Barrett Sanders. Those who plan to attend are asked to meet at the cemetery, entering from the main entrance on US 23, at 10:45 a.m. Thursday.
Scott County Funeral Home
2060 US Highway 23N
Weber City, VA, US, 24290