Volunteer Speedway owner Joe Loven looking for assistance operating the track in 2016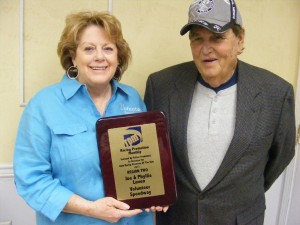 ~ Joe and Phyllis Loven, Volunteer Speedway owners and 2013 Racing Promotion Monthly region two auto racing promoters of the year ~
Volunteer Speedway owner Joe Loven looking for assistance operating the track in 2016
BULLS GAP, Tenn. (Feb. 8, 2016) — Volunteer Speedway is gearing up for start of the 2016 racing season, and track owner Joe Loven is looking for assistance in operating "The Gap."
Loven purchased the high-banked speedplant in November 1998 from Ed Turner of Newport, who had owned the track since 1989. Turner promoted races himself from '89 through the 1995 seasons, before then leasing the track out the next three years.
"I love racing just as much as I ever have, but I've just got to face reality and see that I'm not young as I once was," said the 77-year-old Loven on Monday. "In my mind I know what needs to be done, but with getting older you just can't physically do everything you used to be able to. I'm putting feelers out for anybody qualified in operating a racetrack to get in touch with me. I want somebody who can come in and help my wife (Phyllis Loven) and I handle all duties involved.
"Besides my wife and I getting older, we've had some personal health issues ourselves and also with family members that require our attention. I guess it's basically come down to we either get somebody to help us operate the track and handle daily tasks needed done – or we'll run in 2016 and then we're going to put the place up for sale. I've owned the track for longer than any other owner in the speedway's history, and I've really done a lot of facility improvements over the years. You'll be hard-pressed to find a better facility across the country. But if racing continues under my ownership, I'm going to need some assistance."
The 2016 racing season will be the 43rd year of exciting racing at Volunteer Speedway, one of the most storied short-tracks in the country that has hosted all the top dirt racing series' over the years.
Should you fill the qualifications in overseeing and helping to operate one of the country's top short-tracks, contact Joe or Phyllis Loven.
Joe Loven (423) 534-5373
Phyllis Loven (423) 676-9081