Bashing and negativity regarding local racing and short-tracks on social media needs to stop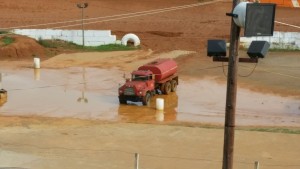 Bashing and negativity regarding local racing and short-tracks on social media needs to stop
These days on social media, it seems if any track cancels an event or if car count isn't what fans think it should be, or if tracks don't race weekly, etc. … there are many so-called fans that just go "keyboard happy" posting bashing, negative comments. But, what does this accomplish? Does it make you feel better about yourself?
John A. Ackley, managing editor at Speedway Illustrated magazine, said it so well in a post on his personal Facebook page this past weekend regarding "so-called fans spewing so much negativity in their comments on Facebook," and how it's hurting local short-track racing. Not just for Volunteer Speedway, but for any short-track in the country, all the negative social media and message board outbursts are hurting a sport so many people claim to love.
Unfortunately, racing scheduled this past Saturday (July 18) at Volunteer Speedway had to be called off in mid-afternoon. Why? Because of a very "hard" downpour that dumped a lot of rain in a very short timeframe. Just because it wasn't raining where you might've been on Saturday in East Tennessee, that doesn't mean it wasn't raining at "The Gap."
As a matter of fact, the skies opened and was raining so hard you could barely see across the track to the backside pits from being in the announcing/scoring tower. But you could drive just a short distance away from the track in either direction on Interstate 81, and it wasn't raining period. It's Summertime, and there's going to be isolated cells of rain and in some instances the rain can be quite intense.
The track had been graded by Gerald "Peg Leg" Laws during the week to be prepared for racing on Saturday. With the thunderstorm dumping a lot of water on the track Saturday afternoon, gullies/ruts were washed across the surface on both ends of the track in the steeply banked turns and there was no way possible that a grader could've been put on the track once the storm stopped to re-grade the track for racing to be held that night. You can't put a heavy grader on a high-banked racetrack when it's mud!!!
Plus, everybody look closely at the photo associated with this post as it shows water standing in the infield pits surrounding the water truck, and you can see the track in turn three and how muddy it is. And this photo was taken well after the rain had stopped falling and the sun had reappeared. During the heavy downpour, water was standing in the infield back past the building through center of the pits. On the grandstand side, the building where you enter to purchase admission tickets, water was gushing from the gutter downspouts the diameter of the downspout.
When races have to be canceled due to inclement weather, the track still has financial costs during the week leading up to the event that's just money flushed down the drain. For media purposes with newspapers and radio, when ads are run the track still must pay even if a race has to be called off. There's diesel fuel costs to operate heavy equipment, plus paying track personnel. No short-track in the country just wants to cancel a night of racing, especially when it's on race day. If a race is canceled, there's a good reason.
To read some social media posts when a race gets canceled, you'd think the world was coming to an end. And, some posts are just outright bashing with their negativity and also directed personally at people. And it's got to stop!
There's an old saying: "If you don't have anything good to say, then don't say nothing at all!" … What individual's post on their own personal Facebook page, that's their choosing. However, bashing and negative posts are not going to be tolerated on the track's social media (Facebook) site.
On both the Volunteer Speedway website and also on the Facebook page, you'll see contact information for the track owner. Maybe try talking nicely with track management, instead of bashing with negativity on social media and message boards. You just might be surprised with your experience.
Volunteer Speedway (Recording Only): 423-235-5020
Phyllis Loven (Track Owner): 423-676-9081