Ogle leads flag-to-flag for Carolina Clash $4,000 'Border Wars' victory at Volunteer Speedway
Ogle leads flag-to-flag for Carolina Clash $4,000 'Border Wars' victory at Volunteer Speedway
BULLS GAP, Tenn. (April 4, 2015) — Volunteer Speedway opened its 42nd year of exciting dirt-track racing by hosting the Carolina Clash Super Late Model Series for the first of five scheduled visits by the series in 2015 to the legendary East Tennessee high-banked oval.
Chad Ogle of Sevierville proved to be class of the field in earning bragging rights for the Volunteer State, with a very impressive flag-to-flag run to the $4,000 "Border Wars at The Gap" victory.
Ogle set the standard in pole qualifying with a fast-lap at 13.435 seconds among the 20 cars present, with five-time Volunteer Speedway Super Late Model champion Vic Hill second-quickest.
Ogle grabbed the lead over Hill, Chris Madden, Mark Douglas and Mack McCarter at the start. Setting a blistering pace out front in the early going, Ogle pulled out to a full-straightaway advantage over Hill and Madden by lap 10. Bobby Mays spun in the fourth turn on lap 13 to bring out the event's first caution.
With Ogle showing the way out front on the restart, behind him Madden quickly got around Hill to take over second spot in the running order. Just behind the front-running trio, Douglas, McCarter, Riley Hickman, Jensen Ford and Mark Vineyard were battling three-wide at times jockeying for real estate.
Madden closed in behind leader Ogle and appeared to possibly be biding his time, just waiting to make a move at the opportune moment while they negotiated lapped traffic. However, Madden took several looks under Ogle on both ends of the track in the corners but couldn't pull the trigger to complete the pass.
The scenario of the race took a dramatic turn on lap 28, when a good run for Douglas ended as he suddenly began to slow just past the start-finish line entering the first turn, before finally coming to a stop high in the banking at exit of turn two to bring the caution out. While the field slowly circled the track, second-running Madden pulled into the pits off turn four to attention from his crew. They removed the hood and looked underneath and shook their heads, their race prematurely had also come to an end.
Just one lap back under green the caution quickly waved once again, when Donald McIntosh looped his mount in turn four.
On the ensuing restart Hickman got around Hill for second place and set his sights ahead on leader Ogle. But there would be no catching Ogle, driving the GEO Services, Geotechnical & Materials Engineers/Ogle's Neighborhood Service & Towing/Brooks Malone/Hoosier Racing Tire/Matlock Decal Co./Custom Race Engines/Rocket Chassis/No. 10 Chevrolet Corvette, as he won by right at a two-second margin over Hickman, Hill, McCarter and Vineyard.
Completing the top 10 finishers were Ford, Austin Smith, NASCAR Camping World Truck Series competitor Joey Coulter, McIntosh and Kyle Pierce.
"We had a really strong car tonight," said a smiling Ogle in victory lane. "This is really a great win for our team, just a good boost overall for our confidence. Bad luck, it seems like all we had last year was bad luck. We'd be having a good run and either have motor issues or get caught up in a wreck. It was kind of like we just couldn't catch a lucky break or something.
"We switched car (chassis) brands for this year, getting us a Rocket Chassis. And if tonight's any indication, we definitely made the right decision. We haven't won a race since back in 2013 when we won that Southern Regional Racing Series show here. That's what it's all about – winning races. With this new car we've got and how good it's performing, I'm excited about racing and can't wait until the next race. Hopefully we're really going to have us a good season racing."
The Carolina Clash Super Late Model Series will make its next visit to Volunteer Speedway in just two short weeks on Saturday, April 18 for running of the 14th annual Spring Thaw paying $6,000-to-win. With NASCAR race fans in the region attending racing at Bristol Motor Speedway, round two of Border Wars at The Gap promises to be a must-see event.
Tim Byrd of Jonesborough, the 2013 Crate Late Model track champion, led all 25 laps en route to capturing the $700 Sportsman Late Model feature win.
Bryson Dennis of Greeneville, 18 years old and last season's Crate Late Model Rookie-of-the-Year, earned the pole position in time-trials over the stellar 23-car field. Byrd was second-quickest and started outside of the front row.
Byrd powered into the lead over Dennis, Warren McMahan, Josh Henry and Gary Crittenden on the opening lap. The veteran McMahan got around Dennis for second on the third circuit. Caution waved for McMahan on lap 9, which relegated him to rear of the field for the restart.
Back under green, Byrd once again smashed the loud pedal to pull ahead of Henry, Crittenden, Jordon Horton and Dennis. While Byrd was in control out front, behind him back through the field racing action was intense. Crittenden spun late in the race on lap 22, which set up a three-lap sprint to the checkers.
Byrd, driving the Charles Byrd & Son Logging/Unaka Forest Products/RDM Trucking/Grace Salon/Team Afco/AR Bodies/TNT Race Cars/No. 24 Chevrolet Camaro, held the hard-charging Henry off for the victory. Finishing third through fifth respectively were Horton, Tim Maupin and Dennis.
Chris Rickett of Morristown jumped out into the lead at drop of the green flag over Gary Blanken and Kurt Owens in the Modified Street feature, with the trio in a tight battle up front. Blanken and Owens tangled between turns three and four on lap 9 to bring out the caution.
Rickett led Mike Mays and Jamie Whitt on the restart, but Owens and Blanken were hard on the throttle working their way back into contention. Owens got around Mays with five circuits remaining and closed to Rickett's rear bumper coming to the white flag. But Rickett would not be denied a visit to victory lane as he won over Owens, Blanken, Mays and Tyler Smith.
The new Pure Stock division for 2015 had only four cars for their inaugural race, but you couldn't ask for a more exciting finish. Alex Vance of Waynesville, N.C., pulled off the race-winning move on the final lap between turns three and four to pass Jason Long for the victory, with Eddie Adams and Kevin Crane following.
CAROLINA CLASH SUPER LATE MODEL SERIES – "BORDER WARS @ THE GAP" (40 LAPS … $4,000-TO-WIN) – SATURDAY, APRIL 4, 2015
Showing Finish Position, Starting Position In Parentheses, Driver Name, Car Number, Hometown, Laps Completed In Parentheses
1. (1) Chad Ogle #10-Sevierville, TN (40)
2. (7) Riley Hickman #r1-Chattanooga, TN (40)
3. (2) Vic Hill #1-Morristown, TN (40)
4. (6) Mack McCarter #51-Gatlinburg, TN (40)
5. (8) Mark Vineyard #4-Powell, TN (40)
6. (5) Jensen Ford #83-Jonesborough, TN (40)
7. (11) Austin Smith #11-Cedartown, GA (40)
8. (12) Joey Coulter #2-Welcome, NC (40)
9. (10) Donald McIntosh #7-Dawsonville, GA (40)
10. (14) Kyle Pierce #281-Statesville, NC (40)
11. (18) Ben Watkins #16-Rock Hill, SC (40)
12. (16) Forrest Trent #101-Talbott, TN (40)
13. (9) Bobby Mays #25-Jonesborough, TN (40)
14. (15) Doug Sanders #42-Springwood, NC (39)
15. (20) Kevin Wilson #618-Stoneville, NC (37)
16. (3) Chris Madden #44-Gaffney, SC (28)
17. (4) Mark Douglas #52D-Knoxville, TN (28)
18. (13) Roger Best #007-Louisville, TN (19)
19. (19) Travis Greer #11g-Marion, VA (15)
20. (17) Arthur Walker #87-Forest, VA (2)
SPORTSMAN LATE MODEL (25 laps)
1. Tim Byrd #24
2. Josh Henry #25
3. Jordon Horton #1G
4. Tim Maupin #2
5. Bryson Dennis #10
6. Chris Chandler #88
7. Gary Blanken #05
8. Jesse Helton #57
9. Andy Ogle #68
10. Aaron Guinn #97
11. Adam Mitchell #50
12. Austin Atkins #14
13. Eric Weber #25
14. Jody Horton #56j
15. Richard Adkins #73
16. Gary Crittenden #18
17. Kip Sawyer #11
18. Forrest Trent #101
19. Warren McMahan #33
20. Cody Brake #58
21. Stephen Martin #46
22. Steve Carr #77
23. Josh Evans #119
MODIFIED STREET (20 laps)
1. Chris Rickett #36
2. Kurt Owens #14
3. Gary Blanken #05
4. Mike Mays #30
5. Tyler Smith #32
6. Tony Horton #56
7. Jamie Whitt #1
8. David Bullington #20
Did Not Start: Jon Cook #0z, Kaleb Trent #3
PURE STOCK (10 laps)
1. Alex Vance #95
2. Jason Long #15
3. Eddie Adams #9
4. Kevin Crane #52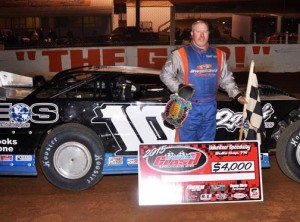 Chad Ogle of Sevierville, TN captured the Carolina Clash Super Late Model Series "Border Wars @ The Gap" $4,000 victory.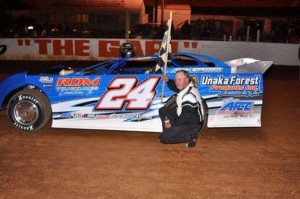 Tim Byrd of Jonesborough, TN recorded the Sportsman Late Model feature win by leading flag-to-flag.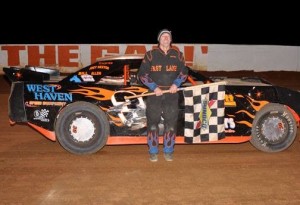 Chris Rickett of Morristown, TN won the Modified Street feature.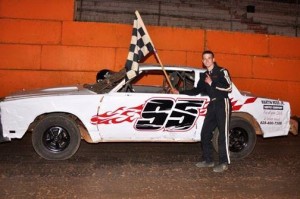 Alex Vance of Waynesville, NC pulled off a last-lap pass to win the Pure Stock feature.