Remembering East Tennessee racer Layman Utsman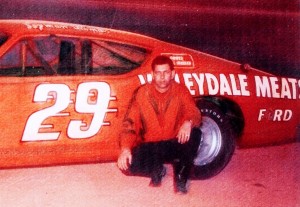 LAYMAN RAY UTSMAN — May 5, 1933 – August 3, 2014
Remembering East Tennessee racer Layman Utsman
It's been said through the years that the Utsman family from Bluff City was the "first family" in East Tennessee auto racing. Utsman family members that raced around the region over the years include "Pappy" John, W.A. "Dub," Sherman, Layman, Gerald, Cecil, John A., Larry, Ricky, Cecil Jr. "Junior," Ricky's son Brandon, and Layman's grandsons Heath and Cody Gunning, plus Layman's step-son Rod Collins.
Layman Utsman began racing in 1955 at the old Chinquapin Speedway in Bluff City, and in a career that lasted through 1978 he won championships and well over 100 races around East Tennessee and Southwest Virginia. The best season behind the wheel for Layman was in 1970, when he captured the championships at both Appalachian Speedway in Kingsport and at Sportsman Speedway in Johnson City. Not just for Layman, but combined with brother John A., they recorded 27 feature wins out of 40 starts in '70 at the two tracks. Layman visited victory lane on 18 occasions, while John A. recorded nine wins.
Layman raced at various tracks around East Tennessee including Appalachian Speedway, Sportsman Speedway, Chinquapin Speedway, Tri-Cities Speedway (on property where today stands Tri-Cities Regional Airport), and at Davy Crockett Speedway in Rogersville. He also raced in Southwest Virginia at Cedar Hills Speedway in Richlands, and at Wythe Raceway.
In the very first NASCAR race ever held at Bristol International Raceway on July 30, 1961, three Utsman family members (Sherman, Dub and Layman) were in the field for the Volunteer 500. Sherman finished ninth driving a '61 Ford, with Dub also behind the wheel of a '61 Ford finishing 29th, while Layman drove a '60 Dodge and finished 42nd after dropping out at lap 100 with mechanical issues.
Besides the inaugural race at Bristol in '61, Layman had two other NASCAR Grand National (Sprint Cup) starts in 1959 at North Wilkesboro and Asheville-Weaverville Speedway driving for Johnson City car owner Jess Potter.
"Not just because he was my brother, but Layman was a very good race car driver," said the youngest Utsman brother John A. earlier today while reflecting back on Layman's life. "He was a heckuva dirt racer and could really drive the wheels off a car. When we switched over from dirt to running asphalt races in the 1970s at Kingsport International Speedway and over at Lonesome Pine International Raceway in the NASCAR Late Model Sportsman days, Layman didn't really have the best of equipment. I will say, though, he definitely got all out of the car he drove that I believe anybody could have.
"We sure had some really great times over the years racing. But all racing aside, he was just a great brother and all of the family we're really going to miss him. He and I got along great our whole life."
Layman passed away overnight in the Johnson City Medical Center following a brief illness at age 81.
~~~~~~~~~~~~~~~~~
LAYMAN RAY UTSMAN — May 5, 1933 to August 3, 2014

Mr. Layman Ray Utsman, age 81, Johnson City, passed away Sunday, August 3, 2014 at the Johnson City Medical Center following a brief illness. He was born in Sullivan County on May 5, 1933.

He was the son of the late John Layman Utsman and Mary Ruby Messimer Utsman. His wife, Loeda Palmer Utsman and one brother, Cecil Utsman, also preceded him in death.

Layman is survived by his three children, Rod Collins (Karen), Carrie Gunning (David) and Cathy Utsman (Randy Laws); seven grandchildren, Katie Britton (Scott), Tabitha Ferguson (Matt), Kaci Mango (Justin), AJ Smith (Renaldo), Heath Gunning, Cody Russell (Dawn Reece) and Chris Gunning; three brothers, Sherman Utsman, Gerald Utsman (Nancy), and John A. Utsman (Ann); two sisters, Dorothy Guinn (Jimmy) and Linda King (Dickey); and nine great-grandchildren, Mason, Seth and Laney Britton, Lily and Liam Mango, Jazlyn and Nehemiah Smith, Cameron Whitaker, Tyler Ferguson, and several nieces and nephews.

Layman was a devoted Christian man and was an active member of Boones Creek Christian Church. He loved racing and had a racing career that spanned from 1955 to 1978. He was retired from Harris Trucking but continued to work at the Stock Pot in Johnson City.

In addition to his love of racing, he also loved to read and study his Bible and attended small groups and Sunday school class at BCCC. He is loved and will be missed.

A celebration of life service will be held at Boones Creek Christian Church on Tuesday, August 5, 2014. The family will receive friends from 6:00 to 8:00 p.m. with the service beginning at 8:00 pm. The committal service will be Wednesday, August 6, 2014 at 10:45 a.m. at the VA. All are asked to please meet at the VA.

The family gives a very special thanks to all of the ICU nurses and personnel at the Johnson City Medical Center and to all of his doctors. The family is especially grateful to his church family for their love and support.

In lieu of flowers, the family request that donations be made to Boones Creek Christian Church, 305 Christian Church Road, Johnson City, TN 37615, in his memory.

Dillow-Taylor Funeral Home and Cremation Services, Jonesborough, 753-3821, is graciously serving the family.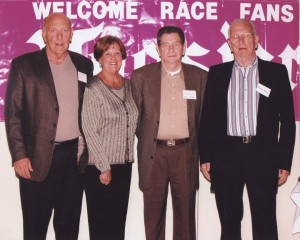 Left to Right: John A. Utsman, Ann Utsman (John A.'s wife), Layman Utsman and Sherman Utsman in 2005 at the Volunteer Speedway banquet at Meadowview Conference & Resort in Kingsport.