(July, 23, 2014) Getting down 'n' dirty with Tim Maupin on the Volunteer Speedway high banks
Volunteer Speedway thanks Johnson City Press sports writer Jeff Birchfield for his feature story on racer Tim Maupin in the (Wednesday, July 23) print edition. Maupin is the son-in-law of five-time Volunteer Speedway Late Model champion Dale Ball. The story can be read online by clicking the following link – http://www.johnsoncitypress.com/article/119035/atv-champion-maupin-still-making-adjustment-to-cars
The 31-year-old Maupin, from Johnson City, drives the T & T Towing of Johnson City/The Medicine Shoppe of Mosheim/Luke's Pizza of Johnson City/Alan Poyner Enterprises/Jim Schweitzer Inc./Mainline Communications/Twin D Auto & Truck Sales of Johnson City/Advance Auto Parts/Warrior Race Cars/Randall Perry Motorsports Photography/No. T2 Chevrolet Camaro.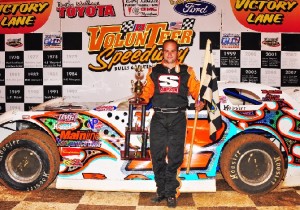 ATV champion Maupin still making adjustment to cars
By Jeff Birchfield
Johnson City Press – Sports Writer
The transition from an ATV champion to a champion race car driver isn't easy.
Just ask Johnson City driver Tim Maupin, who in his fourth season racing in the Crate Late Model division at Volunteer Speedway. The 31-year-old driver said there is a lot more involved with racing dirt late models than riding all-terrain vehicles.
"It's hard in the sense that when you race four-wheelers from the time the gate drops until the checkered flag, it's all you," he said. "If you win the race, it's because you did it. When you're racing cars, it's a lot to do with you, but a lot to do with your car and the set-up and who you have helping you get the car ready. There are a lot more people involved and it's more of a headache because you have a million things going through your head."
However, Maupin does have an ace in the hole with his father-in-law Dale Ball, a five-time Volunteer Speedway champion. They first raced as teammates, but now there is a different dynamic with Ball no longer competing in the Crate Late Model division. Maupin talked about how he relies on his father-in-law's experience, especially when it comes to figuring out track conditions.
"Whenever we used to race with each other, he really couldn't help me much," Maupin said. "Now where he's transitioning over to the Steel Head class, he can tell more by watching me than if he's out there with me and trying to give me pointers before the race. This past race, he helped me a lot choosing lines. He's the smartest man there is as far as knowing where the moisture is on the track, where the good lines and bad lines are."
For his part, Ball is complimentary of his son-in-law. The five-time champion talked about Maupin improving on the one area where he struggled the most.
"He does better than a lot of guys who have raced for years," Ball said. "He takes care of his stuff. He was a little rough on equipment to start with, especially the bodies, but that's from four-wheeler racing. There's about four laps where you have to say you're going to be careful and he ain't."
Maupin, a former go-kart racer and a veteran of demolition derbies, said that many of his habits come from being a multiple-time ATV champion. Some of the concepts like slowing down when going into a corner to speed up coming off of the next corner was foreign to him.
"In four-wheeler racing when the gate drops, it's like a rat running to keep from getting his tail chopped off," Maupin said. "You try to get to the first corner before someone hits you. In car racing, I guess I think it's the same way. When the green flag flies, I go through that first corner as fast as I can or think there is going to be someone behind me who wants it more than I do and will drive through me. I know I mess up a lot those first couple of laps where if I would calm down a little bit, I would be faster. That's one of those things easier to tell yourself than it is to do it."
It was the case at the last Bulls Gap race, where Maupin blamed himself for finishing third with what he described as a second-place car. On a late restart, he got too aggresive and jumped the cushion with the front end of his Chevy Impala. It allowed rival Tim Byrd to pass him and take away the runner-up spot.
Still, Maupin, who makes a living as a tow truck operator and a repair man for his father's paint and body business, is sure he can tone down some of the aggressiveness.
He is after all, a proven winner, beating such drivers as Ball, Jerry Broyles, John Tweed and Byrd to score his first career win in 2012. Another win, back on April 7, was even more special.
Maupin started fourth, but quickly moved up to second place. He then pressured leader Warren McMahan for a dozen laps before making the winning pass halfway through the 30-lap race. However, it wasn't the manner that he won which made the win special. It was the timing of the race, just days before his wife gave birth to their daughter.
"We won on a Saturday and Dolly had Darcy on a Tuesday," he recalled. "I was hoping to win the race after that, after Darcy was born, but it didn't come through. But, that one will always be special, one I always remember."