Ogle leads flag-to-flag for Carolina Clash $4,000 victory at Volunteer Speedway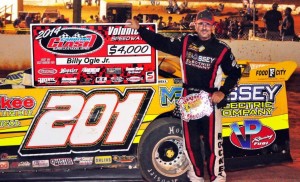 Ogle leads flag-to-flag for Carolina Clash $4,000 victory at Volunteer Speedway
BULLS GAP, Tenn. (July 12, 2014) — The Carolina Clash Super Late Model Series made its second appearance this season at Volunteer Speedway on Saturday for the Carolinas vs. Tennessee Clash at The Gap.
The last visit to Volunteer Speedway for Billy Ogle Jr. of Knoxville back in June for the Southern All-Stars Racing Series second annual Scott Sexton Memorial ended before conclusion of the opening lap, as he got collected in a nine-car wreck on the backstretch.
Billy Ogle Jr. set fast-time over Chad Ogle in Carolina Clash Super Late Model Series qualifying over the 24-car field representing six Southern states to earn the pole position for the 40-lap main event. Billy Ogle Jr. left little doubt as to who the class of the field was, as he rocketed out to the lead at the start and never looked back en route to cruising to the $4,000 victory.
Billy Ogle Jr. led Chad Ogle, Vic Hill, Zack Mitchell and Mark Vineyard back around to the start-finish line to complete the first lap. While two- and three-wide racing action was taking place behind him, out front Billy "The Kid" was quickly distancing himself from Chad Ogle and Hill.
Racing was heated just outside the top five involving Ross White, Anthony Burroughs, Casey Roberts, Cory Hedgecock, Kyle Pierce, Mark Douglas, Bobby Mays, Chris Ferguson (winner back in May of the Carolina Clash event at Volunteer Speedway) and Tim Allen. The event's first caution waved on lap 18, when Travis Greer spun between turns one and two.
Only five laps back green and the caution waved for the second time when fourth-running Mitchell slowed racing off the fourth turn and stopped at end of the front straightaway. And while under caution, White's race also ended as he pulled into the pits with an overheating engine.
It's said in racing that cautions breed cautions, and that seemed to hold true while racing under the bright full-moon as on lap 26 Mays, Kennie Compton Jr. and Anthony Sanders tangled between turns three and four to end the night for both Mays and Sanders.
Back under green Billy Ogle Jr. once again flexed the muscle of his Larry Garner-owned Massey Electric Co./Stowers CAT/Cherokee Millwright & Mechanical/Blount Excavating/Tennessee RV Sales & Service/GEO Services – Geotechnical & Materials Engineers/Al Blankenship Enterprises/AR Bodies/Vic Hill Race Engines/VP Racing Fuel/David Bryant Motorsports/Blount Motorsports/Rocket Chassis/No. 201 Chevrolet Camaro, and his closest challengers Hill and Chad Ogle.
With five laps remaining Billy Ogle Jr. held right at a full-straightaway advantage over Hill, Chad Ogle, Burroughs, Vineyard, Hedgecock, Roberts and Compton. Compton got around both Roberts and Hedgecock to pull to Vineyard's rear bumper coming to take the white flag.
While Billy Ogle Jr. was well on his way to victory on the final lap over Hill, Chad Ogle and Burroughs, halfway down the backstretch Compton got into the rear of Vineyard and slammed Vineyard into the outside concrete retaining wall, thus forcing several drivers into having make evasive moves to keep from hitting Vineyard's spinning car.
Billy Ogle Jr. captured the $4,000 victory over Hill, Chad Ogle, Burroughs and Compton. Compton, after starting 18th and finishing fifth, earned Hard Charger award for the race.
Completing the top 10 finishers were Hedgecock, Roberts, Ferguson, Douglas and Pierce.
"Man, this (Carolinas vs. Tennessee Clash at The Gap) championship belt is one of the coolest things I've ever gotten for winning a race," said the race winner from victory lane as he held the belt high over his head. "It's good to win for all us Tennessee racers to keep the bragging rights in the Volunteer State. I was really looking forward to getting back here to race, especially after the deal that happened to us when we got knocked out of the last race up here with that wreck on the opening lap. I really felt like we had a car capable of winning and we didn't even get to have the opportunity to race for the win. The 'Scott Sexton Memorial' race, I really wanted to win that race for my crew chief David Bryant. He and Sexton were very good friends and David was Scott's crew chief for many years.
"We had a very good car here tonight when we unloaded for hotlaps and I went out and laid down a couple of really good qualifying laps that put us starting from the pole position. I was just wanting to try grab the lead over Chad (Ogle) between turns one and two there on the start. With me starting on the outside, I knew I could really carry some momentum up top around the banking. We pulled out to a pretty good lead early and it worked out well for us, especially when we had to start working our way through the slower lapped traffic. Some of those guys just want to race you hard and you've got to be cautious, because you're just not sure what moves they're going to make. It's awesome to get this win tonight, because last night while racing at the team's home-track at Smoky Mountain Speedway in the Ultimate Super Late Model Series event, we didn't run quite as well as we'd hoped. I guess the biggest win of my career was here at 'The Gap' two years ago when I won the Lucas Oil Late Model Dirt Series 'Scorcher' race, and I'm definitely looking forward to that event next month."
Trevor Sise led the stellar 24-car field of Steel-Head Late Models to the start of the 35-lap feature from the pole position. But Ross White grabbed the lead at the start from the outside front row starting spot over Sise, Jason Trammell, Jason Welshan and Josh Henry. Caution waved on lap 6 when Jerry Williams spun in the fourth turn.
Back under green White looked good out front, while behind him Trammell passed Sise to take over the second spot. Sise began sliding backwards as Welshan got around him for third on lap 7, with Henry getting past him for fourth place on lap 9 as they raced off turn two.
But up front a heated battle was taking place between White, Trammell, Welshan and Henry as the quartet was setting a blistering pace around the high banks. For lap-after-lap, Trammell would stick his nose underneath White as they raced off the corners down the straightaway. Finally, on lap 22 racing off the fourth turn, Trammell passed White to take over the lead.
Just two circuits later White lost another position as Welshan passed him to move into the runner-up spot. A strong run for third-generation racer Henry ended on lap 29, when he slowed to a stop high in the banking between turns three and four to bring out the caution.
The stage was set for a six-lap shootout for the $2,000 payday between Trammell, from Knoxville, and Welshan. But the 38-year-old Trammell came out firing on the restart and quickly put several car lengths between his Trammell Construction/Hatmaker Holdings/Quality Medical Center/Fast Lane Signs & Graphics/Vic Hill Race Engines/Merle 96.7 FM/Tornado Alley Car Wash/CJ Rayburn Race Cars/No. 90J Chevrolet Camaro, and Welshan.
Trammell, with several Tazewell Speedway victories and seven (2001, 2003, 2007, 2008, 2009, 2012 and 2013) championships to his credit, had never visited victory lane at Volunteer Speedway.
But he finally broke the ice and captured his first-ever win at "The Gap" over Welshan, White, Jason Manley and Jensen Ford.
Completing the top 10 finishers were Stanley Donahoo, Sise, Jason Cardwell, Dakotah Knuckles and Anthony White.
"Over the years I've not really raced very much here at Volunteer Speedway," said Trammell in his victory lane interview. "I guess from not having the laps here that some of the guys I'm racing against has kind of hurt me, because it just seems like I'm constantly searching for the right lines (grooves) to run around this place. And I've also really struggled with the car to get it working how I'd like. But we had a good qualifying effort tonight that earned us the fourth starting spot for the feature and that was great considering there was a very strong 24-car field present.
"Ross (White) had a really good car and he and I really battled there for several laps before I was finally able to pass him for the lead. And once I got the lead I just got into a good rhythm and began clicking off consistent laps. (Jason) Welshan's good here and has several wins and I knew when I saw his number on the scoreboard in second that I needed to just run a good, steady race and not make any mistakes. And that's what we did and it's great to finally get our first win at this legendary track. This win tonight is also the 80th of my career, and this CJ Rayburn racing chassis is 13 years old. But I wouldn't get rid of it for nothing in the world. I'll run it until it just won't run anymore. I also want to thank Vic Hill for building me an awesome racing engine, too."
Jason Welshan of Maryville jumped out into the lead at start of the 30-lap Crate Late Model feature over Tim Maupin and Forrest Trent. Behind the front-running trio were Tim Byrd, Gary Crittenden, Bryson Dennis and Josh Driskill. While Welshan was in command riding on the point, Trent slowed to a stop high in the fourth turn to bring out the caution with a flat tire.
Back under green Welshan quickly began to distance himself from his closest pursuers, while Byrd was passing Maupin to move into second place. But nobody had anything for Welshan, as he chauffeured the Ronald Sexton Construction/Smith's Auto Sales/Roger & Cindy Kerr's Competition Racing Equipment/Jon's Golf Carts/321 Storage/Hicks & Law Insurers Inc./Jackie Stinnett O'Reilly's Auto Parts/Schoenfeld Headers/Bearden Oil Co./Warrior 1G Shock Service/Baker's Transmission/Stealth Racing Carburetors//Ronnie King Roofing/Larry Sullivan Sandblasting/Performance Masters Inc./Matlock Decal Co./DGR/B&B Race Engines/MasterSbilt Race Cars/Hidden Hollow Motorsports/No. 29 Chevrolet Camaro, to a convincing win over Byrd, Maupin, Crittenden and Ricky Moore.
Jamie Whitt and Gary Blanken jockeyed for the lead on the opening lap of the Modified Hobby feature before Blanken moved to the point working the second circuit. Kurt Owens of Newport got around Whitt for second on lap 4 and set his sights ahead on leader Blanken. Blanken and Owens battled for the lead over the next six laps before Owens powered ahead. Once out front, Owens went on to record the win over Blanken, Charlie Bates, Whitt and Darrin Busler.
CAROLINA CLASH SUPER LATE MODEL SERIES – "CAROLINAS vs. TENNESSEE CLASH @ THE GAP" (40 LAPS … $4,000-TO-WIN) – SATURDAY, JULY 12, 2014
Showing Finish Position, Starting Position In Parentheses, Driver Name, Car Number, Hometown, Laps Completed In Parentheses
1. (1) Billy Ogle Jr. #201-Knoxville, TN (40)
2. (4) Vic Hill #1-Morristown, TN (40)
3. (2) Chad Ogle #10-Sevierville, TN (40)
4. (7) Anthony Burroughs #1B-Minden, LA (40)
5. (18) Kennie Compton Jr. #10-Bland, VA (40)
6. (9) Cory Hedgecock #23-Loudon, TN (40)
7. (8) Casey Roberts #101-Toccoa, GA (40)
8. (13) Chris Ferguson #22-Mt. Holly, NC (40)
9. (11) Mark Douglas #52D-Knoxville, TN (40)
10. (10) Kyle Pierce #281-Statesville, NC (40)
11. (20) Johnny Pursley #09-Clover, SC (40)
12. (14) Tim Allen #17-Kannapolis, NC (40)
13. (5) Mark Vineyard #4-Powell, TN (39)
14. (17) Jonathan Edwards #32-Charlotte, NC (39)
15. (21) Scott Shirey #10-Swansea, SC (38)
16. (15) Bryan Hendrix #5-Knoxville, TN (38)
17. (16) Ellery Leake #34-Knoxville, TN (38)
18. (19) Kevin Wilson #618-Stoneville, NC (38)
19. (23) Mark Sturgill #4-Pound, VA (38)
20. (12) Bobby Mays #25-Jonesborough, TN (26)
21. (24) Anthony Sanders #421-Spartanburg, SC (25)
22. (6) Ross White #2-Knoxville, TN (23)
23. (3) Zack Mitchell #57-Enoree, SC (23)
24. (22) Travis Greer #11g-Marion, VA (17)
STEEL-HEAD LATE MODEL (35 laps)
1. Jason Trammell #90J
2. Jason Welshan #29
3. Ross White #0
4. Jason Manley #32
5. Jensen Ford #83
6. Stanley Donahoo #00
7. Trevor Sise #73
8. Jason Cardwell #07
9. Dakotah Knuckles #21
10. Anthony White #2x
11. Brad Lowe #16
12. Chris Chandler #8
13. David Kerr #14
14. Michael Rutherford #18
15. Josh Henry #B00
16. John Tweed #5
17. Layne Clifton #23
18. Allen Champ #14c
19. Jerry Williams #28
20. Mitchell Childress #2
21. Heath Hindman #9
22. Terry Wolfenbarger #14w
23. Richie Bean #11
CRATE LATE MODEL (30 laps)
1. Jason Welshan #29
2. Tim Byrd #24
3. Tim Maupin #T2
4. Gary Crittenden #18
5. Ricky Moore #75
6. Forrest Trent #101
7. Brent Hensley #57
8. Josh Driskill #00
9. Warren McMahan #33
10. Bryson Dennis #15
11. Mike Kelley #X
12. Creed Hance #24
13. Cody Brake #586
14. Richard Adkins #73
15. Hugh Scalf #56
16. Joey Tweed #19
MODIFIED HOBBY (25 laps)
1. Kurt Owens #14
2. Gary Blanken #5
3. Charlie Bates #27
4. Jamie Whitt #1
5. Darrin Busler #B4
6. Willie Busler #31
7. Chad Manning #21
8. Dave Smith #10
9. Dale Reed #52
10. David Bullington #20
11. Chris Gregg #73
12. Kaleb Trent #3
13. Daniel Reese #66
~~~~~~~~~~~~~~~~~
Larry Lee – Carolina Clash Super Late Model Series: (910) 263-2285 www.CarolinaClash.com
Mark Huey – Carolina Clash Super Late Model Series Public Relations: (803) 609-5532
Volunteer Speedway: (423) 235-5020
Phyllis Loven – Track Owner: (423) 676-9081