Neat rolls to $5,200 Southern All-Star 'Scott Sexton Memorial' victory at Volunteer Speedway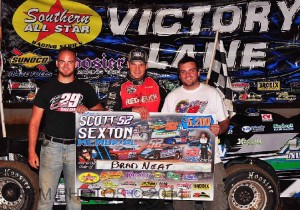 Derek Sexton (left) and brother Zack Sexton (right), sons of the late Scott Sexton, stand in victory lane with Southern All-Star Racing Series second annual Scott Sexton Memorial winner Brad Neat.
Neat rolls to $5,200 Southern All-Star 'Scott Sexton Memorial' victory at Volunteer Speedway
BULLS GAP, Tenn. (June 14, 2014) — The Southern All-Star Racing Series visited Volunteer Speedway on Saturday night for the second annual Scott Sexton Memorial, and Brad Neat of Dunnville, Ky., turned in a dominating performance by leading flag-to-flag to capture the $5,200 victory.
The race honored one of East Tennessee's all-time best behind the wheel of a dirt Super Late Model. The 46-year-old Sexton, from Pigeon Forge, passed away on January 10, 2013 after a seven year health battle.
Known as "Superman" for his racing exploits, Sexton captured Volunteer Speedway championships in 1991 and '95. In the decade from 1995 to 2005, Sexton won 10 Southern All-Star Racing Series victories at Atomic Speedway and "The Gap," plus he still holds the series' record for most career $10,000 triumphs.
Neat set overall fast-time at 12.420 seconds in White Performance qualifying to earn the pole position for the 52-lap main event, with Jason Welshan second-quickest at 12.440. Mark Douglas and Todd Morrow each won PPM Racing Products B-mains.
On the first attempt to get the race underway, Neat and Welshan got out of shape up front while battling for the lead in turn two, which in turn jammed the field up behind them and caused a major multi-car wreck on the backstretch. Strong contenders Stacy Boles and Billy Ogle Jr. were eliminated from action with severe damage, while Aaron Ridley, Riley Hickman, Mark Douglas, Josh Putnam, Tommy Kerr and others continued with bent sheet-metal.
The next try at green proved to be successful, with Hickman powering into the lead over Welshan, Vic Hill, Randle Chupp and Todd Morrow. Hill, a five-time Volunteer Speedway Super Late Model champion, got around Welshan for second on lap 4 racing off the fourth turn.
Neat was setting a blistering pace out front, pulling out to almost a full-straightaway advantage over his closest challenger Hill as the race reach halfway in distance. While Neat was comfortably in command and Hill had a firm grip on the runner-up position, behind them the racing action was heated among Welshan, Chupp, Morrow and Hickman.
Caution waved on lap 39 when Welshan went up in smoke at end of the front straightaway entering the first turn, to close the field back up for a run to the finish.
With the tires cooling down following a heat-cycle, Hill hoped to have one last shot to mount a challenge on Neat for the lead. But that never materialized, as on the restart Hill's car never came up to speed due to a fuel pickup issue which would end his race.
Neat would go on to easily record the $5,200 Scott Sexton Memorial victory over Chupp, Morrow, Ridley and Hickman.
Completing the top 10 finishers were Josh Putnam, Jeff Maupin (who worked his way to seventh after starting from the rear in 21st), Bryan Hendrix, Bobby Mays and Chris Wilson.
If it wasn't for bad luck, then Trevor Sise wouldn't have any racing luck at all. At the most recent Steel-Head Late Model racing program at "The Gap," Sise appeared headed to his first-ever victory only to lose the lead just a couple of laps from the finish.
But one thing can be said for having youth on your side, it's the resiliency to bounce back from misfortune. Tonight the 19-year-old Sise jumped out to the lead at start of the 35-lap Steel-Head Late Model feature from his outside front row starting position. But the run out front would prove to be short-lived, as he suddenly slowed racing off the fourth turn on the second circuit with a broken transmission sidelining him from contention and bringing out the caution.
Cory Hedgecock (fast-qualifier at 12.910 seconds) of Loudon, already with eight Steel-Head Late Model special event wins around East Tennessee this season, rocketed out into a comfortable lead back under green. Hedgecock quickly put a little over a half-straightaway between himself, Ross White and Riley Hickman.
With Hickman pressuring White for position, between turns three and four on lap 11, Hickman made the pass to move into second place and set his sights ahead on leader Hedgecock. As Hedgecock began working slower traffic at back of the field, Hickman quickly closed the gap and pulled up to Hedgecock's rear bumper.
Hickman, from Cleveland, made what turned out to be the race-winning pass to take the lead on lap 20 from Hedgecock. And once out front, Hickman never looked back as he went on to capture the $2,000 victory over Hedgecock, White, Greg Estes and John Tweed.
Steve Jones of Maryville had visited victory lane at Volunteer Speedway on several occasions back in the early 2000s, but over the past few years he had stepped away from racing to focus on his insurance business. However, once racing's in your blood, you'll always want to get back behind the wheel.
It had been four years since the 50-year-old Jones had driven a race car, but you'd never know it. He set fast-time in Crate Late Model qualifying with a time of 13.337 seconds to earn the pole position for the 35-lap feature.
Jones jumped out to the lead at the start over Jerry Broyles and Bryson Dennis. With the race running clean-and-green, the event's only caution waved on lap 21 when Forrest Trent's car erupted in smoke and he quickly stopped in the fourth turn. Fire personnel were quickly on the scene to take care of the situation, and during the yellow fourth-running Jensen Ford headed into the pits with an overheating engine to end his race prematurely.
Back under green for a run to the checkered flag, Jones sprinted away to easily win over Broyles, 17-year-old Greeneville High School student Dennis, Tim Maupin and Warren McMahan.
Greg Estes of Jonesville, Va., grabbed the lead over Brad Davis and Robbie Buchanan at start of the 25-lap Modified Hobby feature.
But just two circuits in a horrendous wreck involving Derrick Register and Landon Steele occurred on the front straightaway just past the flag stand, which brought the red flag out over the field. Register was to the inside of Steele racing down the front straightway, but came across Steele's (front) nose and slammed head-on into the outside concrete wall.
Register's car began flipping wildly and finally came to rest in a crumpled mess in the first turn. Emergency responders along with track officials were quickly on the scene to aid Register, and after a few moments to catch his breath, with assistance he was able to climb from his destroyed machine and walk back down into the infield pits to loud cheers from the crowd.
Back under green, Estes was showing the way out front over Davis and Gary Blanken. Just behind them, on the sixth lap Kurt Owens passed Buchanan to take over the fourth spot. While Estes was in command holding the lead, the trio of Davis, Blanken and Owens were running nose-to-tail.
With Estes approaching lapped traffic between turns three and four getting ready to take the white flag, Blanken was looking to the inside of Davis and Owens was just looking to make a move to gain track position. But Estes would not be denied a visit to victory lane as he held off Blanken, Davis, Owens and Charlie Bates for the win.
SOUTHERN-ALL STAR RACING SERIES – "SCOTT SEXTON MEMORIAL" (52 laps … $5,200-to-win)
Showing Finish Position, Starting Position In Parentheses, Driver Name, Car Number, Hometown
1. (1) Brad Neat #16-Dunnville, KY
2. (3) Randle Chupp #2-Troutman, NC
3. (10) Todd Morrow #T1-East Ridge, TN
4. (5) Aaron Ridley #81-Chatsworth, GA
5. (7) Riley Hickman #R1-Cleveland, TN
6. (11) Josh Putnam #212-Florence, AL
7. (21) Jeff Maupin #0-Greeneville, TN
8. (17) Bryan Hendrix #5-Knoxville, TN
9. (20) Bobby Mays #25-Jonesborough, TN
10. (16) Chris Wilson #10-Crossville, TN
11. (6) Vic Hill #1-Morristown, TN
12. (2) Jason Welshan #29-Maryville, TN
13. (14) Tim Tungate #16T-Campbellsville, KY
14. (19) Dylan Ames #77-Harvest, AL
15. (12) Tommy Kerr #4T-Maryville, TN
16. (18) Ellery Leake #34-Knoxville, TN
17. (15) Skylar Marlar #257-Winfield, TN
18. (13) Michael Chilton #97-Salvisa, KY
19. (9) Mark Douglas #52D-Knoxville, TN
20. (4) Stacy Boles #11-Clinton, TN
21. (8) Billy Ogle Jr. #201-Knoxville, TN
Overall Top Qualifier: Brad Neat 12.425
White Performance Group-A (Top Four Locked-In): 1) Brad Neat (12.425), 2) Randle Chupp, 3) Aaron Ridley, 4) Riley Hickman
White Performance Group-B (Top Four Locked-In): 1) Jason Welshan (12.440), 2) Stacy Boles, 3) Vic Hill, 4) Billy Ogle Jr.
Series Provisionals: None
Entries: 21
PPM Racing Products B-main #1 (Will Start In Odd Rows 5-11): 1) Mark Douglas, 2) Josh Putnam, 3) Michael Chilton, 4) Skylar Marlar, 5) Bryan Hendrix, 6) Dylan Ames, Jeff Maupin
PPM Racing Products B-main #2 (Will Start In Even Rows 5-11): 1) Todd Morrow, 2) Tommy Kerr, 3) Tim Tungate, 4) Chris Wilson, 5) Ellery Leake, 6) Bobby Mays
STEEL-HEAD LATE MODEL (35 laps … $2,000-to-win)
1) Riley Hickman #R1; 2) Cory Hedgecock #23; 3) Ross White #0; 4) Greg Estes #31; 5) John Tweed #5; 6) Bobby Giffin #97; 7) Jason Manley #32; 8) Anthony White #2; 9) Jason Cardwell #07; 10) Dustin Diden #112; 11) Dakotah Knuckles #21; 12) Chris Chandler #8; 13) Stanley Donahoo #00; 14) Johnny Ridings #31; 15) Chris Long #75; 16) Ruben Mayfield #00; 17) Jason Welshan #29; 18) Trevor Sise #73
CRATE LATE MODEL (30 laps)
1) Steve Jones #29; 2) Jerry Broyles #72; 3) Bryson Dennis #15; 4) Tim Maupin #2; 5) Warren McMahan #33; 6) Gary Crittenden #18; 7) Todd Brooks #T1; 8) Joey Tweed #19; 9) Chuck Price #82; 10) Jensen Ford #83; 11) Forrest Trent #101; 12) Derek Diden #12; 13) Cody Brake #586; 14) Ricky Moore #75 – Did Not Start: Tim Byrd #24
MODIFIED HOBBY (25 laps)
1) Greg Estes #31; 2) Gary Blanken #5; 3) Brad Davis #88; 4) Kurt Owens #14; 5) Charlie Bates #27; 6) Jamie Whitt #1; 7) Michael Boyd #21; 8) Michael Woods m1; 9) Mike Kilian #94; 10) Dale Reed #52; 11) Clynis Phillips #1w; 12) Dave Smith #10; 13) Robbie Buchanan #p21; 14) Kaleb Trent #3; 15) David Bullington #20; 16) Landon Steele #18; 17) Derrick Register #12
~~~~~~~~~~~~
Volunteer Speedway (Recording Only): (423) 235-5020
Phyllis Loven (Track Owner): (423) 676-9081
Southern All-Star Dirt Racing Series
Lynn Acklin – General Manager: (256) 924-4546
www.sasdirt.com