Madden holds off hard charging Bloomquist to win Spring Thaw finale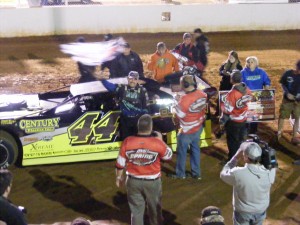 BULLS GAP — Gray court, S.C. driver Chris Madden may want to change his nickname to "Mr. Saturday" night after taking home his third consecutive big payday with the win Saturday night in Volunteer Speedway's "Spring Thaw" finale.
Coming off of a $12,500 winning payday last week at Smoky Mountain Speedway and a $17,017 winning payday at East Alabama Speedway the weekend before, Madden made the winning pass for the lead on the 22nd lap of Saturday's $10,000-to-win 60-lap feature.
Hard charging Scott Bloomquist appeared strong enough to take the lead away from Madden on the long green flag runs. But, the lapped traffic and the cautions didn't fall in Bloomquist's favor, and Madden was able to hang on for the win his second career Spring Thaw at "The Gap."
Bloomquist turned the fastest qualifying lap with a 12.227, but lost his qualifying heat race to Friday night's winner, "The Newport Nightmare" Jimmy Owens.
The four heat race winners drew for their starting positions, With Eric Wells taking the point beside Mark Douglas. Madden started inside row two beside Owens.
It wasn't to be a weekend sweep for Owens, however.
His night came to an early end after the car of Dustin Linville slowed in turn four to enter the pits on the seventh lap, causing several cars to take evasive action.
Owens suffered serious damage to the right side and he parked the car two laps later.
Wise jumped out to the early lead, but Madden passed him to the outside on lap 22, and Bloomquist got past wise five laps later, and in just a handful of laps Bloomquist erased Madden's half-straightaway lead.
Madden and Bloomquist were nose to tail attempting to lap Hill about 25 laps later. While Madden made it by past cleanly, Hill and Bloomquist touched, costing Bloomquist his momentum and about five car lengths.
But, Bloomquist ran Madden down again, and was challenging for the lead just as the caution came out on lap 45 for a stalled car.
On the restart Bloomquist could stay close, but wasn't able to find the grip he needed to make a pass stick.
Madden took the checkered flag 0.863 ahead of Bloomquist.
Wells finished third, followed by Billy Ogle Jr. and Mike Marlar.
Rounding out the top 10 were Donald McIntosh, Casey Roberts, Stacy Boles, Tommy Kerr and Chad Ogle the first car one lap down.
Josh Henry gave the near capacity crowd a thrill in the 30-lap Steel Head Late Model feature, banging out the victory coming out of turn four to beat Jason Manley by 0.058 of a second.
Henry appeared on his way to a hard fought second place finish after battling with Greg Estes to take the second position on the 22nd lap.
By then Manley was well ahead and appeared poised to take home an easy win.
Vic Chandler spun with two laps to go, bunching the field back up for a green, white, checkers finish. Henry got to the inside of Manley in the final corner, and although everyone in the stands was expecting a big wreck at the finish line, they keep their cars pointed in the right direction — with Henry taking the win by a nose.
Volunteer Speedway will be in action again on Saturday, April 5 fro a $1,500-to-win Steel Head Late Model feature, as well as the Crate Late Models and the Hobby Stocks.
For more information see Volunteerspeedway.com or call (423) 378-5942.
Super Late Model 60-lap Spring Thaw feature results:
1. (3) #44 Chris Madden, 60
2. (5) #0 Scott Bloomquist, 60
3. (1) #18 Eric Wells, 60
4. (7) #201 Billy Ogle Jr., 60
5. (6) #157 Mike Marlar, 60
6. (9) #7 Donald McIntosh, 60
7. (12) #101 Casey Roberts, 60
8. (8) #11B Stacy Boles, 60
9. (10) #4T Tommy Kerr, 60
10. (14) #10 Chad Ogle, 59
11. (16) #51 Mack McCarter, 59
12. (20) #4 Victor Lee, 59
13. (17) #11 Austin Smith, 58
14. (19) #97 Michael Chilton, 49
15. (13) #8 David Payne, 44
16. (24) #8 Chris Chandler, 37
17. (15) #1 Vic Hill, 31
18. (18) #4 Mark Vinyard, 26
19. (2) #52 Mark Douglas, 19
20. (23) #C9 Steve Casebolt, 14
21. (11) #28W Jeff Wolfenbarger, 12
22. (4) #20 Jimmy Owens, 10
23. (22) #D8 Dustin Linville, 7
24. (21) #12W Gabe Wilson, 6
DNQ: Ryan King, Jeff Franklin, Kenny Collins, Tom Maddox, Brandon Carter, Sammie Russell, Bobby Mayse, Joe Denby
Crate Late Model 30-lapper results:
1. Josh Henry
2. Jason Manley
3. Greg Estes
4. Greg Martin
5. Heath Alvey
6. Layne Clifton
7. Brent ensley
8. Vic Chandler
9. Gary Crittenden
DNS: Creed Hance, Mike Smith