Jimmy Owens take round one of "Spring Thaw" double-header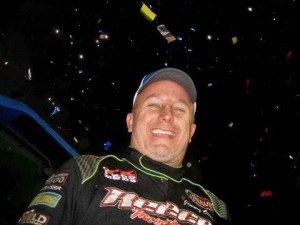 BULLS GAP — The "Newport Nightmare" Jimmy Owens had the field covered Friday night on the opening night 40-lap $4,000-to-win Volunteer Speedway "Spring Thaw" feature.
From the drop of the green Owens was in a class by himself, breaking away from Chris Madden and Scott Bloomquist who were embroiled in a heated battle for second place throughout the race.
Long green flag runs were to Bloomquist's advantage, as he got to the inside of Madden about a dozen laps into the race, and appeared poised to take away the position.
A battle of side-by-side lapped cars ended Bloomquist's initial challenge, prior to a lap 16 caution for a minor spin.
With five laps to go Bloomquist was back on Madden's tail, diving to the inside and making it stick.
Just when it seemed Bloomquist might finally take the spot away from Madden, the caution flag fell again on lap 37 for debris.
Winfield, Tenn. driver Mike Marlar had closed in on the second and third place battle in the closing laps, and it was shaping up to be a three way fight for second before that last caution.
Meanwhile, Owens was untouchable. The top four cars finished the final three-lap sprint nose-to-tail, with Owens taking the checkers first followed by Madden, Bloomquist, Marlar and Eric Wells rounding out the top-5.
"We had a pretty good car all night long," Owens said after the race. "It's a new car, and it's good to come out of the box with a win. Maybe we can keep doing this all year long."
Owens added, "I could run up high and down low, but for the most part it was kind of hard to get through lapped traffic. Some of them weren't holding their line a little bit there, but it makes it exciting, it makes it a good race."
Coming off of a $12,500 winning payday last week at Smoky Mountain Speedway and a $17,017 winning payday at East Alabama Speedway the weekend before, Gray Court, S.C. racer Chris Madden sat on the pole Friday night with a lap of 13.290.
Madden said his setup was too tight for the feature race, however, which caused his car to, "push like a freight train."
"I figured Scott was going to pass me, but the caution saved me and gave me another shot to run second," Madden said. "We were way too tight, and I was just trying to hold my own and keep my momentum up. I'm sure he was better than I was if he could have ever cleared me."
Madden added, "My hat's off to Jimmy and them for getting a great win. Maybe we can get them tomorrow."
Bloomquist said he didn't have enough race track to get by Madden.
"It looked like he got pretty tight," Bloomquist said. "It's just really tough out there — slippery, and we couldn't do much passing. We were underneath Chris and thought we were going to be able to get him, and that caution came out. That let the tires cool off a little bit, and he got fired back up. Hopefully we can work on it and get a little bit better for tomorrow."
Rounding out the top 10 were Chad Ogle, Casey Roberts, Vic Hill, Michael Chilton and Tom Maddox, who made the feature thanks to a daring finish line pass for the final transfer spot in his last chance heat race.
Jenson Ford dominated the 30-lap Crate Late Model race.
maintaining a half-straightaway lead over Tim Maupin most of the race. Maupin never faced a serious challenge for second place, but a log jam of cars began at the battle for third place.
In the closing laps the fight for third was down to a side-by-side battle between Warren McMahan to the outside and Josh Henry to the inside.
After about four laps of trading the third spot, the upper lane prevailed, and McMahan drove away wit the third place finish.
Henry's car apparently suffered a mechanical failure on the final lap and he limped to an eighth place finish.
Rounding out the top-5 were Greg Martin and Heath Alvey.
Pit gates open at 3 p.m. for Saturday's main event — the $10,000-to-win Spring Thaw finale.
Grandstand gates opening at 6 p.m., and the driver's meeting is slated for 6:15 p.m. followed by hot laps shortly after at around 6:45 p.m.
Adult general admission is $25 with children ages 11-15 admitted for $10, and children 10 and under will be admitted free.
All Pit Passes will be $35.
The Steel Head Late Model division will also be on the racing card for Saturday evening.
There will be a driver's autograph session in the main grandstands on Saturday afternoon at around 5 p.m. and will last for about 45 minutes.
Results for Friday's races (finish, start, number, name, laps completed).
$4,000 to Win super Late Model Feature:
1. (2) #20 Jimmy Owens, 40
2. (1) #44 Chris Madden, 40
3. (4) #0 Scott Bloomquist, 40
4. (5) #157 Mike Marlar, 40
5. (3) #18 Eric Wells, 40
6. (6) #10 Chad Ogle, 40
7. (7) #101 Casey Roberts, 40
8. (11) #1 Vic Hill, 40
9. (8) #97 Michael Chilton, 40
10. (18) #33 Tom Maddox, 40
11. (10) #201 Billy Ogle Jr., 40
12. (19) #7 Donald McIntosh, 40
13. (14) #1 Kenny Collins, 39
14. (22) #12W Gabe Wilson, 37
15. (12) #11B Stacy Boles, 34
16. (20) #4 Lee Victor, 29
17. (9) #8 David Payne, 22
18. (13) #28 Jeff Wolfenbarger, 18
19. (16) #51 Mack McCarter, 16
20. (17) #C9 Steve Casebolt, 15
21. (15) #4 Mark Vinyard, 4
22. (21) #52 Mark Douglas, 2
Crate Late Model:
1. Jenson Ford
2. Tim Maupin
3. Warren McMahan
4. Greg Martin
5. Heath Alvey
6. Jerry Broyles
7. Eric Register
8. Josh Henry
9. Kip Sawyer
10. Bryson Dennis
11. Richard Adkins
12. Gary Crittenden
13. Hugh Scalf
14. Cody Brake