Owners of Volunteer Speedway recognized as 'Promoters of the Year'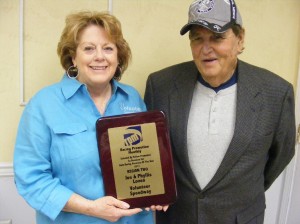 Owners of Volunteer Speedway recognized as 'Promoters of the Year'
BULLS GAP — Awards don't mean much to Joe Loven. He didn't get into the auto racing business to earn recognition.
Joe's number one goal is to make Volunteer Speedway the safest and fastest track in the country, and put on a good show for the fans.
Last month in Daytona, Fla., Volunteer Speedway owner/operators Joe and Phyllis Loven were named the "RPM Southeast Promoters of the Year" by Racing Promotion Monthly.
They've operated Volunteer Speedway — also known as "The Gap" — since 1998.
The Gap boasts the title "world's fastest 0.4 mile clay oval," bringing fans plenty of local talent mixed in with the nation's biggest names and biggest touring divisions on dirt.
Awards are nice, but for Joe it's all about putting on a great show for fans.
"Things like that don't really mean that much to me," Loven said. "I don't need to brag on myself because I can go down to the Gap, and I can give them a race. I'm proud of the fact that we get nominated, but I'm more proud of the fact that I'm able to give those drivers, and those fans, a fast, safe racetrack. They can run three wide, or they can run four wide, because of the way the track is set up."
Joe added, "The most important thing to me at the Gap is that I don't get anybody hurt, and secondly that I don't tear their (cars) up."
Fans can see for themselves this coming week as Volunteer Speedway kicks off its 2014 season with the 13th annual "Spring Thaw" Friday and Saturday nights.
On Friday night, Volunteer Speedway will feature a 40-lap $4,000 to win Super Late Model Feature; and Saturday night the track hosts a 60-lap $10,000 to win Super Late Model Feature.
Every March during Bristol Motor Speedway's NASCAR race week, the Spring Thaw attracts the biggest names in dirt racing, as well as a handful of NASCAR stars who sneak over from Bristol to get dirty on the clay.
The Spring Thaw event is designed to accommodate NASCAR fans who attend the daytime racing at BMS.
After the action on the track ends Friday and Saturday afternoons at Bristol, fans looking for more high-banked, short-track action are encouraged to make the trip to "The Gap," located at exit 23 on I-81 in Bulls Gap.
Phyllis Loven said she believes one reason she and Joe received the RPM promoter award this year is the variety of big-name drivers that Volunteer Speedway attracts every year.
"I think it's because we have different shows during the year to bring in the top dirt drivers in the world and the different types of series that people around here otherwise wouldn't get to see," Phyllis said. "We've had the World of Outlaw Sprint Cars, the World of Outlaw Late Models, we have the Lucas Oil series every year. We have the top cream of the crop dirt racing world to East Tennessee."
Phyllis added, "Dirt racing and asphalt racing are two different worlds. NASCAR has its superstars and dirt has its superstars. We bring the superstars of dirt to East Tennessee much the same way Bristol brings the superstars of NASCAR here, and I feel like that puts Volunteer Speedway in pretty elite company."
Morristown racer Vic Hill is a five-time Volunteer Speedway champion and among the track's all-time winning drivers. He said the Lovens have earned their accolades by, if nothing else, keeping the track open and flourishing in an era when many local racetracks across the country shut down or change management almost annually
"They work their butts off, and obviously promoting is a tricky thing," Hill said. "They've been there for the racers and the fans every year for a lot of years now, and in this day and age that's pretty uncommon. You see a lot of racetracks changing hands frequently, or closing down, and (the Lovens) really stuck to their guns and stuck with it to provide us a place to go racing. They both love racing and that's what it takes."
Hill added, "Obviously they're not getting rich running that racetrack. They do it for the love of the sport and the community."
And contrary to trends in NASCAR over the past 30 years, Volunteer Speedway doesn't punish mechanical ingenuity.
In other words, the cars aren't expected to be mechanically identical, and Joe Loven's technical inspectors aren't going over his competitors' cars with a magnifying glass unless there's something that's obviously not right.
It's a driver-friendly atmosphere, it's a mechanic-friendly atmosphere, and Joe believes that results in a satisfying experience for the fans.
"The reason I don't spend a lot of time 'tech-ing' cars is I know what it takes to put a car out there and run," Joe said. "Ninety percent of the people racing with me at the Gap are people who are doing it for a hobby, and I'm not going in there and tear their cars apart, and make them put them back together through the week. When a man's putting everything he's got into a race car and not getting much of a return for it, there's no use in costing him $400-$500 (to rebuild an engine) when it don't really mean that much."
Joe added, "I will tear a car down if it's obvious the car is cheating, but when I've got a different winner every week I'm not going to tear anybody down."
This season Volunteer Speedway is operating about every other week, and focusing mainly on higher-paying events for local drivers combined with touring series visits.
The season will end the same way it begins — during Bristol race week on Aug. 21 with the Lucas Oil Late Model Dirt Series 11th annual $10,000 to win "Scorcher."
"This racetrack is my pride and joy, and my plan is to keep the Gap the fastest dirt race track in the United States," Joe said.