McDowell opens 40th year of racing at Volunteer Speedway with 'Spring Nationals Series' victory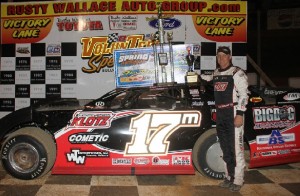 McDowell opens 40th year of racing at Volunteer Speedway with 'Spring Nationals Series' victory
BULLS GAP, Tenn. (March 15, 2013) — The start of the 40th year of exciting dirt-track racing at Volunteer Speedway began Friday night just the same as it did last March during Bristol Motor Speedway NASCAR weekend in East Tennessee. Dale McDowell of Chickamauga, Ga., led flag-to-flag to capture the inaugural Ray Cook Southern Nationals Series $4,000 victory.
The top-10 locked into the 40-lap Spring Nationals Series feature from time trials, with McDowell quickest of 29 cars as he toured the high banks at 12.912 seconds. NASCAR Camping World Truck Series racer Ty Dillon and Scott Bloomquist recorded victories in the two B-main races. Devin Friese won the last chance scramble to complete the 23-car starting field.
At drop of the green flag, McDowell got the jump over outside front row starter Billy Ogle Jr. racing down the front straightaway into the first turn to power into a lead he would never relinquish. Back around at the start-finish line to complete the opening lap McDowell was followed by Ogle, Chris Madden, David Payne and Steve Casebolt.
Setting a blistering pace out front, McDowell caught rear of the field on lap 10 which momentarily allowed Ogle to close to rear bumper of the race leader. But once McDowell cleared the lapped cars he began to put some distance between himself, Ogle and Madden. As the race reached the halfway point, McDowell held right at a half-straightaway advantage.
Casebolt got around Payne for the fourth spot on lap 22 racing off turn two, and just five circuits later he maneuvered his way past Madden between turns three and four to move into third place. The event's first caution waved on lap 33 when five-time Volunteer Speedway Super Late Model champion Vic Hill slowed at end of the front straightaway with steering issues.
Only one lap back under green and the caution waved once again, for a spin in turn two by Mark Vineyard.
With only seven laps remaining and a clear track ahead of him McDowell, driving the Ferris Commercial Mowers/National Boiler Service/Klotz Synthetic Lubricants/Cometic Gasket/WTW Enterprises, Inc./Integra Racing Shocks/Big Dog Motorsports/Allstar Performance/Schoenfeld/FK Rod Ends/Sweet Mfg./Clements Racing Engines/Hoosier Racing Tire/MasterSbilt Race Cars/Team Dillon Racing/No. 17m Chevrolet Impala SS, would not be denied a trip to victory lane as he held Ogle off for the $4,000 win. Finishing third through fifth, respectively, were Casebolt, Madden and Payne.
Completing the top 10 finishers were Steve Francis, John Blankenship, Tyler Millwood, Casey Roberts and Dillon.
"I've been coming to Volunteer Speedway for many years now to race and for some reason I've always ran well here," said McDowell following the race back at his hauler. "I've always liked racing at the high-speed tracks over the years and there's no doubt about it, 'The Gap' is a fast place and it really suits my style of driving quite well.
"We beat a really strong field of cars here last year to win the 'Spring Thaw' and there's a good group of cars assembled here for this weekend. Anytime you run well and can get the victory, that's what it's all about. We had a good car and I knew Billy (Ogle Jr.) also had a good car. Getting the lead there on the start over him was a big deal, because I'm not so sure if he'd gotten the lead if we could've gotten around him during the race. I was kind of worried a little when working lapped traffic because I didn't really know where Billy was behind me. Really if you're running second behind the leader in lapped traffic, a lot of times the second-running car has got the advantage. We're happy with this win tonight and we'll tweak around a little with the car before tomorrow night's event and it would be awesome to be able to sweep both nights."
Greg Estes of Jonesville, Va., grabbed the lead at start of the 20-lap Modifed Hobby feature and never looked back en route to capturing his first-ever victory at Volunteer Speedway. Finishing behind Estes were defending three-time divisional champion Jamie Whitt, Jon Cook, Dennis Metcalf and Mike Mays.
VOLUNTEER SPEEDWAY – $4,000-TO-WIN SPRING NATIONALS SERIES – MARCH 15, 2013
Showing Finish Position, Starting Position In Parentheses, Driver Name, Car Number, Hometown, Money Earned, Laps Completed
1. (1) Dale McDowell #17m-Chickamauga, GA $4,000 (40)
2. (2) Billy Ogle, Jr. #201-Knoxville, TN $2,000 (40)
3. (6) Steve Casebolt #c9-Richmond, IN $1,400 (40)
4. (3) Chris Madden #44-Gray Court, SC $800 (40)
5. (4) David Payne #8-Murphy, NC $700 (40)
6. (8) Steve Francis #15-Ashland, KY $765 (40)
7. (9) John Blankenship #23-Knoxville, TN $650 (40)
8. (7) Tyler Millwood #X-Kingston, GA $625 (40)
9. (10) Casey Roberts #101-Toccoa, GA $600 (40)
10. (11) Ty Dillon #41-Lewisville, NC $580 (40)
11. (15) Eric Wells #18-Hazard, KY $560 (40)
12. (19) Jared Landers #5-Batesville, AR $540 (40)
13. (17) Eric Jacobsen #5j-Sea Cliff Beach, CA $520 (40)
14. (14) Mark Vineyard #4-Powell, TN $500 (40)
15. (13) Mark Douglas #52D-Knoxville, TN $480 (40)
16. (23) Devin Friese #12-Chambersburg, PA $460 (39)
17. (18) Joey Coulter #2-Miami Springs, FL $440 (38)
18. (5) Vic Hill #1-Morristown, TN $420 (33)
19. (21) Cory Hedgecock #23-Lenoir City, TN $400 (31)
20. (16) Stacy Boles #11B-Clinton, TN $400 (27)
21. (20) Michael Chilton #97-Salvisa, KY $400 (14)
22. (22) Josh Collins #63-Knoxville, TN $400 (12)
23. (12) Scott Bloomquist #0-Mooresburg, TN $400 (5)
AMERICAN RACER B-MAIN #1 (Top 6 Transfer): 1) Ty Dillon, 2) Mark Douglas, 3) Eric Wells, 4) Eric Jacobsen, 5) Jared Landers, 6) Cory Hedgecock, 7) Devin Friese, 8) Josh Henry, 9) Victor Lee, 10) George Mashburn
HOOSIER RACING TIRE B-MAIN #2 (Top 6 Transfer): 1) Scott Bloomquist, 2) Mark Vineyard, 3) Stacy Boles, 4) Joey Coulter, 5) Michael Chilton, 6) Josh Collins, 7) Ryan King, 8) Sammie Russell, 9) Ellery Leake
VP RACE FUELS B-SCRAMBLE (Winner Transfers): 1) Devin Friese, 2) Ryan King, 3) Sammie Russell, 4) George Mashburn, 5) Ellery Leake, 6) Josh Henry, 7) Victor Lee
DRIVERS FAILING TO TRANSFER TO STARTING LINEUP:
Ryan King #30-Seymour, TN
Sammie Russell #F4-Madisonville, TN
George Mashburn #13-Murphy, NC
Ellery Leake #34-Knoxville, TN
Josh Henry #25-Newport, TN
Victor Lee #4-Danville, KY
MODIFIED HOBBY (20 laps)
1) Greg Estes #31; 2) Jamie Whitt #1; 3) Jon Cook #0z; 4) Dennis Metcalf #55; 5) Mike Mays #30; 6) Sue Curl #5; 7) Terry Dean #47; 8) Terry King #20; 9) Jesse Wilder #79; 10) Tracy Wolfe #11; 11) Shorty Ledford #41; 12) Kaleb Trent #34