Joe Loven's Korner
April 26, 2016 — This is Joe Loven and I've been running "The Gap" for 18 years. I've done my best to give everybody a pretty good place to race, plus I've paid the highest pay scale of any track around. Right now things aren't so good with some tracks hosting weekly short-track racing around the country. But I take great pride in Volunteer Speedway and if you sit in my grandstands you will see some good racing. We're going to try running an occasional Friday night racing program here-and-there, and the first "Fast Friday" is scheduled this Friday night, April 29. We hope to see drivers, race teams and fans coming out to support us at Volunteer Speedway!
Thank You,
Joe Loven
~~~~~~~~~~~~
June 19, 2014 — Sixty-five years ago on June 19, 1949, I, Joe Loven along with my father and brothers attended the first-ever NASCAR race held at the old Charlotte (N.C.) Speedway. Everybody came out that day to see exactly what stock car racing was all about. And let me tell you, boy, it sure was a dusty deal. Oh, you just wouldn't believe how dusty it was at that first race at the fairgrounds. The dust was actually so bad that the flagman would have to periodically throw the caution flag to allow the dust to settle down so both the drivers could see to race and so fans could see what was going on. It was unreal. But, through the dust and all it was still quite a spectacle back in those days. I loved it, seeing the cars race around that track and hearing the sound of the horsepower. To a young boy, that was quite impressive. Boy, life was sure different back then. Volunteer Speedway is my pride and joy, and I do my best every Saturday to put on a good show at "The Gap" for the fans and to give the drivers a good track to race on.
Sincerely,
Joe Loven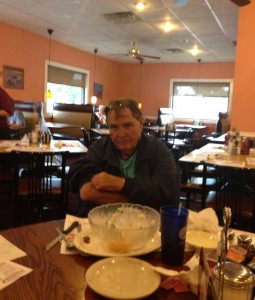 Yes, Volunteer Speedway owner Joe Loven ate the huge bowl of salad while in Carlisle, Pa., attending the Carlisle Ford Nationals at the fairgrounds.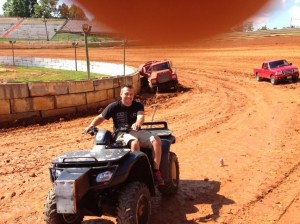 Well, it looks like Joe Loven's got the water truck stuck in the mud down against the inside wall between turns three and four. But look who's on the scene to the rescue, it's Super Late Model driver Chris Madden of Gray Court, S.C. Madden was present on June 14, 2013 competing in the Southern All Star Racing Series inaugural Scott Sexton Memorial 52, and "Smokey" took the $5,200 winner's share of the purse back to the Palmetto State.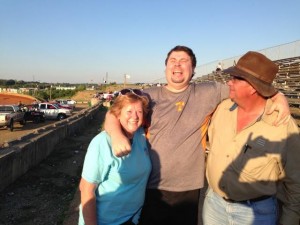 Left-to-Right: Volunteer Speedway owner Phyllis Loven, Duayne Hommel and his father, Junior Hommel. The Hommels were in attendance on June 14 for the Southern All Star Racing Series inaugural Scott Sexton Memorial 52.