2021 Driver Spotlight ☆ Jarrette Dakota "JD" Smith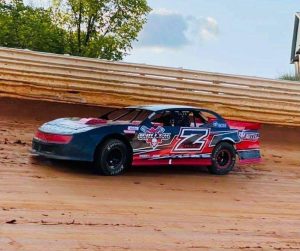 VOLUNTEER SPEEDWAY ☆ 2021 DRIVER SPOTLIGHT
DRIVER: Jarrette Dakota "JD" Smith
HOMETOWN: Maggie Valley, NC
AGE: 30
CAR NUMBER: 2
CLASS: Street Stock
SPONSORS: Hinson Synthetics with Amsoil, and Birdies Snack Shack.
OCCUPATION: Journeyman lineman.
HOW DID YOU GET INVOLVED IN RACING?: I grew up watching my father race at the now closed Smoky Mountain Raceway in Cherokee, NC. When I was younger, I raced Modified Street at Tri-County Racetrack in Brasstown, NC. … Just this year, I decided to buy a car that had been sitting for a while and give it another shot. I've been trying to race anywhere and everywhere just to get more seat time and to hopefully get all the bugs worked out of the car. This year was kind of going to be a trial run for me, but after getting back in the seat, I'm hooked. I hope to be much more competitive by next year.
WHAT DO YOU ENJOY OUTSIDE OF RACING?: I enjoy being in the outdoors – hunting, fishing, camping, riding motorcycles, and pretty much anything that involves speed.
WHO IS YOUR FAVORITE RACE CAR DRIVER?: Scott Bloomquist