Volunteer Speedway to host Xtreme DIRTcar Series on Saturday, Dec. 7 for 'Grinch at The Gap'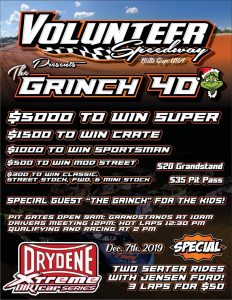 Volunteer Speedway to host Xtreme DIRTcar Series on Saturday, Dec. 7 for 'Grinch at The Gap'
BULLS GAP, Tenn. — The 2019 racing season at Volunteer Speedway isn't over! We're gearing up for the Christmas holiday with running of the inaugural "Grinch at The Gap," sanctioned by the Xtreme DIRTcar Series on Saturday, Dec. 7.
DATE: Saturday, Dec. 7, 2019
LOCATION: Volunteer Speedway – Bulls Gap, TN
EVENT: Xtreme DIRTcar Series $5,000-to-win Super Late Model – "Grinch at The Gap"
ADMISSION: Adult grandstand $20, kids 10-and-under free. … Adult pit/tier-parking $35, youth (ages 5-12) $15, and under 5 admitted free.
GATES / START TIME: Pit gates open @ 9 a.m. and grandstand gates @ 10 a.m. Drivers meeting @ 12 p.m., hot laps @ 12:30 p.m., followed by qualifying and racing at 2 p.m.
CLASSES: Xtreme DIRTcar Series Super Late Model (40 laps … $5,000-to-win), Crate Late Model (30 laps … $1,500-to-win), Sportsman Late Model (25 laps … $1,000-to-win), Modified Street (20 laps … $500-to-win), Street Stock (20 laps … $300-to-win), Classic (20 laps … $300-to-win), Mini Stock (20 laps … $300-to-win), and Front Wheel Drive (20 laps … $300-to-win). … Volunteer Speedway safety rules apply for all divisions, meaning RaceCeiver, Window Nets and Racing Gloves (Mechanix Gloves "not" permitted) required.
The Xtreme DIRTcar Series is a winter tour around the Southeast that will showcase six events in Georgia, South Carolina and Tennessee – with "The Gap" being the only track in the Volunteer State to hold a race. Xtreme DIRTcar Series racers will also be competing for their share of a $45,000 point fund with $20,000 to the champion, $10,000 to second place, $5,000 to third place and $1,000 to each driver who enters every event.
Each Xtreme DIRTcar Series event will be broadcast live on DIRTVision and made available to both Late Model and Sprint Car FAST PASS subscribers.
☆ Invite your family members, friends, neighbors and co-workers to visit "The Gap" for a night of exciting racing action on the high banks SATURDAY, DEC. 7. ☆
☆☆ Volunteer Speedway is located just off Interstate 81 (Exit 23) at 14095 West Andrew Johnson Highway (Hwy. 11-E), in Bulls Gap, Tennessee 37711. ☆☆
~~~~~~~~~~~~
CONTACT INFO
Xtreme DIRTcar Series: www.XtremeDirtCar.com
Volunteer Speedway: 423-235-5020 www.VolunteerSpeedway.com
General Manager: 423-676-9080
Greg Harvey (Technical Inspection Director): 423-384-3511