'Coca-Cola Championship Night' at Volunteer Speedway scheduled SATURDAY, OCT. 12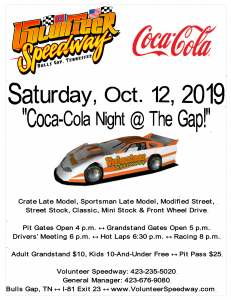 'Coca-Cola Championship Night' at Volunteer Speedway scheduled SATURDAY, OCT. 12 – Final 2019 Championship Points Race
DATE: Saturday, Oct. 12, 2019
LOCATION: Volunteer Speedway – Bulls Gap, TN
EVENT: Coca-Cola Consolidated of Morristown presents seven division Championship Points Racing program (final points race of 2019).
ADMISSION: Adult grandstand $10, kids 10-and-under free. … Adult pit/tier-parking $25, youth (ages 5-12) $15, and under 5 admitted free.
GATES / START TIME: Pit gates open @ 4 p.m. and grandstand gates @ 5 p.m. Drivers meeting @ 6 p.m., with hot laps @ 6:30 p.m. followed by qualifying and racing @ 8 p.m.
CLASSES: "Coke Zero Sugar" Crate Late Model (30 laps), "Sprite" Sportsman Late Model (25 laps), "Mello Yello" Modified Street (20 laps), "Dasani" Street Stock (20 laps), "Coca-Cola Classic" Classic (20 laps), "Monster Energy" Mini Stock (20 laps), and "Dr. Pepper" Front Wheel Drive (20 laps).. … Volunteer Speedway safety rules apply for all divisions, meaning RaceCeiver, Window Nets and Racing Gloves (Mechanix Gloves "not" permitted) required.
☆ $1,500 to win Crate Late Model (if 20 cars), less than 20 cars $1,000 to win. … $1,000 to win Sportsman Late Model (if 20 cars), less than 20 cars $700 to win. ☆
☆☆ $200 bonus to the winners of Modified Street, Street Stock, Classic, Mini Stock and Front Wheel Drive with field of 12 or more cars. ☆☆
☆☆☆ Invite your family members, friends, neighbors and co-workers to visit "The Gap" for a night of exciting racing action on the high banks SATURDAY, OCT. 12. ☆☆☆
☆☆☆☆ Volunteer Speedway is located just off Interstate 81 (Exit 23) at 14095 West Andrew Johnson Highway (Hwy. 11-E), in Bulls Gap, Tennessee 37711. ☆☆☆☆
Greg Harvey (Technical Inspection Director): 423-384-3511
~~~~~~~~~~~~
Coca-Cola prize giveaways on SATURDAY, OCT. 12
●●● The first 400 fans through the grandstand gates will receive a Coca-Cola sling bag. Plus, drawings will be held and one fan will take home Coca-Cola corn hole boards, and another lucky fan will win an awesome Coca-Cola mini fridge. ●●●