'Labor Day Classic' grandstand tickets and pit/tier-parking armbands may be used at either Volunteer Speedway or 411 Motor Speedway through season-ending 'Leftover'
*** Volunteer Speedway Pit Armband, Grandstand Ticket Rainout Policy From Sept. 1
Armbands (pits/tier-parking) and Grandstand Tickets from Sept. 1 at Volunteer Speedway will be honored at any race through the season-ending Leftover at 411 Motor Speedway the Saturday after Thanksgiving. They can be used at either Volunteer Speedway or 411 Motor Speedway during this time. Whatever the admission price is at that race, you will be refunded the difference at that time. You "must" have your pit armband or grandstand ticket to redeem for admission. … Also, hold on to your 50/50 tickets, because the winner will be drawn the next race at Volunteer Speedway on Sept. 22. ***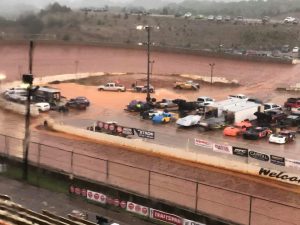 'Labor Day Classic' grandstand tickets and pit/tier-parking armbands may be used at either Volunteer Speedway or 411 Motor Speedway through season-ending 'Leftover'

BULLS GAP, Tenn. – Heavy rain around 7 p.m. washed out racing scheduled tonight (SATURDAY, SEPT. 1) at Volunteer Speedway featuring the Schaeffer's Oil Southern Nationals Bonus Series (Presented by Sunoco Race Fuels and Tennessee RV Supercenter) / Schaeffer's Oil Iron-Man Championship Late Model Series $5,000-to-win Labor Day Classic.
Track promoter Mitch McCarter and series race officials looked at both the track's remaining race schedule and schedules for the series, and no suitable reschedule date for the Labor Day Classic will work out. So, the event officially has been canceled and will not be made up.
Besides on the track's website, you can always keep up with Volunteer Speedway information on Facebook and Twitter.
~~~~~~~~~~~~
Schaeffer's Oil Southern Nationals Bonus Series: www.SouthernNationalsSeries.com
Ray Cook (Promoter): 828-360-5353
Chris Tilley (Schaeffer's Oil Iron-Man Championship Late Model Series): 606-219-1723
Volunteer Speedway (Recording Only): 423-235-5020 www.VolunteerSpeedway.com
Volunteer Speedway (General Manager): 865-257-7223
Joe Byrd (Tech Official): 865-776-1798