Rain washes out Southern Nationals Series event MONDAY, JULY 16 at Volunteer Speedway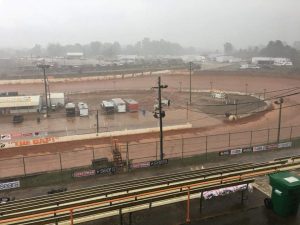 Rain washes out Southern Nationals Series event MONDAY, JULY 16 at Volunteer Speedway
BULLS GAP, Tenn. — Heavy rain began falling about 6:30 p.m. at Volunteer Speedway, forcing the cancellation of racing activities for tonight's (MONDAY, JULY 16) Schaeffer's Oil Southern Nationals Series (presented by Sunoco and Tennessee RV Supercenter) event at the high-banked oval.
A rescheduled date has not been determined, but series and track officials are looking at possibilities. The decision will be announced at a later time.
The next event for the Ray Cook-promoted touring series will be tomorrow night (TUESDAY, JULY 17) at 411 Motor Speedway in Seymour, Tenn. A 35-lapper will pay $3,500 to the winner.
~~~~~~~~~~~~
Contact info for the Southern Nationals Series and Volunteer Speedway is below:
Ray Cook (Southern Nationals Series Promoter): 828-360-5353
Chris Tilley (Public Relations Coordinator): 606-219-1723
Southern Nationals Series:
www.SouthernNationalsSeries.com
Volunteer Speedway (Recording Only): 423-235-5020
www.VolunteerSpeedway.com
Volunteer Speedway (General Manager): 865-257-7223
Joe Byrd (Tech Official): 865-776-1798