Primetime Designs to offer 12th annual Scorcher T-shirt on Thursday, Aug. 20 at Lucas Oil Late Model Dirt Series visit to Volunteer Speedway
Primetime Designs to offer 12th annual Scorcher T-shirt on Thursday, Aug. 20 at Lucas Oil Late Model Dirt Series visit to Volunteer Speedway

BULLS GAP, Tenn. — Primetime Designs of Asheville, N.C., in business since 1995 and owned by Dean Jones and his wife Paula, has been the official merchandise provider at Volunteer Speedway since 1999. When you attend a racing event at "The Gap," be sure to stop by the Primetime Designs location beside the concession stand in the backside pits to visit with Dean, or atop the front straightaway grandstands to see Paula.
The Lucas Oil Late Model Dirt Series $10,000-to-win 12th annual Scorcher is scheduled Thursday, Aug. 20 at Volunteer Speedway, and race fans can once again expect to see an awesome event T-shirt for sale from Primetime Designs.
The 12th annual Scorcher T-shirt will be priced at $17 for sizes S-XL, with 2XL and 3XL costing $19. Colors available will be white, bright orange and safety yellow. With your purchase of a Scorcher event T-shirt, you will receive $2 off any other Volunteer Speedway merchandise.
When you're wearing Volunteer Speedway merchandise produced by Primetime Designs, it's a given you'll look great. Items available include hoodies, T-shirts, long-sleeve T-shirts and hats. Primetime Designs accepts Mastercard, Visa, American Express and Discover cards.
You can always contact Dean Jones at (828) 665-8800 or (828) 681-8800, and also visit Sign One/Primetime Designs website at www.Sign-One.com if you're looking for banners, printed apparel, signs, vinyl graphics or eye-catching vehicle wraps.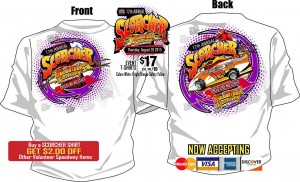 2015 Lucas Oil Late Model Dirt Series $10,000-to-win 12th annual Scorcher T-shirt.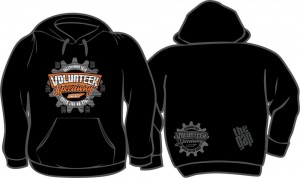 Volunteer Speedway hoodie.