Primetime Designs to offer 'Scorcher' T-shirt at Volunteer Speedway on Thursday, Aug. 21
Primetime Designs to offer 'Scorcher' T-shirt at Volunteer Speedway on Thursday, Aug. 21
BULLS GAP, Tenn. — Volunteer Speedway will host the Lucas Oil Late Model Dirt Series for the $10,000-to-win 11th annual Scorcher presnted by Reece Monument Co. of Tazewell and O'Reilly Auto Parts on Thursday, Aug. 21.
Dean Jones of Asheville, N.C., owner of Primetime Designs, has been the official souvenir provider for Volunteer Speedway since start of the 1999 racing season and race fans over the years have come to expect quality merchandise from Primetime Designs.
Primetime Designs will offer a special 11th annual Scorcher T-shirt design on Thursday, Aug. 21 at Volunteer Speedway. The T-shirt will be available in white, neon orange (fan favorite) and neon green colors – and in sizes S, M, L, XL, 2XL and 3XL. The price for sizes S, M, L and XL will be $17, with 2XL and 3XL $19.
If you're looking for a great deal, with purchase of a Scorcher T-shirt from Primetime Designs, for only $12 (normally $17) you'll be able to buy a " 2014 Volunteer Speedway – 41st Season of Racing" T-shirt.
Primetime Designs has locations set up for each racing event at "The Gap," atop the front straightaway grandstands, and also on the backside of the track in the pits/tier-parking beside the concession stand. If you want to look good while at the track around your racing friends or away from the track in everyday life, by all means you'll want to be wearing Primetime Designs apparel – such as T-shirts, long-sleeve T-shirts, sweatshirts, hoodies and hats.
Don't leave Volunteer Speedway without visiting a Primetime Designs souvenir location. You can talk racing with Dean Jones at the backside location, and his wife (Paula) can be found in the trailer above the grandstands.
Visit Primetime Designs on the Internet at www.ptdesigns.com or contact owner Dean Jones at (828) 691-8800 regarding ordering Volunteer Speedway merchandise.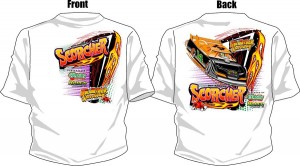 2014 Lucas Oil Late Model Dirt Series 11th annual Scorcher T-shirt design.