Roger Hunter #711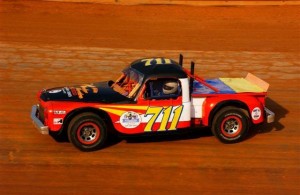 NAME: Roger Hunter
HOMETOWN: Mars Hill, NC
BIRTHDAY: October 9, 1944
MARITAL STATUS:
CHILDREN: Son, Kyle Hunter
CAR #: 711
MAKE OF CAR: 1947 Dodge truck
CLASS OF RACING: Hobby Stock
CREW CHIEF:
CREW MEMBERS:
YEARS RACED: 20+
HOMETRACK: Volunteer Speedway … "The Gap!"
CAREER HIGHLIGHTS (Memorable Moments In Racing): Raced 6-Cylinders, Hobby Stock and Poor Boys at Volunteer Speedway and Newport Speedway. Raced on asphalt at Asheville (N.C.) Speedway in the 1980s. Captured Hobby Stock pole award at "The Gap" on April 29, 2007. Finished eighth in Hobby Stock points in 2010, with a best race finish of second-place. Finished eighth in 2009 Hobby Stock points. Finished 13th in Hobby Stock points in 2008, with one third-place and two fourth-place race finishes. Finished sixth in 2007 Hobby Stock points, with three top-five race finishes.
OCCUPATION: Tire man, Mechanic and Electrician
PERSONAL VEHICLE: 1963 Ford pickup
DREAM CAR: 1957 Golden Hawk
FAVORITE MUSIC: Classic Rock
FAVORITE TV SHOW/MOVIE:
FAVORITE FOOD: Home Cooking
HOBBIES: Racing and Fishing
SPONSORS: Original Look in Marshall, NC – Allen's Recycling in Marshall, NC. And special thanks to all the fans who have supported me in racing over the years!
DRIVER/RACE TEAM CONTACT INFO: