Todd Brooks #T1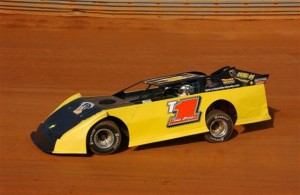 NAME: Todd Brooks
HOMETOWN: Greeneville, TN
BIRTHDAY: August 26, 1966
MARITAL STATUS: Wife, Angie
CHILDREN: Matthew and Dill
CAR #: T1
MAKE OF CAR: GRT Race Cars – Toyota Camry
CLASS OF RACING: Pro (Crate) Late Model
CREW CHIEF: Always racing in memory of my late father (Bobby Brooks), who loved going to Volunteer Speedway and racing so much with me and my brother Randy. Brooks Family Racing!!!
CREW MEMBERS: My mother, Mary Brooks – and my brother, Randy Brooks.
YEARS RACED: 8
HOMETRACK: Volunteer Speedway … "The Gap!"
CAREER HIGHLIGHTS (Memorable Moments In Racing): Won first-ever Crate Late Model feature on August 7, 2010, and finished second in 2010 Volunteer Speedway points. Finished fifth in 2009 Crate Late Model points. Finished sixth in both 2007 and 2008 Crate Late Model points. Finished 10th in 2006 Crate Late Model points. Finished third in 2005 Hobby Stock points and captured first career victory on June 18, 2005. Finished fourth in 2004 Hobby Stock points, and was named division's "Most Improved Driver." 2003 Hobby Stock "Rookie of the Year." Earned 2007 "Best Appearing Car" award in Crate Late Model division.
OCCUPATION: Tool & Die Maker
PERSONAL VEHICLE: Toyota pickup
DREAM CAR: Brand new race car – Super Late Model or Crate Late Model.
FAVORITE MUSIC: Country
FAVORITE TV SHOW/MOVIE: Watching NASCAR races and motorsports programming on SPEED Channel, and "Cars."
FAVORITE FOOD: Steak
HOBBIES: Racing, and I just like working on cars period.
SPONSORS: Envy Suspension and David Bryant Motorsports. Looking for sponsors to carry on the No. T1 Toyota Camry for current racing season.
DRIVER/RACE TEAM CONTACT INFO: brooksracing@centurylink.net