Jerry Broyles #72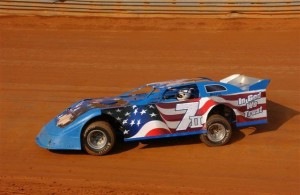 NAME: Jerry Broyles
HOMETOWN: Jonesborough, TN
BIRTHDAY: January 4, 1969
MARITAL STATUS: Wife, Jennifer
CHILDREN: Jake and Nick Buchanan
CAR #: 72
MAKE OF CAR: GRT Race Cars – Chevrolet Impala
CLASS OF RACING: Pro (Crate) Late Model
CREW CHIEF: My dad, Steve Broyles
CREW MEMBERS: Scott Hunter, Jake Buchanan, Nick Buchanan, Stephen and Tiffany Broyles.
YEARS RACED: 18
HOMETRACK: Volunteer Speedway … "The Gap!"
CAREER HIGHLIGHTS (Memorable Moments In Racing): Winning two Volunteer Speedway track championships – 2008 IMCA (Open Wheel) Modified, and 2009 Crate Late Model. Won two Crate Late Model features in 2010, and finished ninth in points (didn't run full schedule). Recorded three Crate Late Model wins and had seven top-five finishes during 2009 championship season. Won three Open Wheel Modified features and had nine top-five finishes in 2008 during title campaign, and also captured one Crate Late Model win and finished third in points. Finished third in 2007 in both Crate Late Model and Open Wheel Modified points. Fifth in 2006 Open Wheel Modified points. Finished runner-up in 2005 Open Wheel Modified points with one feature win. Voted 2003 and 2005 "Best Appearing Car" in UMP Modified division. My dad (Steve Broyles), with over a quarter of a century involved in motorsports, both as a driver and car owner, received the Volunteer Speedway "Sportsmanship" award in 2007.
OCCUPATION: Millwright
PERSONAL VEHICLE: 1992 Chevrolet pickup
DREAM CAR: 1969 Chevrolet Corvette
FAVORITE MUSIC: Adult Contemporary Christian and Classic Rock 'n' Roll.
FAVORITE TV SHOW/MOVIE: NASCAR races and motorsports programming on Speed Channel.
FAVORITE FOOD: Steak
HOBBIES: Racing, going to lake boating, and camping.
SPONSORS: Envy Suspension – Kirk Loudy, Buddy Hopson Race Parts in Morristown, David Bryant Motorsports, and Steve Broyles Racing.
DRIVER/RACE TEAM CONTACT INFO: Steve Broyles (423) 753-2511