Richard Adkins #73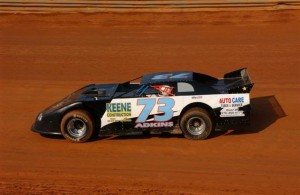 NAME: Richard Adkins
HOMETOWN: Bristol, TN
BIRTHDAY: April 3, 1973
MARITAL STATUS: Wife, Evon
CHILDREN: 5 – Heather, Alex, Ryne, Haleigh and Lesley
CAR #: 73
MAKE OF CAR: MasterSbilt Race Cars, Chevrolet Impala
CLASS OF RACING: Pro (Crate) Late Model
CREW CHIEF: My dad, Fred Adkins
CREW MEMBERS: My mom and my wife and kids, they're my biggest supporters and cheer me on racing every week at the track.
YEARS RACED: 15
HOMETRACK: Volunteer Speedway … "The Gap!"
CAREER HIGHLIGHTS (Memorable Moments In Racing): Began racing in Super Stock division at Volunteer Speedway in 1995 and also drove in Limited Late Model division from 2004 until 2007. Raced in Street Stock division on the concrete at Kingsport Speedway and, ran Street Stock and also Mini Stock at Lonesome Pine (Coeburn, Va.) Raceway. I've raced a Crate Late Model at Wythe Raceway in Rural Retreat, Va., and at Tazewell (Tenn.) Speedway, and I love racing on the high banks at Volunteer Speedway. Racing my current Crate Late Model and running good has been a blast. Finished fifth in 2010 Pro (Crate) Late Model points at "The Gap." Several top-10 and some top-five finishes during my racing career. I race to have fun, racing is something both my father and I enjoy doing together.
OCCUPATION: BVU Authority – Electrical Engineer
PERSONAL VEHICLE: 1986 Ford F-250
DREAM CAR: 1967 Chevrolet Corvette
FAVORITE MUSIC: Aerosmith
FAVORITE TV SHOW/MOVIE: Watching racing programs on SPEED Channel and "Smokey and the Bandit."
FAVORITE FOOD: Prime Rib
HOBBIES: Family and Racing
SPONSORS: Auto Care Tire & Service in Bristol, Va., J.J.'s Auto Sales in Bristol, Tenn., and Keene Construction in Blountville, Tenn.
DRIVER/RACE TEAM CONTACT INFO: radkins@btes.tv