Hugh "Wishbone" Scalf #56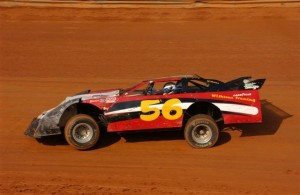 NAME: Hugh "Wishbone" Scalf
HOMETOWN: Gray, TN
BIRTHDAY: July 22, 1959
MARITAL STATUS: Wife, Cindy
CHILDREN: Daughters – Leatha Scalf, Shirra Branum and Christy Scalf. Grand children – Alissa Hughes, Hunter Hayes, Taylor Branum, Haley Hodge, Madison Branum and Randy Branum III.
CAR #: 56
MAKE OF CAR: TNT Race Car – Chevrolet Impala
CLASS OF RACING: Pro (Crate) Late Model
CREW CHIEF: Myself
CREW MEMBERS: Leatha Scalf, Cindy Scalf and Matt Ratliff.
YEARS RACED: 7
HOMETRACK: Volunteer Speedway … "The Gap!"
CAREER HIGHLIGHTS (Memorable Moments In Racing): Just having the opportunity to put the helmet on, strap-in and race, that's an unbelivable feeling! 2008 finished 12th in Crate Late Model point standings, just barely missed finishing in top-10. Several top-10 finishes in both Crate Late Model, Limited Late Model and Hobby Stock.
OCCUPATION: Owner of Wishbone Framing – Carpenter, homebuilder.
PERSONAL VEHICLE: Ford F-150
DREAM CAR: 1957 Chevy
FAVORITE MUSIC: Old Rock 'n' Roll
FAVORITE TV SHOW/MOVIE: "That 70's Show," "Friends," History Channel and SPEED Channel.
FAVORITE FOOD: BBQ Baked Beans
HOBBIES: Racing
SPONSORS: Wishbone Framing
DRIVER/RACE TEAM CONTACT INFO: cinwsh@yahoo.com