Danny Helton #88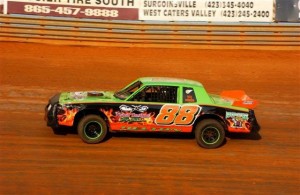 NAME: Danny Helton
HOMETOWN: Whitesburg, TN
BIRTHDAY: May 31, 1973
MARITAL STATUS: Wife, Kim
CHILDREN: Daughters, Billie Jean and Lauran Kelsee … Sons, Jesse James and Logan Kade.
CAR #: 88
MAKE OF CAR: Chevrolet Monte Carlo
CLASS OF RACING: Hobby Stock
CREW CHIEF: My grandson, Johvan.
CREW MEMBERS: Billie Jean, Lauran Kelsee, Jesse James, Logan Kade, and my Dad.
YEARS RACED: Ran a few races in 2010, but 2011 marks my first full season racing Hobby Stock.
HOMETRACK: Volunteer Speedway … "The Gap!"
CAREER HIGHLIGHTS (Memorable Moments In Racing): Just having fun racing around the high banks at Volunteer Speedway, trying to just keep the rubber side down!!!
OCCUPATION: Short Mountain Silica
PERSONAL VEHICLE: Z71 Chevy truck
DREAM CAR: 1967 Chevy II Super Sport
FAVORITE MUSIC: Country
FAVORITE TV SHOW/MOVIE: Speed Channel
FAVORITE FOOD: Mexican and chicken casserole
HOBBIES: Racing, and rock crawling.
SPONSORS: Smith Auto Parts, Kirkpatrick Family Farms, S&S Market, Visual Designs by Brian, Helton Racing and HBR Race Engines. I would like to thank Dale Reed, Bobby Reed, Jesse Wilder, Chuck Johnson, and HBR for all there help.
DRIVER/RACE TEAM CONTACT INFO: bigdaddythelton_73@yahoo.com